What a week! This section of cyberspace is not nearly adequate enough to share my experiences from the week, but I'll try to provide a worthwhile synopsis. Our trip started out on Saturday, June 13th, at 3:40 am with a call from Orbitz alerting us that our 6:30 flight was on time. (thanks, orbitz…) We flew to SLC, where we met up with Steve's parents (Joe and Beth), then flew on to Idaho Falls, where we rented a big blue van and drove a couple of hours north to our house about 30 miles east of West Yellowstone, near the town of Ennis, Montana. Meanwhile, Brent and Megan flew into Bozeman, where they were picked up by David and Allyssa who were driving in from Missoula. Amazingly, we all arrived within 20 minutes of each other, but not before a small fiasco with finding the keys to the house…our first night we were all tired and drove into town (which ended up being an hour away) for some buffalo burgers from a place called Bullwinkle's. On the way back to our house, along the 6 mile gravel road thru our "neighborhood", we saw a herd of elk, several pronghorn sheep, 2 beautiful owls, and a giant rainbow. This was only the start of all the wildlife we would see throughout the week!
Sunday, June 14th ~
We hiked the 8600 foot Bunsen Peak today, which had spectacular views, and a little bit of every kind of terrain – starting with smooth switchbacks, some snowfields, a little bit of scree at the summit, with a burned forest area, grassy meadows, and ending with a jeep road down the backside of the mountain. The round trip was 7 miles. Brent, Megan, and I opted to extend the route a little bit along the way and switchbacked our way down into the Sheepeater Canyon for a view of the 150 foot Osprey Falls, bringing our total up to 10 miles on the day. On the way back, we even saw a black bear poking around in the meadow down by the river! It was a fantastic day out in Creation, and ended up being one of my favorite days! And what better way to end the day than with fresh, hot, pizza!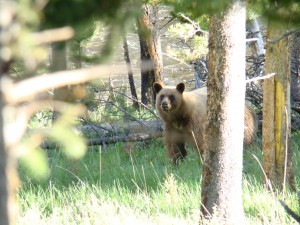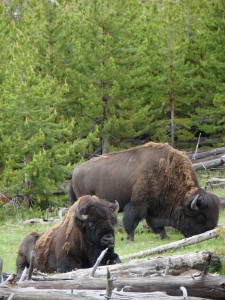 Monday, June 15th ~
Today was a drive-a-thon…since dusk appeared to be our best chance for wildlife viewing, we decided it would be better to sleep in a little, have a nice lunch at the house, then bring a picnic dinner to enjoy in the park. We drove through almost the entire northern section of the park, stopping at various pullouts to set up our Outdoor Empire monocular post so that we could check out the wildlife with our monoculars. We saw a bald eagle being pestered by a hawk (which gave great perspective on just how BIG the eagle was), a black wolf, two more black bears, and some baby buffalo running out on the plain!
Tuesday, June 16th~
Today was a visit to Geyser Country. The most exciting part of our day happened when a big black bear ran out in front of our car across the road! We hiked a mile to the viewpoint of Grand Prismatic Spring, which was spectacular with all the different colors. We arrived at Old Faithful about 30 minutes before the next eruption, so we sat around poised and ready with our cameras. To be honest, compared to the other geysers we saw later on in the day, Old Faithul was kind of a let down. (Apparently, O.F is neither the tallest NOR the most predictable, but rather is the tallest of the more predictable ones.) After the eruption, we ate lunch at the Old Faithful Inn, which had been on Beth's "bucket list" since she was a little girl. Once that got checked off, we hiked around the boardwalk trails looking at all the geysers. We were lucky enough to see several more geysers erupting, including the Castle Geyser, and the Grand geyser, which are on the "must see" list of geysers in the park.
Wednesday, June 17th~
We decided to take a break from the long drive into the park today, and everyone kind of went their separate ways. Joe and David had to drive Allyssa back to Missoula, and went fishing around that area in the afternoon. Steve and Brent went fishing at the Three Dollar Bridge area, right near our house, and Beth, Megan, and I spied on the boys for a bit, then went for a beautiful hike in the Beaver Ponds area. On the way there, we saw some fantastic bighorn sheep crossing the road! They seemed more concerned with headbutting each other than with worrying about the cars, and we sat and watched them for a long time. We had our system worked out – I went first on bear watch, Megan went second, also on bear watch, with plans to go for the pepper spray in my backpack if need be, and Beth was on wildflower identification watch. 🙂 We were a good team and hiked a good bit of the afternoon, seeing tons of beautiful flowers, and every sign of a grizzly bear except for the actual bear itself. (scratchings on trees, tracks, poo…) On our way out, we noticed that some bad weather seemed to hanging out near our house, even though we had had clear skies the whole afternoon (you can see for miles and miles and MILES around out there, hence the nickname, "Big Sky.") The closer we got to our turnoff, the more apparent it became that Steve and Brent had gotten DELUGED at the bridge…when they weren't waiting for us at the bridge, we hoped that meant they had found a ride back to the house, but we ran into them a couple of miles up from the bridge on the way back…we felt a little guilty about all the fun we had had while they were soaked and shivering in the HAIL by the river most of the afternoon, but the bright spot was that at least Brent caught a brown trout, and Steve caught a big whitefish (which evidently I learned is not a "cool" fish to catch, but I was proud of Steve anyway!)
Thursday, June 18th~
We drove thru Yellowstone Lake today, and hiked the Pelican Valley Trail, which apparently is prime grizzly as well as moose habitat, but it was a no show for both. In fact, we didn't see very many animals at all today, which was surprising. My highlight for the day was hiking to Sublime Point in the Canyon area. Absolutely gorgeous views, casual hiking, peaceful setting – just amazing! Afterwards we stopped for a better view of the Lower Falls on the Red Rock Trail.
Friday, June 19th~
Today was a fishing day. We all split up and found a spot on the river. Some of us were more successful than others. As for me, I caught a large stick as well as a clump of moss. I only fell down once. 🙂 But I had a blast, and the best part was tromping thru the river with the waders on!
Overall, it was a fabulous trip! Seeing so much of God's handiwork so up close and personal was amazing! So many awesome memories and experiences. Steve and I feel truly blessed to have been able to go there! Thanks so much to Joe and Beth for bringing everyone out there!!! 🙂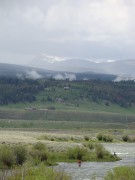 On Saturday morning, the time had come for everyone to leave and go their separate ways, and for Steve and me, our journey was only halfway thru! We rented a Dodge journey and headed south to Utah!