So I have some exciting news to share – I'm the newest ambassador for Nature Rocks! What exactly does that mean, you might ask? Well first let me tell you a little bit about what Nature Rocks is all about…
Nature Rocks is a national program whose mission is to connect children and families with nature.    Their website offers valuable resources for the whole family.  The "Find Nature" tab allows you to do a refined search for local nature spots based on what types of activities you enjoy as a family.   It's easy to figure out – I just typed in my zip code and within seconds I had 5 pages worth of local resources at my fingertips!  The "Find Activities" is a huge database full of outdoor activities that you can filter by location, how much time you have to spend, and the age of your child(ren).  There is even a section where you can start your own "Nature Rocks Flock" playgroup and connect with other families that believe in the value of outdoor recreation.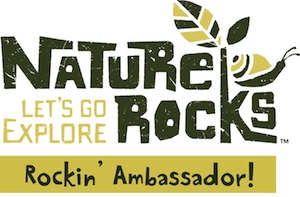 The folks at Nature Rocks! strongly believe in the benefits of outside time – they have a lot of really great information about how spending time in nature develops happier, healthier, and smarter children and families.  This is something that I'm also really passionate about, so I'm really excited about working with this program.   As an ambassador I will have a bigger platform on which I can help spread the word about getting outside and enjoying this wonderful Creation that God appointed us stewards over.  I'll be able to share ideas and collaborate with the rest of the Nature Rocks team, and of course get to interact with some really cool folks! 
I'm also really excited about the opportunity to be the featured Ambassador on social media for a week at the end of May, where I will have the chance to share tips, photos, blog posts, etc to inspire the Nature Rocks twitter/facebook audience to get their kids involved with nature!  I'm really psyched about this opportunity and I think it will be a great fit!  So stay tuned for lots of great ideas and activities to come – but for now make sure you've got some outside time scheduled for this weekend!  🙂