Over the past few days we've been brainstorming about different costume ideas, (rather unsuccessfully I might add) which reminded me of last year's Halloween, which also happened to be Cragbaby's first.  Our neighborhood had a little shindig that afternoon (which was of course scheduled smack dab in the middle of C's usual nap time).  We didn't want to throw a ton of money into something that he would wear for a few hours max, especially since we didn't know how long he would even last at the party, so we decided to keep it simple with an ensemble that could be worn separately later.  That's how the Bumble-bean came about – black onesie, bumblebee leggings, and a sweet little black and yellow striped hat with pipe-cleaner antennae on top.  I wore black and yellow too, and Steve wore…his regular clothes (my great, unifying idea that he should go dressed as the hive never really took off for some reason…).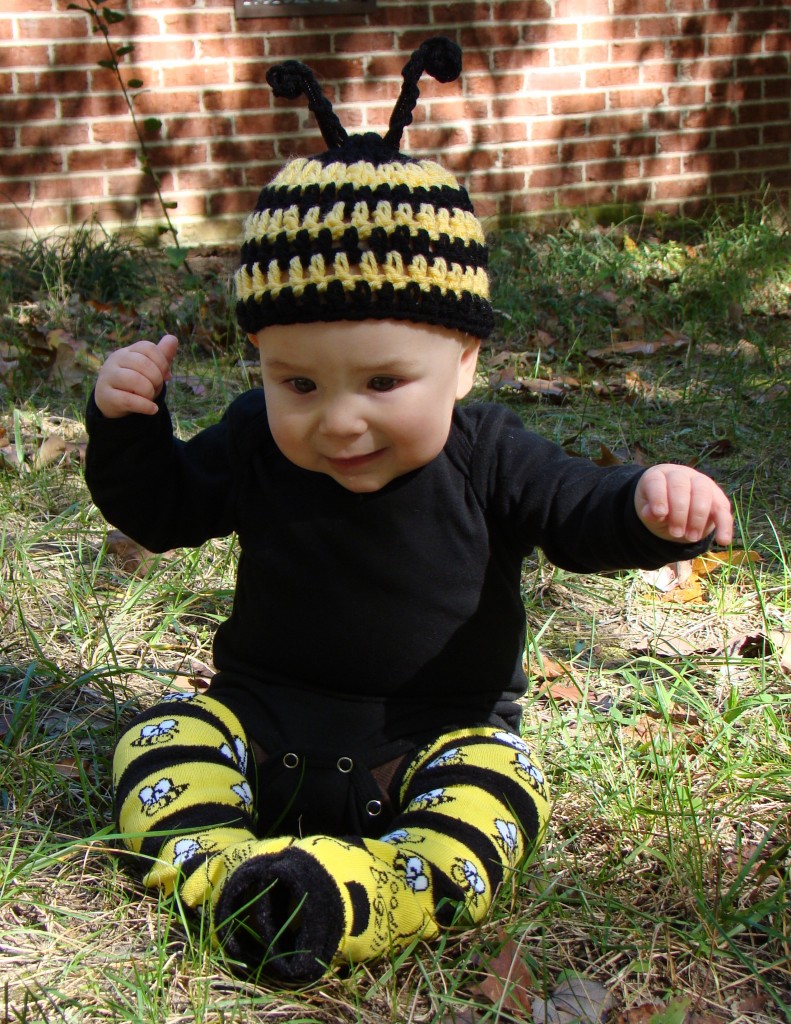 Anyway looking back at our pictures from the event reminded me just how much things have changed over the course of this past year.  Last year C cut his first tooth the day of the party – now he has a mouth chock full of chompers (15 to be exact).  He had just turned 7 months old, was nursing about 8 times a day, and was a solid crawler about a month away from being able to stand on his own.  Our day was broken up by a morning and afternoon nap, neither of which was super long, and both of which complicated getting errands done.  Now C is a big boy at 19 months old – he nurses about half of what he did back then, and can do it twice as fast.  He not only walks well on all types of terrain, but also runs, climbs, stomps, and even has enough coordination for the occasional crowd-pleasing jump!  He's down to one nap (usually a nice long one!), and while it is definitely still necessary, on days it gets cut short (like on crag days) C is generally able to go with the flow without reaching meltdow status.
Its amazing how my little boy has grown up – I guess what they say about the first year flying by too fast is true.  I'd also imagine that the years to come will be no different.  Now its your turn.  As you reflect back, what's changed about your life this past year?