Sacred Earth Films: An Indoor Green Hour? (and a GIVEAWAY!)
Even though our family still manages to get our Green Hours in during the cold, winter months, with only 10 hours of sunlight and often times less than beckoning conditions, we certainly spend more time indoors than during other seasons of the year.  That's why I jumped at the chance to review "Echoes of Creation" and "Sacred Earth," two nature films from Sacred Earth Pictures.  (And although I was provided the films for free, everything expressed here is my personal opinion, unbiased in anyway.)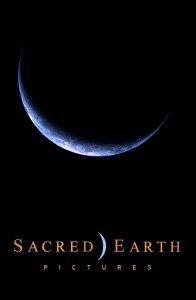 Originally airing on PBS and directed by Emmy Award winning director Jan Nickman, these films were designed to take the viewer beyond just discussion of the natural world into an actual experience with it.  "Echoes of Creation" is advertised as a film that "takes you on a soul-stirring journey through the pristine wilderness of Alaska, the ancient sequoias of California and the lush beauty of the Pacific Northwest."  I would definitely agree with use of the word soul-stirring – the footage of the glaciers and Northern Lights was exquisite, and I was mesmerized by an especially impressive scene with a bald eagle on the hunt.  I came away feeling blessed to be part of such an amazing world.
"Sacred Earth" is advertised as a "journey through sacred lands of the American Southwest."  It follows all the seasonal changes throughout this spectacular landscape.  At certain points is showed a woman leading the viewer through narrow slot canyons, and also dancing along sand dunes and red rock.  To be honest, I found the woman rather distracting (I think the breathtaking setting spoke for itself and didn't need anything extra).  The waterfall footage was simply beautiful, and I really enjoyed the artistic and playful use of natural lighting in the canyon lands.  For whatever reason I felt more of a connection to this film than the previous one, although both were very well-made and worth watching – I think it boils down to personal preferences and what aspects of nature one is more drawn to.
Though an occasional spoken word can be heard throughout both films, both films also have menu options to hear only the music, making for a very meditative and relaxing experience.  The musical score for both films is very soothing and peaceful, with a rise and fall of emotions that synchronizes beautifully with the cinematography, leaving the viewer with a multi-sensory experience that is as close as one can get to a Green Hour indoors.  (For a sneak peek at the soundtrack, here's a free download link to "Embrace Everything" from the "Echoes of Creation" soundtrack.)
I have to admit that I am far too much of a multi-tasker to watch these films while completely sitting still and not doing something else also – a little too much type A with not enough Zen, I guess…But both films very enjoyable to have on during my evening blogging (even though it took me twice as long because my eyes were continually drawn to the TV!), and also made for a captivating background and soundtrack during my yoga practice.
If you are looking for an artful, inspiring piece about the natural world to enjoy this winter, I would definitely recommend this series.  And if you are looking for a unique, last-minute Christmas gift for the nature-lover on your list, you just might be in luck!  The kind folks at Sacred Earth Pictures have agreed to provide blu-ray/dvd combo packs to 4 randomly-chosen winners!  There are two ways you can enter (do both and you can double your chances of winning!)
1.  Leave a comment answering the following question:  What part(s) of nature do you find most inspiring?
2.  Go to Sacred Earth Pictures' facebook page and give them a like (then come back and tell me you did!)
You will have until this Monday morning (December 19th) to enter the giveaway.  The winner will be notified later on that week.  Best of luck!
And speaking of giveaways – it's time to announce the winner of the Kid's Baselayers from Icebreaker.  Congratulations to (drum roll please…) Maura L. – thanks to all for participating, and to Icebreaker for so generously providing all the gear!