Green Hour Connection: Woodsy Wonderland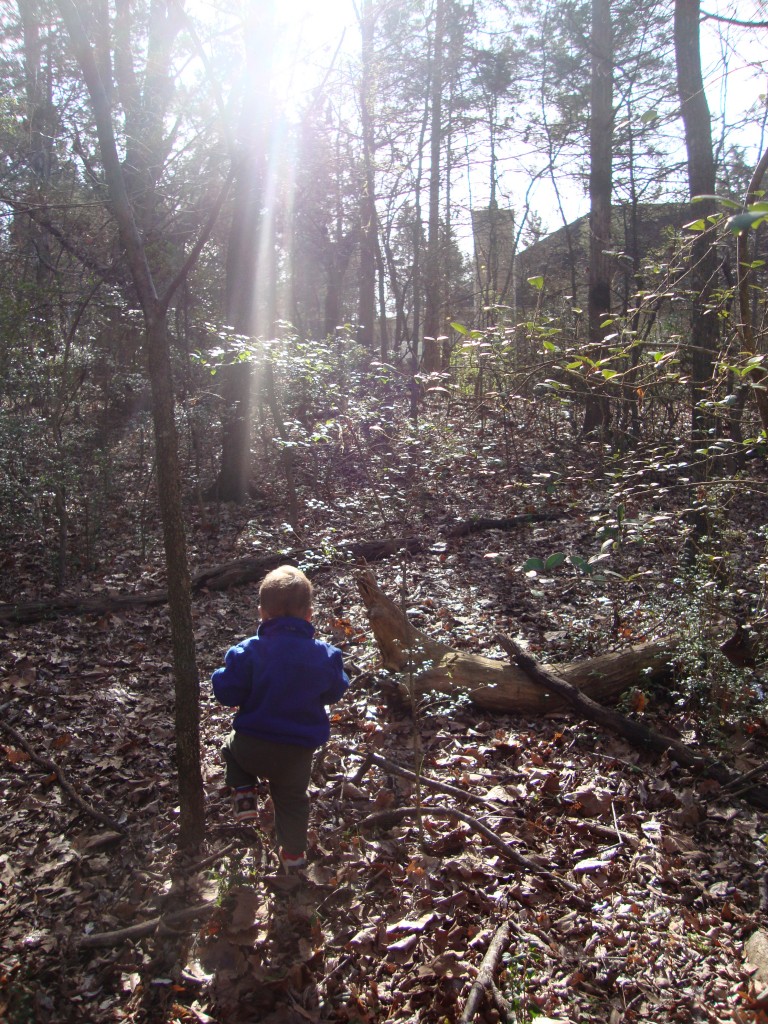 It just so happens that our road dead ends at a small, pocket of woods a few houses down from ours.  For me and Cragbaby, its kind of turned into our own private forest playground.  Even though we're coming up on a year of being in our new house, it's only been recently that we've discovered all the fun to be had in "the woods" down the street.  But the past couple of weeks we've gotten into a consistent woodsy green hour routine.
It usually starts when we head outside and C enthusiastically hops in his wagon and says "Pull, Mommy, Pull!"  We load up the essentials (cup, snack, ball, shovel, and bucket) and take off down the street.  The nice thing about our Woodsy Wonderland is that it's got all the elements necessary for a toddler to have some good old-fashioned natural fun.  There are leaves to jump in, vines to climb over and under, and even a creek to throw stones in (and maybe even wade in once the weather gets warm!)  C can easily keep himself (and his Mommy) entertained for over an hour just putzing around in the woods (no small feat considering his usual attention span is around 10 minutes).
| | | |
| --- | --- | --- |
| | | |
When its time to go back home (either because its time for lunch or because C has announced that he is "All Done!"), we work out way back to the street.  For some reason C never wants to ride IN the wagon on the way back – he would prefer to walk on his own, usually alternating turns pulling the wagon with me.  This means that the return journey takes us at least twice as long.  A lot of times we like to alternate between "walk, walk, walk" and "RUN RUN!"  Our walking segments are usually accompanied by jibber jabber about whatever C is learning at the moment, while all that is heard during our running intervals are excited toddler squeals and giggles.  : )
| | | |
| --- | --- | --- |
| | | |
I love that we've found a place we can escape to for some green hour fun so close-to-home.  Judging by some of the candy wrappers and soda cans we've picked up here and there I can tell that we aren't the only ones that have been enjoying a quiet, secluded, natural spot, but we've never seen anyone else there, so it definitely feels kinda like we own the place!
What about you?  Does anyone else have an out of the way place you can escape to to log some rejuvenating green hour time?