Name that Caption: I'm Sexy and I Know It.
As most of you know, Cragbaby just celebrated his 2 year birthday a fewweeks ago, and along with that came an array of new big boy toys. A balance bike, a set of (plastic) golf clubs, a fire truck, a couple of bulldozers…and his very own power drill! Actually, the power drill was a part of a tool box that came complete with hammer, screwdrivers, pliers, nails, screws, and of course safety goggles! The tool box was an immediate hit, but C was pretty leery of the power drill at first. He enjoyed watching Daddy use it to "fix" his crib, rocking chair, and even dresser, but when he took the drill to Mommy' s boot C started crying. He got braver and braver with each passing day though, and the power drill has now become an essential part of C's toy collection along with a comfortable tool belt, both inside and out (and also in the car, and at the dinner table if we'd let him…).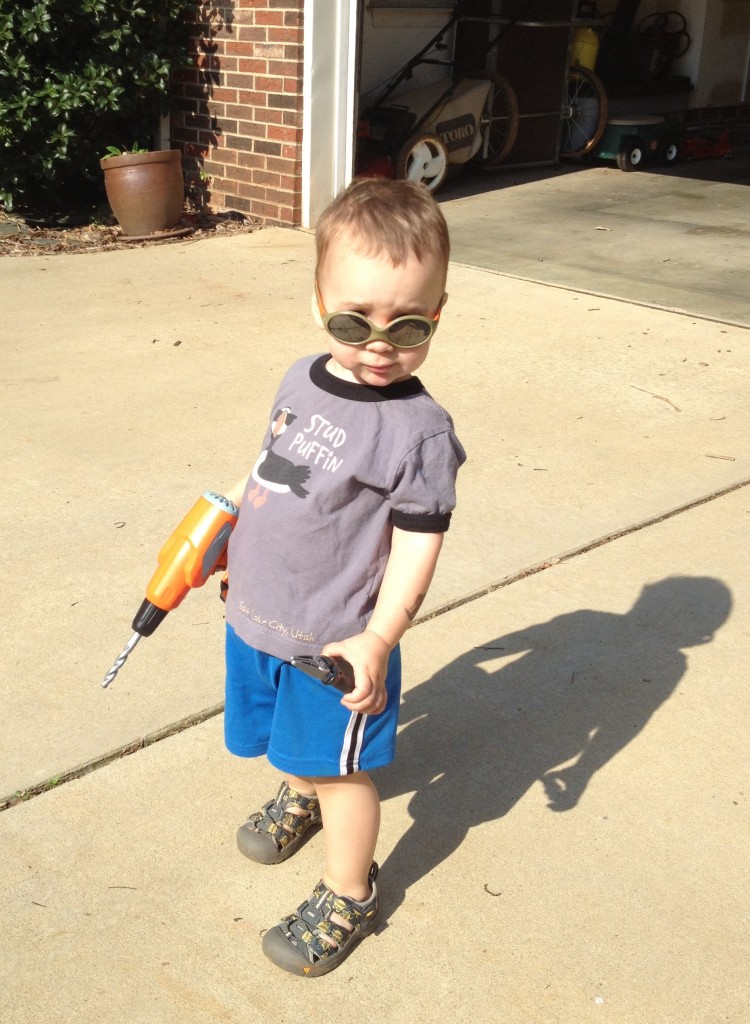 This picture is kind of bittersweet for me as a Mommy. I love it for obvious reasons – because he's freakin' adorable in his stud puffin shirt, double fisted power tools, peering out over his sunglasses with that "Whatchu talkin' bout Willis" face. He just can't get any cuter! But he's also not getting any younger, so I'm thankful to be able to capture even just a fraction of these special moments on camera. Yeah it'll be fun to stroll down memory lane 20 years from now…but it will also be great payback ammunition during those awkward teenage years. 🙂 So have at it – what's you're best caption? I'll shower the winner with Cragmama and Trango stickers!