The Very First First Day of School
My sweet boy had his very first "first day of school" at Peace Preschool onTuesday.  He is so awesome.  He humored me while I took photo after photo of him with his little bag, dressed in his new hiking shoes and the rarely seen, special occasion, collared shirt.  On the way there we talked about school, and he told me that Ms. Susan was "up there" as we drove up the hilly drive.  We walked in together, found the cubby with his name on it to put his things in, and entered the classroom.  He made a beeline for the trucks and looked up just long enough to give me a kiss goodbye.  Meanwhile a couple of the other boys and girls were already screaming. 
Walking into the house by myself was a very odd feeling.  As I sat on the couch with my laptop, it was hard to imagine that he wasn't dozing peacefully in the next room.  In fact, I can probably count on one hand the number of times I've been completely alone in this house for more than an hour or so.  It feels empty.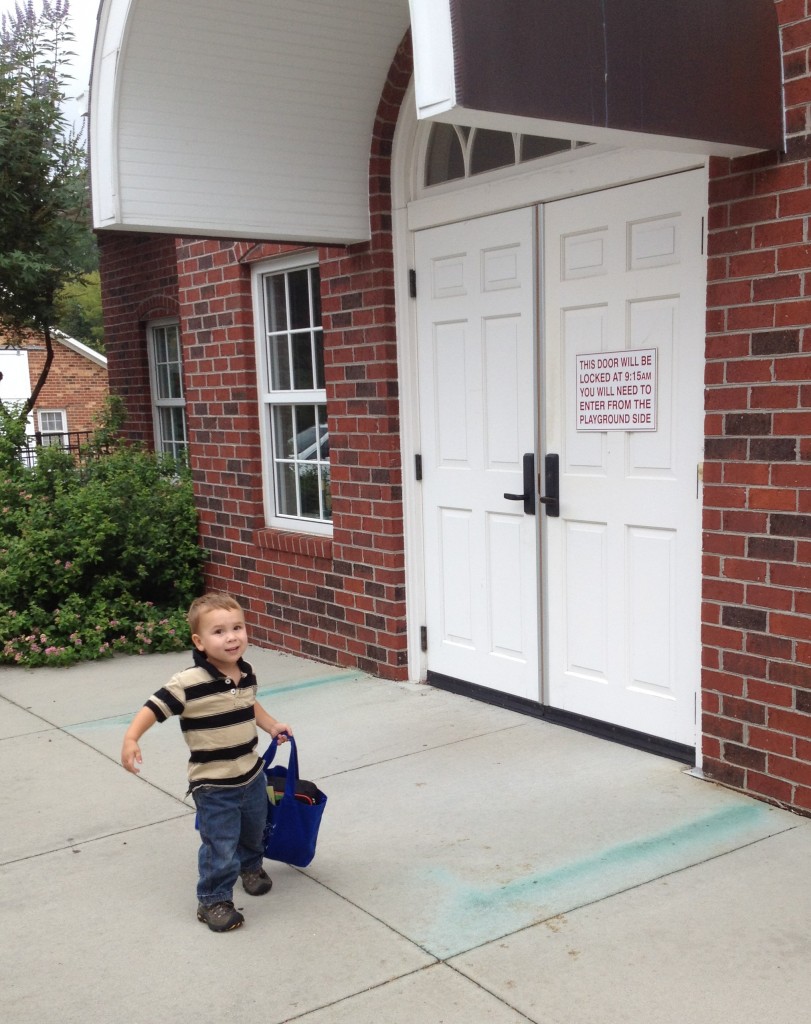 But there's not enough time for the emptiness to stay, because at the same time, I am also swelling up with pride for my little boy, who is growing up far too fast for my taste.  I keep picturing him in his new classroom – making new friends, having fun in circle time, sharing (hopefully) his toys.  I'd love to be a fly on the wall in that classroom, just to see how he takes it all in. 
The more I sat there pondering the overwhelming pride of a mama for her little boy on his first day of school, the more I realized that my somewhat sappy sentiments actually had very little to do with school at all.  A first day of school was just one of many occasions for me to express those "mama feelings".  If Ms. Susan would have had to peel him off of me so that I could leave, my feelings would not have changed.  That's because I love him fiercely, far beyond anything that this world could influence.  He doesn't have to do anything to earn my love – I'm proud of him not for what he's accomplished, but for who he is. 
I guess that's a good example of unconditional love.  And for me personally, it's good imagery of how much my heavenly Father loves me.  I certainly didn't do anything to deserve it, but the Bible says that He "delights over me."  (Psalm 149:4).  Comparing my love for my son to God's love for me was quite the eye-opener.  Kinda makes me want to glance over my shoulder whenever I'm in the midst of a new experience, just to let him see how I'm taking it all in. 
Anyone else have any bittersweet back-to-school moments this week?