A Simple Green Hour: Choosing Puddles Over Playgrounds
When we first moved here a year and a half ago, Cragbaby and I were excited to discover that there were 3 different parks within just a few miles of our house – the perfect distance for sandwiching a toddler green hour in between a grown-up workout.  Olde Providence Park is a family favorite, and it's been the scene of numerous green hours, two of which are documented here and here.  Over the summer the playground was torn down, and was just recently replaced with all sorts of colorful apparatus to climb on, jump from, and scramble under.  Last Wednesday the air was feeling especially crisp, so C and I loaded up the stroller and headed off on a RUN/PLAY/RUN combo to the "new" playground.  C immediately noticed the bright blues and yellows, and gave the slide a test run.  But then he found a ladybug and decided that was far more interesting.  After a while the ladybug managed to escape sauntered off, and C hopped onto the balance beam.  From the balance beam he had a much better view of the parking lot, which meant he of course couldn't miss the GIGANTIC puddle that had formed in the corner from all the rain we'd had earlier in the week…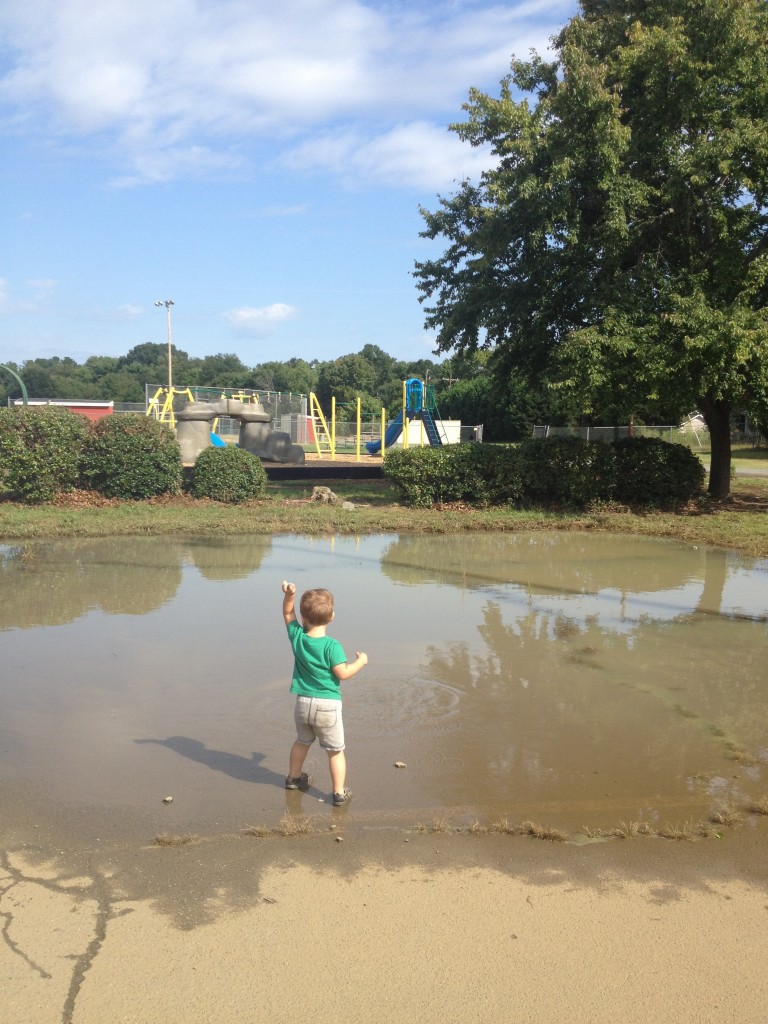 So much for the playground.  Before I knew it, he was ankle deep in puddle euphoria, happily splashing about and tossing rocks into the "deep" water in the middle.  I couldn't help but smile as I saw how much fun he was having with nothing more than a few rocks and a puddle of rain water – while the shiny new blue and yellow playground beckoned behind him.  Sometimes I think it's tempting to assume that our kids need a lot of "props" to be able to enjoy the outdoors – swings, slides, bicycles, or even balls and bats.  Now don't misunderstand me, all of those things can play a big role in fostering a love for the outdoors in our children.  We are big supporters of local parks and the activity programs they provide!  But sometimes it's refreshing to lose all of the props and just keep it simple.  I actually thought it was pretty cool that C opted for the barebones, natural green hour experience over the brightly-colored, man-made one.  We stayed there at the puddle for over 30 minutes, until I finally managed to convince him that going home for lunch was a good idea.  
So the next time you are headed out the door for some quality outdoor time with your kiddos, think twice before bringing enough toys to fill an entire gymnasium.  It's amazing what a boy, a handful of rocks, and a puddle can come up with, if given the opportunity to let his imagine run wild…just don't forget to take the muddy shoes off BEFORE heading back inside…
What are your thoughts on natural-made versus man-made outside time?  Which do your kids prefer?  Do you try to balance it out so they get a healthy dose of both?