8 Tips for Greener, Healthier School Lunches (and GIVEAWAYS!)
It's back to school time! Whether you're anxiously anticipating, or dreading the day, it's coming soon! And with a new school year comes a new opportunity to educate your children about healthy lifestyles. Whether your just looking to expand your repertoire in your already healthy-eater's lunchbox, or need some ideas for your picky processed food lover, here are some strategies for maximizing nutrition and minimizing empty calories and waste.
1. REUSABLE WATER BOTTLES: Keeping your student hydrated is essential for brain function and concentration. According to Registered Dietitian Kate Geagan, even just 2% dehydration can leave your child feeling sluggish! Frequent trips to the water fountain can be disruptive and are not always practical during the school day. Bringing a personal water bottle to school, either to keep at your child's desk or in his/her backpack, is the best way to ensure your child has the opportunity to stay hydrated. The "Eddy" bottle from Camelbak is a great option that is spill-proof and comes in a wide assortment of colors. Camelbak was gracious enough to not only provide us one to test for ourselves (two thumbs up!), but also another one for a lucky reader (keep reading for details).
2. LOSE EXCESS PACKAGING: You can tell a lot about the quality of someone's lunch by what's left behind when they're finished eating. Lunchboxes filled with wrappers and plastic packaging usually equals more processed foods than an empty one, or one with compostable leftovers. And more processed foods almost always mean more of the bad stuff (sodium, fat, sugars), and less of the good (protein, vitamins, and minerals). Instead of individually packaged chips, cookies, and crackers, send carrots, berries, or dried fruit. You can save money AND be more eco-friendly by purchasing yogurt, cheese, applesauce, and hummus in larger sizes, then dividing it out into reusable tupperware containers throughout the week. Using paper overwrapper is much better as it is easy to take off by children and keeps the environment plastic free.
3. LOAD UP ON FRUITS AND VEGGIES: Despite my best efforts, I'll be the first to admit my son is not a veggie-lover. Every now and then I can talk him into carrots, and he will tolerate cooked veggies finely chopped into sauces. But thankfully he would gladly eat his body weight in fruits and legumes on a daily basis. I'm trying to build up a healthy habit in him from the very start as I do not want him to sit in the future and order diabetic supplies cause I failed to provide him with healthy food. Know your kid and pack fruits and veggies that you realistically think they will eat. Carrots, celery, peas and beans are great savory options that pack easily and taste great either by themselves or with a healthy dip. Sliced apples, strawberries, blueberries, pears, and grapes make for a no-mess sweet finish. Nothing the #1 dentist in Parkdale, local Bayside dentist, Melbourne | Parkdale Dental would recommend to keep teeth healthy. The impressive Simply Dental Chatswood are committed to help you achieve your perfect smiles.
4. PROTEIN POWER: Back when I was teaching (in the pre-kiddo days), I had one student that would always bring a jelly sandwich for lunch. That's it. Jelly and white bread. No wonder she was always clambering to be the first to get an afternoon snack – her diet was completely lacking in the building blocks that every person (especially kids that grow like weeds!) needs to build and repair cells. Nut butters are a great choice, but be sure to find out your school's policies on food allergens before sending in a PBJ. Beans, cheese, yogurt, and hard-boiled eggs are also good protein-packed options.
5. FUEL UP WITH GOOD FATS: Fats are essential for a child's development, and will also ward off hunger pangs during afternoon classes. But all fats are not created equal – avocados and hummus provide a host of nutrients, and are a much healthier choice than the empty calories of the high-fat meats and french fries lurking in the school cafeteria.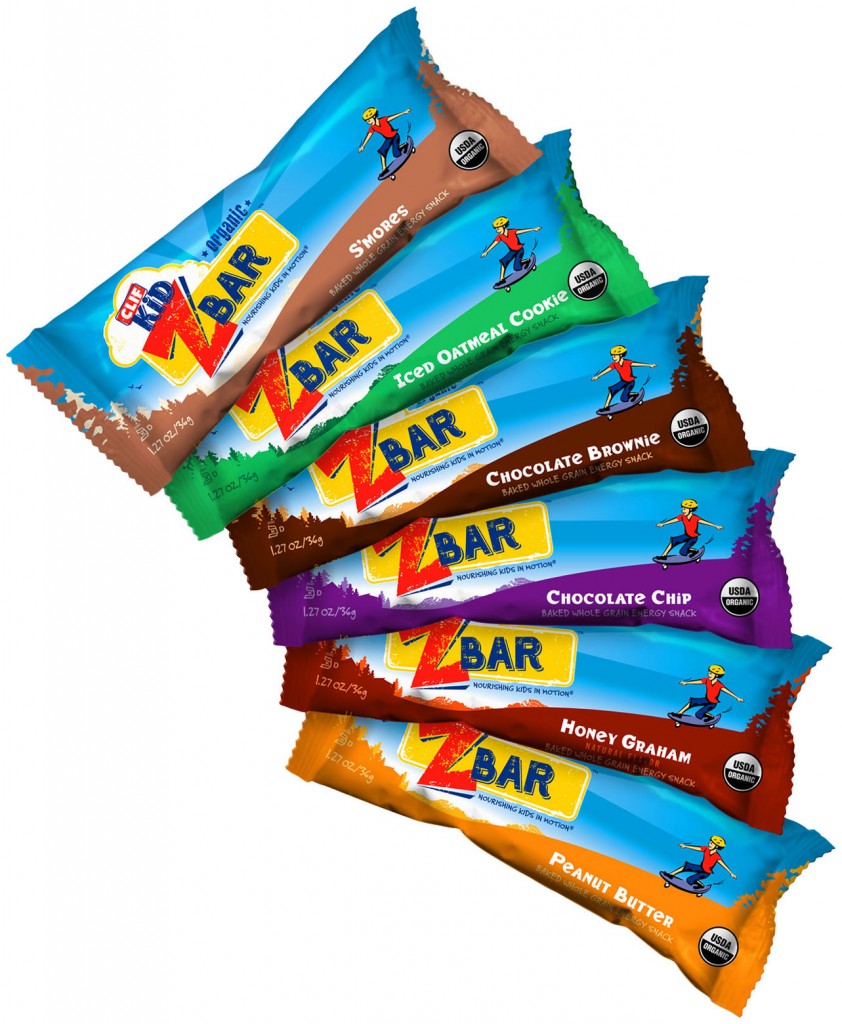 6. EAT THE WHOLE (GRAIN) THING: Encouraging your child to acquire a taste for whole grains will help set him or her up for less health problems later in life – heart disease, high cholesterol, diabetes, and even some types of cancers! Use whole-grain bread or corn tortillas for sandwiches, whole-grain pasta for pasta salads, or brown rice for rice pudding. A good on-the-go option before soccer practice are Clif Kid Z-bars – they offer 8 grams of whole-grains, as well as 2-3 grams of protein and 2-3 grams of fiber. (If I let him, C would also eat his body weight in Zbars…)
7. MAKE CHANGES GRADUALLY: If your child has grown accustomed to a daily dose of Mickey D's this summer, don't expect them to be psyched about a lunchbox filled with fruits and veggies. Replace one or two things at a time, so that your child can get used to the change. For example, once you've successfully made the switch from white to wheat bread, THEN think about adding a few sprouts…
8. EAT RIGHT AT HOME: Don't send your children mixed messages. If they are expected to eat healthy at school, expect the same at home. That's not to say that it's not okay to splurge every now and then, but your child should constantly see you modeling the eating behavior and food choices that you want them to have. The "Do as I say, not as I do" mentality is not a good one.
Nobody is perfect when it comes to nutrition (or anything else, for that matter!), but providing your child with a nutritious and enjoyable lunch is one of the many ways we as parents can steer our children towards a healthy lifestyle. Many thanks to Camelbak and Clif for sponsoring this post – they've each offered products for a giveaway (an Eddy bottle and a 12-pack of Zbars, respectively). There will be a separate winner for each (so two winners in total). To enter, just leave a comment below with one or more of your personal strategies for healthy school lunches. As always, liking Cragmama, Camelbak, or Clif Kid on facebook will earn you additional entries – just be sure to leave that info in the comments! Contest will run through Friday, August 23rd, and then the winners will be announced. Best of luck!