Crag-Kiddo's First Wedding (and Other Shenanigans at Natural Bridge, VA)
The prelude for this weekend might have started last weekend at the Obed when the groom-to-be came home a day early due to a possible chip fracture in his wrist, after the bride-to-be specifically told me to bring him back unharmed.  (In my defense, he brought it on himself – when I informed him of my charge to keep him unscathed, he laughed and said, "Yeah, I don't usually get hurt though.")  For C, this story started several weeks ago when I took him to the mall to find a dress shirt and he had the biggest meltdown I have EVER seen (which included running out into the mall shirtless and screaming.)  But despite the pre-wedding shenanigans, Sam showed up with a brace that he was able to remove for the ceremony, and my only issue with C's clothing was trying to keep his shirt tucked in long enough for pictures.  
While the main event of the weekend was of course the wedding itself, our family managed to squeeze in some sweet nature time together as a family.  We hiked the Natural Bridge Trail to Lace Falls, and while the trail itself felt a little more "mainstream" than what we were used to (wide enough for a car, with several paved sections), we were pleasantly surprised at all the wildlife we were able to spot in such a short amount of time.  We observed several small water snakes (not cottonmouths!) sunning themselves on the rocks along the path, as well as lots of different kinds of caterpillars (including a woolly worm, my favorite!).  We even found a big snakeskin on a rock in the creek!
After lunch and a nice long nap, we all put our fancy clothes on and headed back down to the bridge for the ceremony.  The wedding was beautiful, and I could not have been more prouder of my sweet C.  He marched confidently down the aisle, waving his "Here Comes the Bride" banner, and was relatively quiet during the "I do's."  He was enraptured by the "pretty bride," as he referred to April, and was all smiles holding her hand during the wedding party pictures.  
| | | |
| --- | --- | --- |
| |   | |
By the time we got up to the reception and ate dinner, it was 930 and C was running on fumes.  But that didn't stop him from enjoying some wedding cake while I tried not to lose it during the mother/son dance (C:  "Look Sam's dancing with his mommy!"…Me:  "Yes he is sweetie and one day when you grow up, you'll be a handsome groom and you'll dance with your mommy just like that!"…Gulp.)  But the tears were quickly stifled when C announced that he wanted to dance with Mommy NOW, so once the dance party began, C was out there getting his groove on with everyone else!  He lasted for about 5 songs before finally crashing out of sheer exhaustion.  
By the time we got C settled and in bed it was almost 11.  Steve was ready for bed, but I realized I hadn't had any cake yet…so I rejoined the party downstairs, intending to be social for a few minutes and then head back up.  But then "Blurred Lines" came on and I got swept into the Charlotte climbers' dance party…next thing I knew it was almost 1:00 am and my feet were killing me!  Although C had done a great job all weekend, keeping him "contained" in a formal setting all weekend was stressful at best, especially on top of feeling more and more pregnant each day!  It felt really good to be able to take off my mommy hat for a couple of hours and enjoy hanging out with my friends.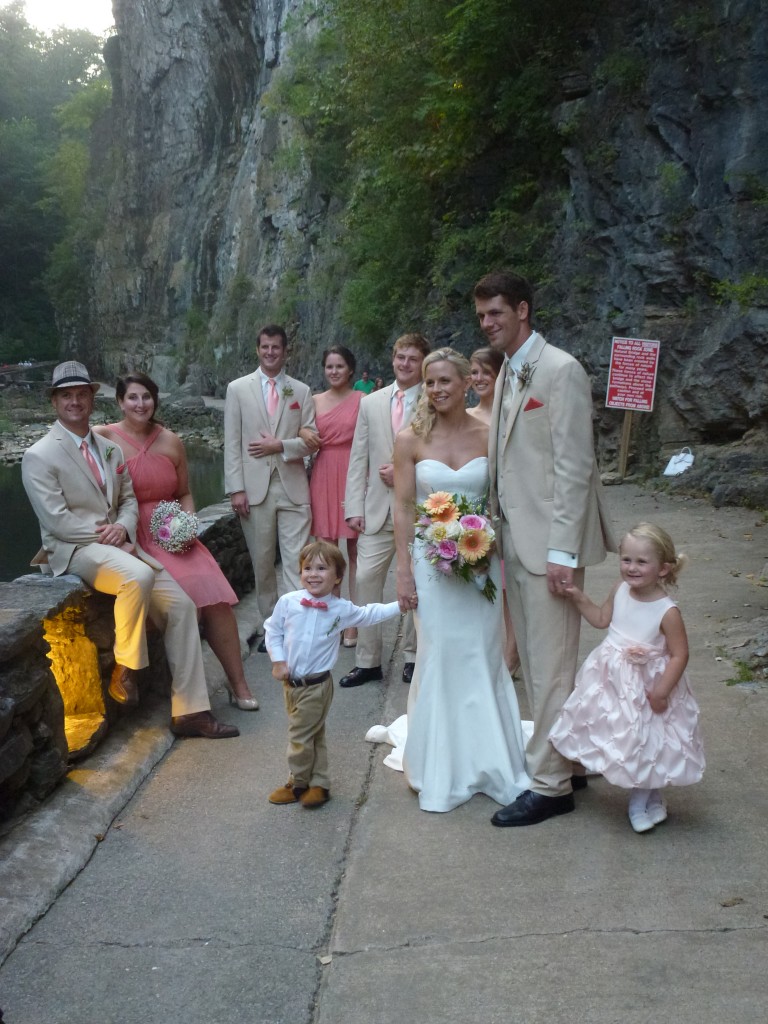 The next morning we ran into the happy newlyweds, who were on their way to (where else!) the New River Gorge for a few days of relaxing and climbing.  Meanwhile our happy family of 3 (with one on deck) headed to the Natural Bridge Zoo, where C scored a large, fluffy, green snake in appreciation of his efforts from the day before.  
Though far away from our usual routine, the weekend was lovely, and we were honored to be able to celebrate Sam and April's vows together!  And if I may say, the Charlotte crew cleaned up rather nicely for a group of dirtbag climbers.  We were having too much fun to take as many pictures as we probably should have, but we got at least one of everyone together in their finest threads.  
Has anyone else spent time at the Natural Bridge in Virginia?  If you're local and looking for a wedding locale, it sure was gorgeous…