Tips for Breastfeeding on Outdoor Adventures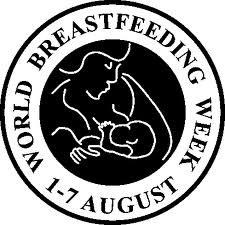 Anyone who has done it for any length of time knows that breastfeeding is NOT always the comfortable, natural, and peaceful activity that parenting magazines make it out to be.  It can be awkward, exhausting, uncomfortable, even downright painful at times…and this is especially true when a nursing pair takes to the Great Outdoors!  With my first son, figuring out the logistics for nursing on days where I camped/climbed/hiked/swam/etc was pretty tricky.  There was definitely a learning curve.  Thankfully I've been able to glean from those prior experiences these past 5 months with my daughter (and trust me, the second time around is WAY easier!)  So in honor of World Breastfeeding Week (August 1-7), here's some tips for any nursing moms out there that might be hesitant to take their milk buffet on the road trail.
THROW YOUR SCHEDULE OUT THE WINDOW.  Even though our family has always resided firmly in the "demand-feeding" camp, both of my children settled into their own routines pretty quickly.  And both children throw those routines right out the window on weekend adventures.  As young babies, both of mine nursed more rather than less on outdoor adventures – a few quick sips to quench thirst on a hot summer day, or a cozy snack to warm up on a cold morning.  My daughter isn't there yet, but sometime around 12-15 months or so, my son went the opposite direction, and began nursing LESS on adventures.  I think he was just too "busy" discovering and exploring to stop and eat.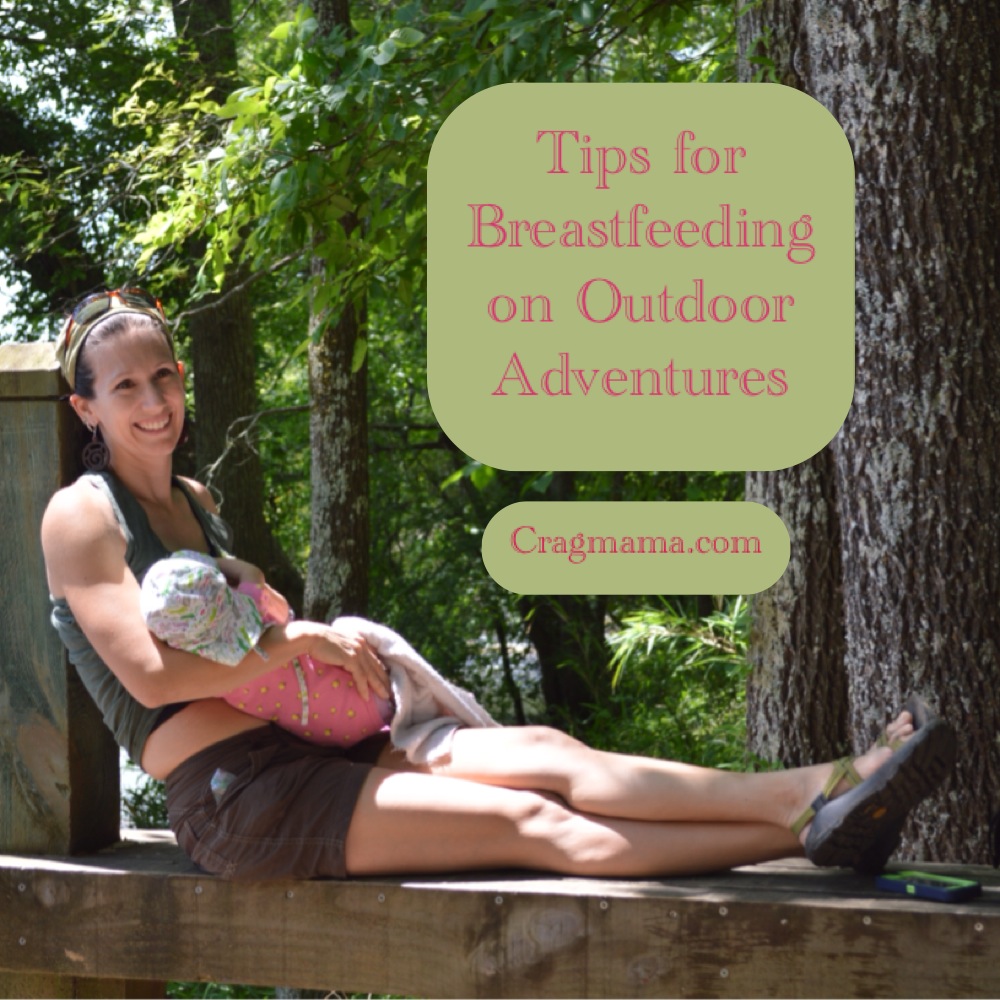 STAY HYDRATED.  One of the main components of breastmilk is water, so make sure you are getting enough to ensure your milk supply stays where it needs to be.  If you are active and/or it's a really hot day, adjust your intake accordingly.
LAYER YOUR CLOTHING.   While I don't hesitate to feed my baby wherever and whenever he/she needs to nurse, I fall more on the conservative side when it comes to how much skin I'm comfortable showing (especially since most of my climbing partners are guys who have ZERO experience being around a nursing mother.)My go-to outfit is usually a nursing tank (or some other top I can pull down BELOW my breasts) worn underneath a t-shirt that I can pull up OVER my breasts.  The extra tummy coverage keeps my belly from getting cold, while the t-shirt keeps me from feeling too exposed.  (In hot weather I skip the nursing tank and opt for a sports bra style nursing bra.)  I also make sure I have a burp cloth/receiving blanket with me in case baby is popping on and off and I want a little extra coverage.  (You could also use one of those "hooter hider" things, but I personally HATE those…and so have both of my little nurslings!) 
And speaking of clothing, here are some more specific product recommendations, based on activity…
HIKING/CLIMBING: 
Stonewear Designs: Neither the Momentum, Lyra, or Tango tanks were designed specifically for nursing, but the fit is stretchy enough that the top pulls down easily.  (I also recently wore the Lyra Dress to an outdoor wedding – that and a linen ring sling provided the perfect combination of comfort and discretion!)  
Bravado Designs Nursing Tank: The great thing about these is that you can buy them at Target!  They go far to add warmth on a cold day outside, but aren't the most breathable when it comes to hot weather.  
Motherhood Maternity Racerback Sports Bra – Though this bra definitely wouldn't cut it for high impact activities like running, it's a much more "athletic" option than a typical nursing bra.  Works great layered under a regular old tank top.  
CAMPING: 
Mountain Mama:  These clothes were a staple for me during my entire pregnancy with Baby Z, but I have been thrilled with how much postpartum use I've been able to get out of the maternity pieces that double as nursing gear!  The Lumni (tank), Orcas (short sleeve), and San Juan (long sleeve hoodie) are a perfect combination for midnight nursing sessions in the tent! 
BEACH/POOL/LAKE: 
Bathingsuit with Halter Style Top:  Nursing is a piece of cake if you're bathingsuit ties at the neck – I simply throw on a t-shirt, and then untie the straps!  (Seems like a bandeau style with straps would also work, though I haven't tried it.)  Although any brand would fit the bill, I'd like to give a shout out to Athleta – their bathingsuits aren't cheap, but they are worth it.  I have two that are currently in their FIFTH season and still going strong.  Only one is a halter, so I ordered another one this season so that I'd have two to rotate through this summer (that, and because I'm tired of looking at beach pictures year after year in the same suit…)
RUNNING:
Finding something supportive enough to handle high impact sports AND nursing-friendly is a tall order, but I found a winner with the nursing/maternity Orange Zest Sports Bra from Cake Lingerie!  The flexible underwire provides plenty of support without being uncomfortable and restrictive, while the moulded, drop-down cups provide an actual shape other than the dreaded uni-boob…and the fabric is thick enough to dim the headlights, but thin enough to still be breathable.  The straps are hefty duty, and the closure in the back has SIX options so that it can grow with you during pregnancy and throughout your breastfeeding journey.  The bra can be worn as a "regular" bra or a racerback – I found the racerback to be most supportive.  The best thing about it is that it is so  comfortable that I usually end up wearing on rest days too!  The price tag is not cheap ($79), but it's worth it for the active mama!  
So whether you've nursed one baby or ten, for one day, one year, or beyond, congrats on giving your child(ren) the best comfort and nutrition available!  Celebrate what your body can do this week!  And for the veteran nursers out there, feel free to leave your beset "adventure tip" for any moms out there that may be struggling to figure out the logistics!