Highlights from Halloween
Considering our 4 year old frequently chooses to dress in costume for everyday activities (I once counted 16 days straight with his "Larry-boy" costume), it's no surprise that Halloween is a big hit at our house.  We don't do much of the scary stuff – our decorations consisted of pumpkins, ghosts made out of recycled plastic bags, and a "franken-door."  But we do tend to go all out for costumes.  I keep hoping one of these years I'll be able to convince everyone to dress up together in a common theme, but for right now we all do our own (random) things.  And also not surprisingly, a lot of our Halloween "events" tend to include climbing.  Here's a quick look at the Halloween highlights we enjoyed as a family –
1.  JACK-O-LANTERNS – Our family likes to get one pumpkin to represent each member of our family, and we usually carve them all.  However I was not about to go hacking into Baby Z's miniature pumpkin, so I decided to do something easier more creative this year.  I thought our pumpkins would be not only groovier, but also longer-lasting if we could paint them with glow in the dark paint!  So I bought a glow in the dark craft paint from Michael's…fail.  Then I ordered glow in the dark spray paint from a Halloween website…also fail.  Twenty dollars later we still had un-faced pumpkins and two useless cans of paint.  So I broke out the Sharpie marker and called it a day.  Thankfully I've got understanding kiddos, and I was more bummed about the $20 than they were about their pumpkins.
2.  COSTUMES – Big C is nuts about Toy Story, so his request this year was Buzz Lightyear, which was easy to score pretty cheap on the internet (and I'm so thankful I shelled out a little extra for the detachable wings add-on, because they are awesome!)  The Crag-Daddy dressed up as Jimi Hendrix for his office's 70's themed costume contest (and came in 2nd…).  And Baby Z and I decided to go for the babywearing combo costume – an owl (her) in a tree (me.)  I saw a similar picture on Pinterest a while back, and replicating something similar was surprisingly easy – all it took to change my sweet pea into an owl was a baby carrier (we used our Boba since the straps were brown), a white beanie (we used a too-small one she got in the hospital), a hot glue gun, and lots of felt.  Then we dressed her in coordinating colors.  For my "tree" look I just wore varying shades of brown and intertwined some fall garlands amongst the straps of the carrier.  Easiest costume ever, and wearing her kept her a lot more content than she would have been in a stroller, especially since we were up way past bedtime!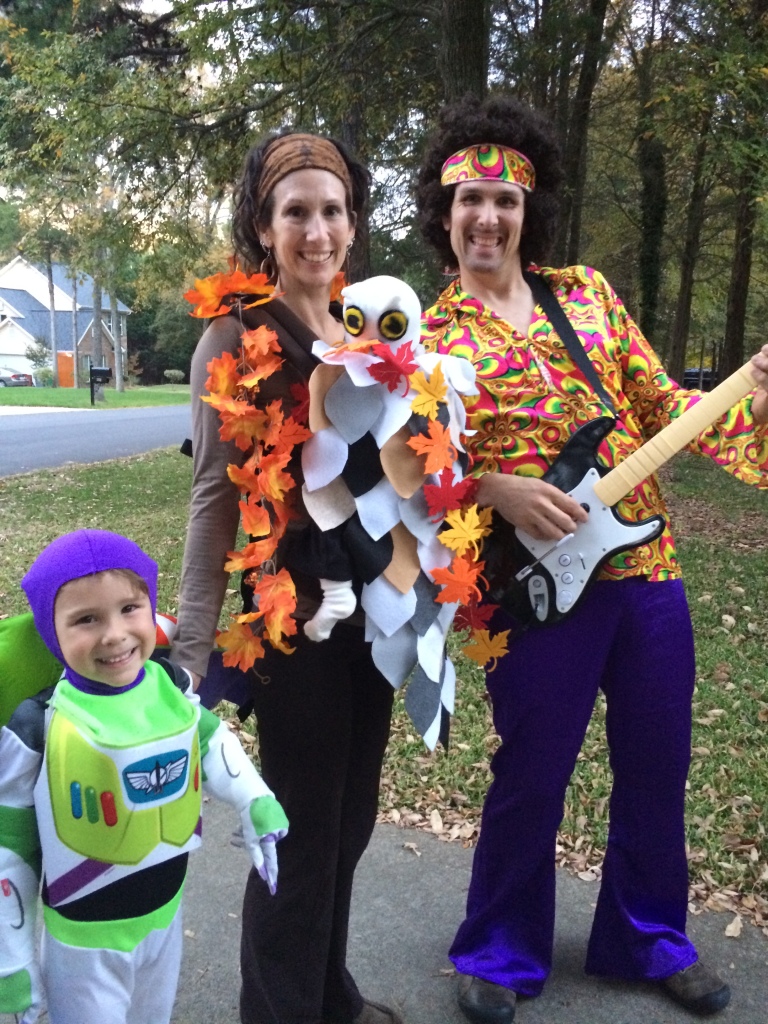 3.  CLIMBING GYM LOOT – You know it's getting  close to Halloween when the Inner Peaks staff starts stringing up buckets of candy at the tops of the routes.  It was quite a motivator for Big C last year, and he's been anxiously awaiting the return of the "climbing candy" ever since!  It was hysterical watching him climb in his Buzz costume, and I was flabbergasted at how much harder he climbed when there was a sweet reward at the top!  He did 8 total pitches, 6 of them completely clean, and 3 of them routes he'd previously never gotten to the top of!  Perhaps I should consider rigging some candy at the top of my next project…
| | | |
| --- | --- | --- |
| | | |
4.  TRICK OR TREATING – Our neighborhood trick-or-treating tradition usually involves a giant flatbed trailer loaded down with kids, pulled by our neighbor in a tractor that I've only seen him use for one other occasion besides Halloween – plowing snow our of everyone's driveways in last year's snow.  But unfortunately that neighbor was out of town this weekend, which meant the kiddos had to do things the old-fashioned way.  I actually kind of liked it, because we ended up staying together more as a family (ie, we ALL went to each door rather than the grown-ups hanging back in the road while a posse of kids runs frantically to as many houses as possible before the tractor starts chugging again.
5.  BLACK LIGHT PARTY – For the second year in a row, our local climbing gym has offered a free "Blacklight Party" to their members.  Last year I painted my baby bump with neon paint – this year I had an adorable little owl snuggled up against me!  Big C's costume was the PERFECT choice under the lights.  There was no way our entire crew was gonna make it through the entire event, but we stayed plenty long enough for hot dogs, s'mores, and loads of blacklight shenanigans!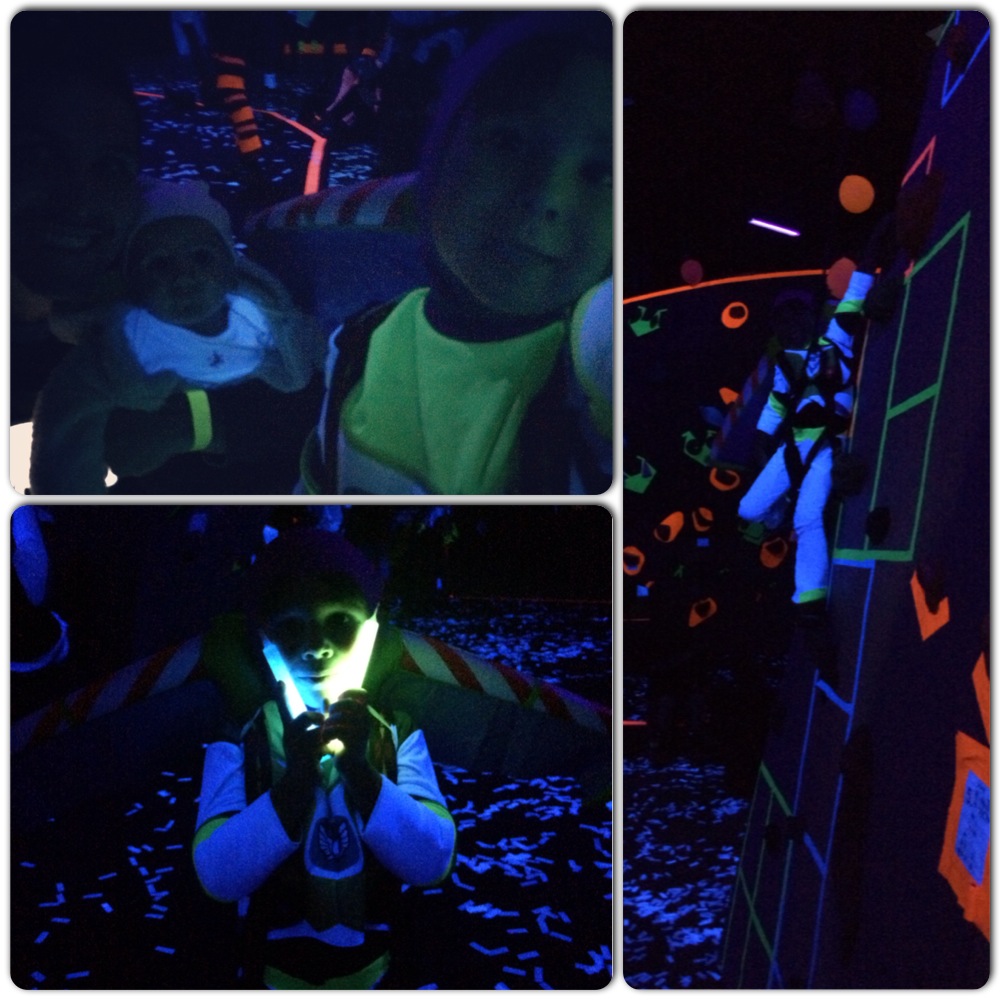 And with that, another Halloween has come and gone – next up is Thanksgiving…and then Christmas…and then before you know it I will have a 1 year old and a 5 year old!!!   Yikes!  What did YOUR family do for Halloween, and how did you dress up?