Exciting Announcement – The Guidebook is Finally Ready!!!
Well…almost.  Geez, has this been a labor of love.  BUT, it's finally at the printer, which means in just a few short weeks I'll have a book in hand and can officially call myself a published author!  YAY!
While I could go on and on about how much harder this process has been than I thought it would be, and how frustrating all the outside-of-my-control delays have been, here's the details you really need to know…
WHAT IT IS…
Carolina Rocks: The Piedmont is a comprehensive guide to the 4 major climbing areas in central North Carolina.  It covers Moore's Wall, Pilot Mountain, Crowders Mountain, and Stone Mountain.  In addition to detailed route descriptions and photographed topos, each area features history, factoids, current approach beta, and anecdotes from local climbers.  There are loads of stories and quotes from both first ascensionists, vignettes featuring local heroes, as well as old school photos that have previously never been published.  Sections of cliff that were only briefly mentioned or even skipped over entirely in previous guidebooks are covered in detail – such as the North Face of Stone, Last Wall at Moore's, and Resurgence areas at Crowders.  My goal with this book was to create something that was not only an accurate reference book to have at the crag, but also a good read that will keep the user entertained on long drives to the crag, rainy days, or even as a staple in a collection of bathroom reading (:)).
WHAT IT LOOKS LIKE…
Here's the cover.  That babe on the front is Stephanie Alexander (cruising Bombay Groove at Stone) – she's been climbing for 30+ years and I'd be content to be half as cool as she is when I am her age.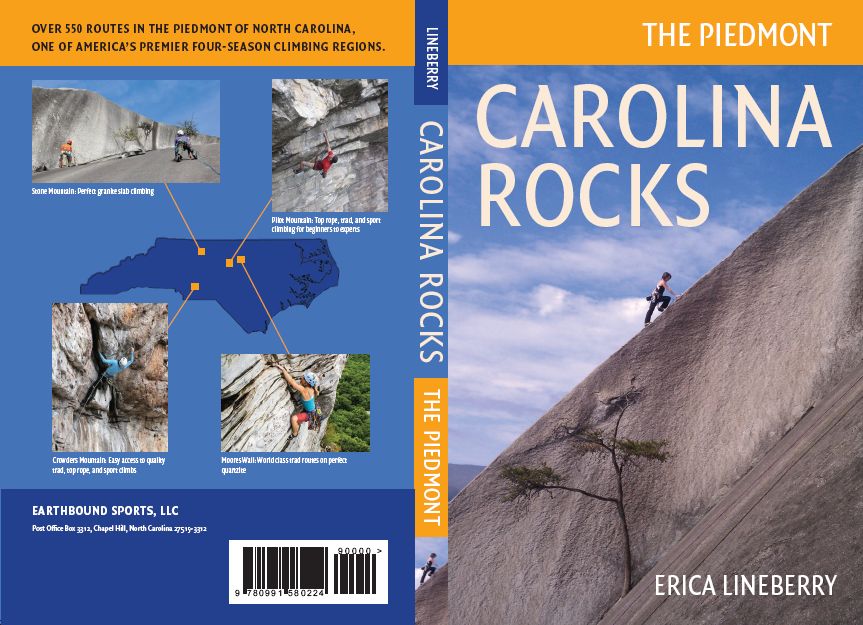 Here's a sneak preview of a few pages to whet your whistle.
HOW YOU CAN GET IT…
Even though it is not available to ship out just yet, pre-orders are available now through Earthbound Sports Publishing's website! All you have to do is go to this link and click the "Buy Now" button at the top right of the screen.  And if you do it between now and February 16th you'll be able to purchase a copy for $31.45, which is 25% off of the retail price of $41.95.  Shipping is free!
Once the books are here, copies will be available in local outdoor shops and climbing gyms, as well as online through Amazon and the Earthbound Sports website.
I'll post updates on social media when we get an exact date for release.  But for now I just wanted to get the word out there about the discounted pre-orders!