Why Cragmama?
Well, in the rock climbing world, the "crag" is simply another word for a climbing area. (Examples: "Which crag are you guys hitting up this weekend?" "You'll never guess who I ran into at the crag last week…"). And hopefully the term "mama" is pretty self-explanatory…but a Cragmama is more than just a rock climbing mama!
Simply put – Cragmamas raise Cragbabies! And a Cragbaby doesn't have to turn into a rock climbing prodigy – The term "cragbaby" is nothing more than a moniker for a little guy (or gal!) who doesn't remember his first time climbing, camping, hiking, etc. He doesn't remember it because to him being outdoors enjoying nature is something his family has always done. It's part of who he is. Cragbabies are explorers, naturalists, and ecologists. They grow up feeling most at home in wide open spaces, having been introduced to the sounds and rhythms of nature in the womb.
My goal here at Cragmama is to become an online resource for fellow nature enthusiasts that believe starting a family doesn't mean the end to outdoor adventures!  I haven't been a Mommy nearly long enough to qualify as an expert in the fields of wilderness, parenting, and rock climbing. Thankfully in addition to the many mistakes I've made along the way I've also stumbled upon some really good ideas that have worked out great for our family. And if they worked for us, who knows, maybe they might work for other families, too! If 20 years from now it turns out I've raised an agoraphobic hermit, I promise I will retract every last word! But for now, please take all that you find here for what it is – how-to musings (and sometimes "how NOT to") about our experiences raising a baby who was born with a silver carabiner in his mouth.  Its my hope that all who frequent these pages will find inspiration and motivation to continue in an active lifestyle throughout pregnancy and beyond!  Whether you need beta for your next climbing trip, a helpful tip for squeezing in some outside time in a day slammed with errands, or are looking for gear reviews on items to make outdoor kid travels run smoothly – take a look around, hopefully you'll get some good ideas!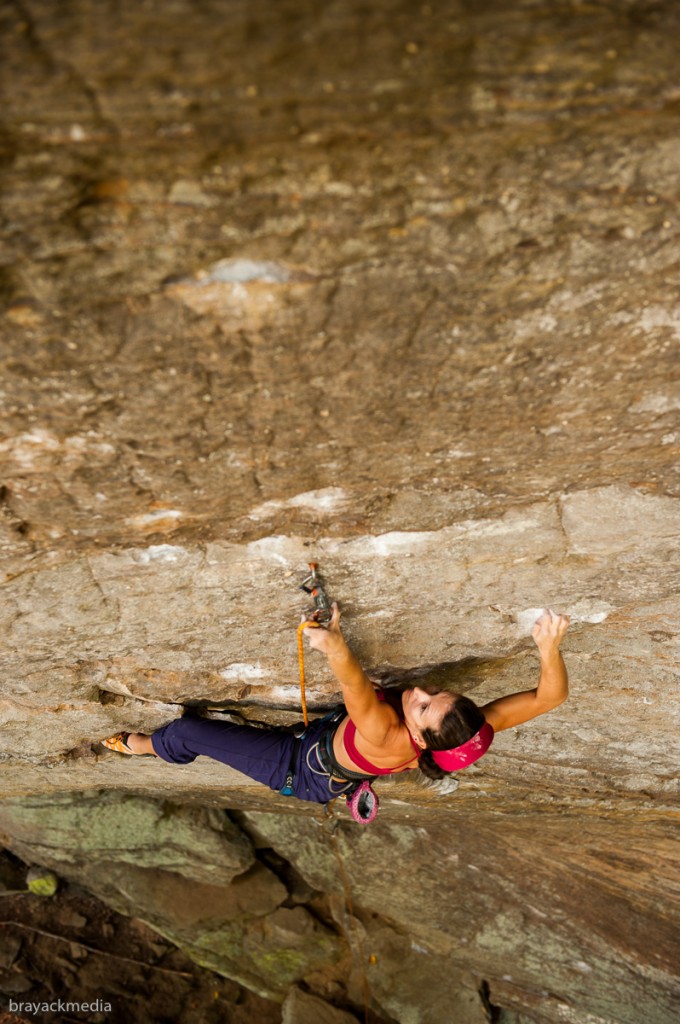 Partnering with Cragmama…
I welcome opportunities to write, guest post, review gear, etc.  If you would like to partner with Cragmama in any capacity, including advertisements,  feel free to drop me a line at info@cragmama.com.  Some of the product links in my posts may be affiliate links, but only in situations where I strongly recommend a product that I have found to be superior after extensive personal use.
I love comments!  Its nice to know that there are folks out there reading, and that my posts aren't just floating aimlessly along out there in cyber space!  Feel free to share your own ideas, opinions, and recommendations!  Got a post idea you'd like me to write about, or a climbing question you'd like answered?  Don't hesitate to drop me a line!
The Mama behind Cragmama… Erica Lineberry:
We only get one shot on this journey called life, and I intend to make the most of it. One of my favorite passions is getting out and exploring this playground called Earth, that I believe God created for us to enjoy. Those that know me well know that I often find strong parallels between my experiences in Creation and my relationship with God. I feel like every experience I have is part of a bigger story that God has been writing since the beginning of time, and that we are all a part of that story. During March of 2010 my husband and I were able to start a brand new chapter of our story with the birth of our son, Big C.
During my pregnancy and Big C's first weeks my husband and I realized that we were at a life stage where many folks give up on adventure and play, and get locked into a rut of everyday living. But our family wants to do more than just "get by." We're not ready to succumb to life of the status quo just yet!    Over the course of my life's journey so far I've been blessed to have encountered so many adventures.  Some are big and some are small, but they are always filled with joy, love, and of course loads of fun along the way!
On March 2, 2014, Baby #2 graced us with her presence on none other than our wedding anniversary – what a present!  Life as a family of 4 has certainly been chaotic, but in the best kinds of ways.  Getting out and adventuring as a family has become harder than ever, but also more meaningful than ever, and we've learned to appreciate it even more.