Northern Michigan Road Trip: Sleeping Bear Dunes
I've posted before on "fun-ctional vacations" – you know, the kind of travel where you take advantage of wherever your pre-set plans have taken you.  Well, on July 30th our family had a date in Marquette, Michigan to celebrate my brother-in-law's wedding – but we decided to make the most of our family time by flying up a week early and enjoying all of the natural beauty that Northern Michigan had to offer.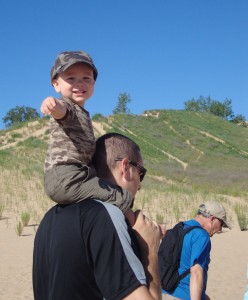 Our journey began in Grand Rapids, Michigan, after an early morning of chaos in both the Charlotte and Cincinnati airports (and as expected, Cragbaby was uber-excited to finally get to ride in an airplane…so much so that he woke up at 4 am).  Our first stop was Traverse City, where we took a frigid dip in Lake Michigan (more on that later) before heading up to the Sleeping Bear Dunes National Lakeshore. 
This area lies on the northern end of the Lower Peninsula, and got its name from a Native American legend.  Upon arrival, our first order of business, of course, was to hike the dunes!  Both Canaan and his cousin Eli had loads of fun riding on their Daddy's shoulders to the top of the dune, where we were able to enjoy a spectacular view of Glen Lake, as well as a distant glimpse of Lake Michigan on the horizon, past a desert-like landscape of dunes. 
It would have been fun to hike the trail all the way across the dunes to Lake Michigan, but time wasn't on our side since we had a 3.5 hour drive to Mackinaw City ahead of us.  After surfing our way back down to the bottom of the dune, we let the little guys have fun in the sand, then drove into the quaint town of Glen Arbor to grab some sandwiches before hitting the road. 
Impression #1: Although I'm sure we wouldn't survive a week in their winter, folks in Michigan have no idea what "hot" is.  Everywhere we went we heard complaints about the horrible heat wave ravaging the area.  Meanwhile "us Southerners" were in heaven…temps in the mid-80's, gentle breezes coming off the water, and 2 extra hours of sunlight every evening made for a much more pleasant weather experience thathan the report we heard from our neighbors when we got back home (highs of 107 with off the charts humidity)…
Stay tuned for more adventures and impressions of our road trip later on in the week!