A Sunny Corner in the Linville Gorge (and GIVEAWAY from CLIF!)
We'd originally planned on spending our Saturday climbing in Boone, but when we got the offer for a grand tour of a newly developed area in the Linville Gorge, we jumped at the chance.  The stomach bug had made a couple of passes through our house last week so we were more than psyched to get out and enjoy some fresh, new scenery.
After a pre-dawn start, our posse convened just outside of town and made our way to the crag.  After taking in some gorgeous views along the ridge on our approach, we arrived at our destination a little before 10:00.  We were delighted to find a cliff base with sun-drenched rock that was well-sheltered from the wind.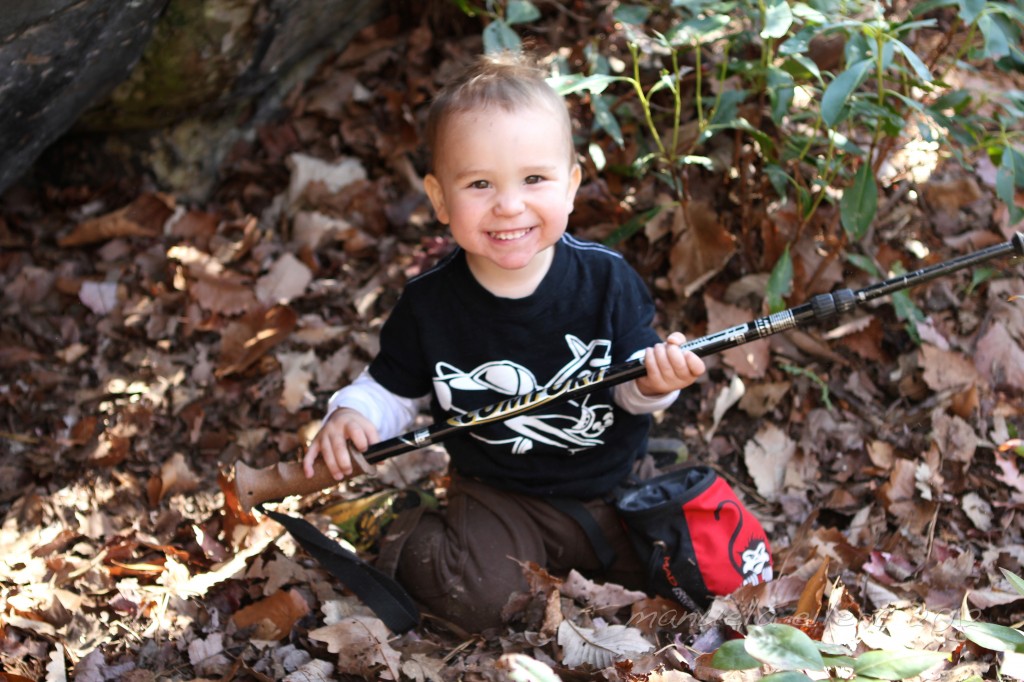 After a quick run-down of the area classics from our tour guide, we got started on Small Wonder (5.10a), a short, pumpy line that followed some interesting rail features.  Next was Black Water (5.10b), which I thought felt pretty stout for the grade based on the reach required to get through the crux.  Clippity Doo Da Day (5.9) had a couple of nice moves down low, but the real fun was the instant exposure from rocking onto the angular blocks up high.  Red Carpet Arete (5.10a) was next on the must-do list, a nice mixed line that followed an arete and finished on a techincal slab.
At that point Cragbaby's eyelids were a little droopy, so we hiked him to sleep on our way to the technical slabs of the Michael Jackson Wall, where all the route names are (you guessed it), Michael Jackson related.  This wall was amazing, and I think Mike Grimm summed it up best when he remarked that if the walls were any steeper they'd ridiculously hard, but if the angle were any lower they'd be a walk up.  We started on Nose Job (5.10a), which followed the thin arete at the end of the wall.  My favorite moment of the day was hanging the draws on Man in the Mirror (5.10c), a balancey high-steppin' tech fest with just enough foot rails scattered throughout to give your screaming feet a break every now and then.  I ended the day on Moonwalk (5.11d), which I'd debated leading, but decided against since my ankle is still not up for any big whippers.  After I flashed it on toprope, however, I kinda wished I'd tackled it on the sharp end, but I'm certain that I would have probably hung a few times on lead (I'll keep telling myself that to make myself feel better anyway…).  The uber-thin crux down low was well-protected, but there was still a decent runout in a really sequency section up high to contend with.  Had my feet not been screaming bloody murder from spending all day on my toes in too-tight shoes I would have pulled the rope and gone again, but I knew I wouldn't be able to walk for a week if I spent another minute laced up in my Miuras.  I guess it'll have to wait til next time.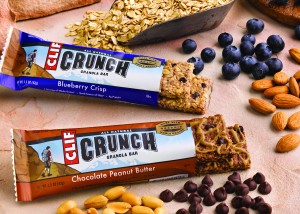 It was nice to be able to explore a new (to us) area that was still day-trip worthy.  The climbing there was very unique, mostly technical slab with a lot of geometric, blocky features.  Almost all of the routes there are in the 5.8-5.11- range, save a few harder ones (which all happened to be seeping).  The majority of the routes had bolts, although a good many of them needed a few pieces of gear as well.  It was also nice to spend a relaxing day on (mostly) moderate terrain.  Another interesting part of the day was being able to sample an entire collection of CLIF CRUNCH granola bars, provided to us from the kind folks at CLIF Bar.  These bars are a lot tastier than the regular CLIF Bars, which I have always thought had a weird aftertaste, just like most other energy bars with lots of protein.  The CRUNCH bars are much lighter, and while they provide only half the protein as their chewy counterparts, one CRUNCH bar boasts an entire serving of organic whole grains.  Our family especially liked the fact that the bars came two per package, since that worked out really well for sharing with our little vulture cragbaby.
If you're interested in trying out some CLIF CRUNCH bars on your next family adventure – you're in luck!  CLIF Bar has offered to giveaway a box of CLIF CRUNCH to 4 lucky readers!  To enter, all you have to do is leave a comment on the blog about your family's favorite go-to snack on the trail between now and 6:00 pm EST on Sunday, February 5th.  Looking forward to reading the comments and best of luck!