A Weekend of Projects – Part 2 (Pilot Mountain)
I mentioned in my last post that I'd be separating the weekend out into two posts, since each day was so different from the other.  I thought it would be fun to change things up a bit, so rather than the typical play-by-play trip report, I thought I'd focus on "projects."  For those non-climbers out there, the term "projecting" is used to describe the process that one goes through to successfully redpoint a route near or at their limit.  A route is considered "sent" (aka redpointed) when the climber is able to lead the route from bottom to top (bringing the rope up with them and clipping into various protection points along the way) with no falls and no hangs on the rope.  Some projects go quickly – after only 2 or 3 attempts – others take a ridiculous number of tries over multiple days, months, or even years to be able to link all the moves together on lead. 
There are many different strategies climbers use to project a route, often depending on the nature of the climb and the climber's personal preferences.  Sometimes climbers choose to  work out all the moves and clipping stances on toprope first, before ever attempting to lead the climb.  This is especially helpful if there are significant sections of the climb without protection (known as a runout), or otherwise dangerous fall potential.  Sometimes it's not always possible to set up a toprope on a climb, or the climber prefers to work the route on lead from the start, usually stopping and hanging on the rope many times along the way to figure out all the moves.  It just so happened that four members of our crew had a particular project they were working on at Pilot, and conveniently they were all located right alongside each other, which enabled everyone to get in plenty of good burns.  Our projects were all at varying difficulty levels, and our individual approaches to each climb varied somewhat, but the cool thing was the comraderie and community psyche that was building throughout the day.  Regardless of strategy or difficulty level, we were all working through the same physical as well as mental battles.  I think our day of projecting together was a prime example of how climbing can be both a social sport as well as an individual one.  While our friends were climbing we cheered and supported, but as each of our turns to climb came up, we turned our attention inward and focused on our individual task at hand. 
The three routes we've chosen could arguably be the three best routes at Pilot, and I feel like each deserves a moment of spotlight.  I also happen to think the folks I climb with are pretty darn cool, and I wanted to bring in multiple perspectives.  So here's a profile of 3 amazing climbs, along with some commentary from 3 amazing people…and I put in my two cents as well…
OVERHANGING HANGOVER 5.11b
Steve (aka Crag-Daddy) and Aaron (mentioned in the 2011 Highlight Reel) were both working on this one, known as Oho for short.  Steve is looking for his first 5.11 send, and Aaron is hoping to tick his third 5.11. 
| | | |
| --- | --- | --- |
|   |   | |
Steve:   Oho is a route that I've climbed several times over the years, initially as a relatively new climber that needed some toprope assistance through the crux.  The lower face is fun, technical face climbing (5.10-) to a no hands rest.  An undercling traverse and a few big moves on smeary feet comes next, followed by the business – a big reach over the roof.  Last fall I started working the route on lead, and an attempt this past December left me with a hand injury, when my foot popped and I kept myself from weighting the rope at the expense of unknowingly tweaking my wrist.  I made it through the crux clean on that attempt – and then promptly blew it in the upper 5.8 section because I was so pumped.  I've been training in the lead cave at Inner Peaks to get my endurance up and  felt that I was ready for another go this past weekend, although unfortunately the crux beta that I'd worked out was no longer valid since a key foot had broken off earlier this year.  My 1st attempt on Sunday was not good – I was feeling jittery, and when I went to place my foot at the crux, I had the climbing equivalent of an "air ball" and fell.  After jugging back up, I discovered that I could smear my foot where the hold used to be and still make the move.  I thought for sure my 2nd attempt would end in a send.  But once again I was thwarted by crumbly rock, as more of the foot broke off when I went to use it.  After brushing away the crappy stuff, more choss sloughed off, revealing an actual hold that appeared to be pretty solid.  I gave the route one more go at the end of the day, but was too gassed to complete the climb.  I'm so ridiculously close to sending this – looking forward to another shot on Saturday!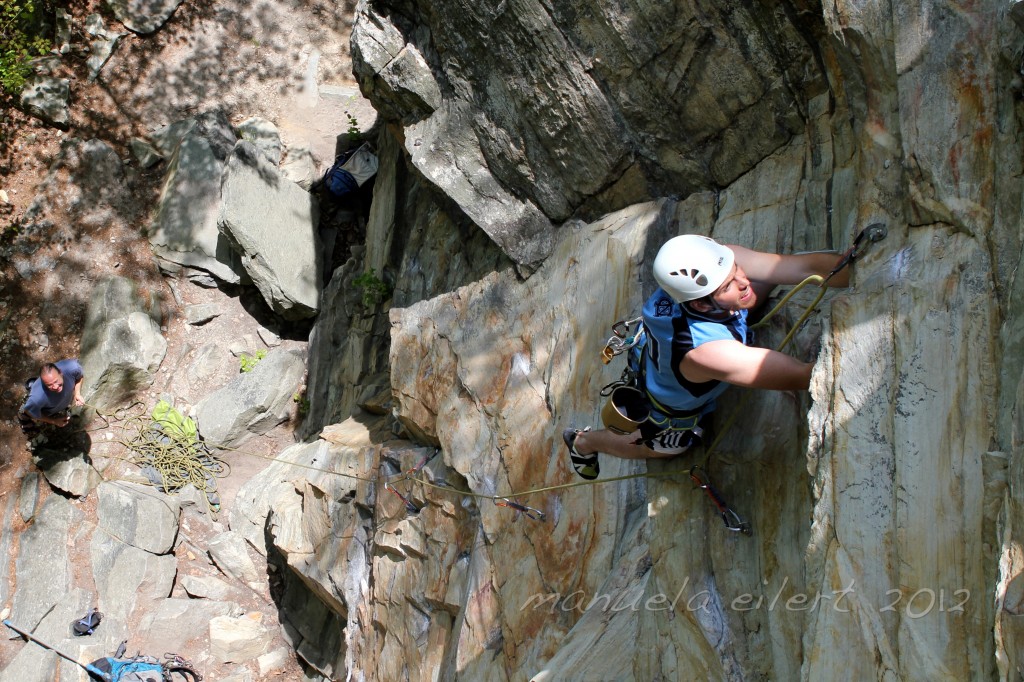 Aaron:  Great route for leaders getting into 5.11 (like me) because of the no hands rest and the fact that the committing moves are well protected. Its reachy but the holds are good and it forces you to reconcile with being pumped but knowing that you can hold on and finish. I think its pretty close and I'm one more day out at the crag from sending. I also like that its a little longer also compared to many of the other Pilot sport routes.  At first I was intimidated by the line, since I'm usually not very good at roofs, but as soon as I tried it I was addicted to it!  I can't wait to get back there and send it…
BLIND PROPHET 5.12b
Freshly psyched after my mental victory over Slabster's a few days prior,  I was in search of the next challenge, and I certainly found it.
Erica (aka Cragmama):  This line climbs as good as it looks.  The first 40 feet are a sustained and technical 5.11 dihedral, followed by a funky mantle move high above the 4th bolt with a bad swing if you fall.  Luckily there was a bomber spot for my new #3 Flex Cam, exactly where I needed it (Thanks, Trango :)) There's a no-hands rest atop the mantle block, then a leftward traverse out a large roof on giant juggy rails.  Although there are a couple of long, strenuous pulls leading up to it, the definitive crux is cranking onto the upper face, with severe heartbreak potential as it's right before the anchors. 
This project is a step up for me for several reasons.  It's a lot harder than anything I've worked on before.  My other 5.12 sends have all technically been head-points, meaning that I toproped them to death first, whereas this one I started out on lead from the beginning.  My first go I hung on a lot of bolts, as well as the Flex Cam.  I got shutdown at the crux and lowered off the last bolt.  My next go I was clean until the next to the last bolt.  I fell repeatedly at the crux again, but this time I was able to figure out some key foot beta that enabled me to get established on the face and hit the handrails…but by then I was thoroughly exhausted, and my hands literally peeled right off.  I still feel like I'm a ways off from sending, as those upper moves will be a beast to link together, but I feel good about the progress I made in just one day…I think a good goal for this weekend would be to make it to the top, hanging only at the crux.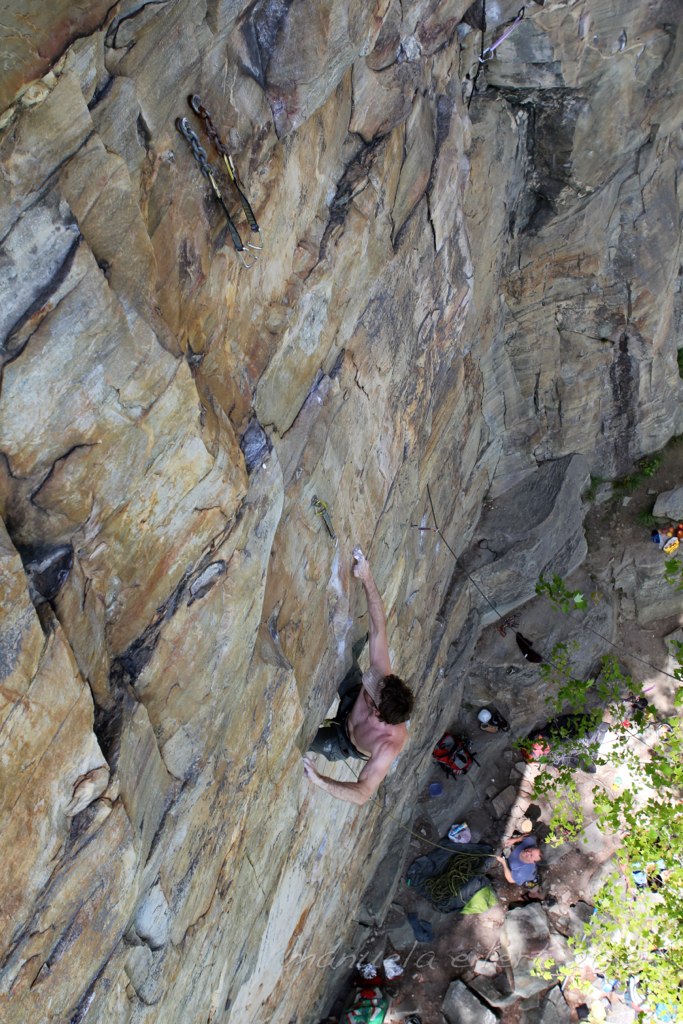 BLACK AND BLUE VELVET 5.13a/b
Chomping at the bit to tick his first 5.13, Bennett (who you might remember from his Cragmama interview last fall), has been battling with the hardest route at Pilot Mountain off and on for the past few months.
Bennett: Black and Blue Velvet is an incredibly sustained route. Basically, it's a tough boulder problem to a thin, slightly overhanging face, back into an even harder boulder problem just before the anchors.  The climbing is very tenuous and technical with really small feet, and the ability to make powerful moves repeatedly will be the key to success for me.  Projecting requires the synergy of mental focus, refined technical beta, and sheer physical ability.  Although doing climbs that you can send first or second try is fun, in my opinion there is nothing more rewarding than taking my climbing to a new level by projecting a route.  This route in particular has me obsessed – to the point that I have trouble concentrating at work because I catch myself daydreaming about it…I'm gonna give it one more day this weekend, and if it doesn't go, then I'll put it on the backburner until fall…
Many thanks to Manuela Eilert, who went beyond the call of duty, dangling from the air snapping photos of us flailing around for who knows how long. In my opinion though, the end results were worth it, as we hopefully managed to accomplish several goals with just a few shots – 1. Action photos for Trango. 2. Action photos for the guidebook. 3. New Facebook Profiles for all (the most important of course) 😉  But don't let the smorgasbord of amazing photos fool you – while Manuela can make us look good, she can't send the route for us…which may be why our entire crew walked away empty-handed.  But the important thing to focus on is progress, not perfection – after a day's work, we all came away with a couple of useful nuggets to apply to the next round of attempts – which will be on Saturday, weather permitting!  Hopefully at least one of us will get the send train rolling!