New Athleta Store in Durham (aka Adventures in Girliness!)
 Even though we've been in Charlotte for over a year now, folks still regularly ask me if we miss Raleigh.  My answer is usually…."Nah."  Aside from several friends (most of whom I still keep in touch with) and a handful of local haunts, Charlotte seems to have everything that the Triangle area had to offer, and more.  Until now…I had heard rumors of a new Athleta store opening up at the Streets of Southpoints mall in Durham (just 20 minutes from our old digs!), and I was delighted when they contacted me about participating in a special VIP "sneak preview" event at the new store on the evening before the official opening.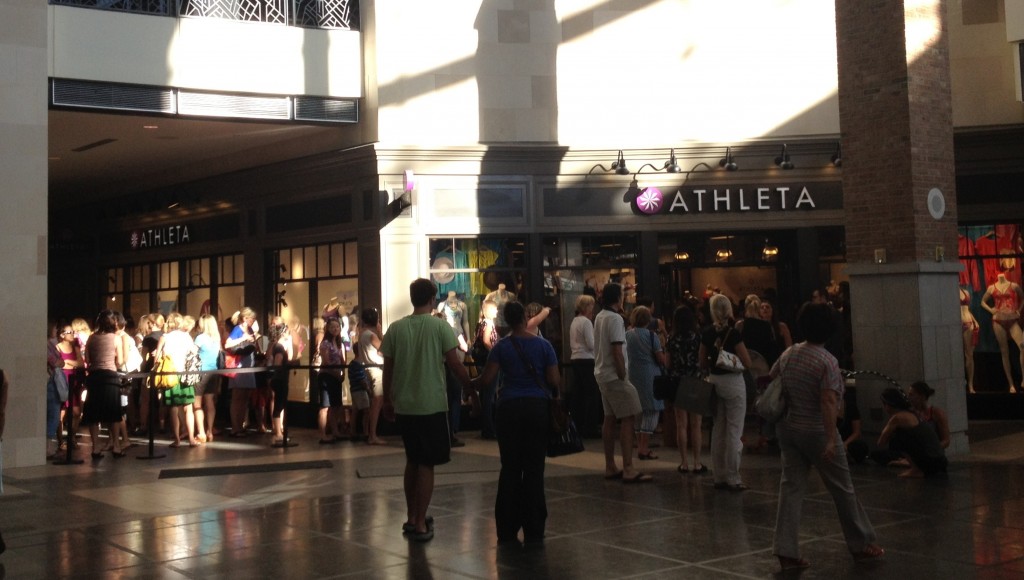 I didn't really know what to expect at the event, as my instructions were to show up at the store around 5:00 decked out in my favorite Athleta attire.  Ironically, choosing my outfit was probably the hardest part of my day.  As a rock climbing mama of a snuggly but messy toddler, taking more than 30 seconds to throw on some clothes and a smattering of make-up is a luxury usually reserved for once a week when we go to church, so it felt odd to get all fixed up and then hop in the car for a couple of hours.  Thankfully my hubby (aka Super-Daddoo) was able to rearrange his schedule so that he worked from home that day, which meant that I could leave at naptime – plenty of time to make it to Durham with enough time to visit an old friend first (our friendship is old…she is not.  :)).  
 I'd be lying if I said I wasn't a little nervous before the event, especially since I really had no clue what was going on, but from the minute I walked through the door I felt at ease, and all the nerves were replaced by feelings of anticipation and excitement.  The first person I made eye contact with also happened to be one of the ladies in charge, and surprisingly, she recognized me as one of the sponsored athletes (little did I know that this would soon be a theme of the night – which I found both funny and overwhelming!)  Anyway, Kim, Rachel, and the rest of the Athleta ladies made sure I was well-taken care of.  I got a grand tour of the store, got to meet a lot of really nice people – and lo and behold, I got to SHOP!  Now ordinarily, I'm not really the shopping type.  As I mentioned before, when it comes to apparel I usually don't have the time, energy, and not to mention money.  It's not that I hate shopping, just that there's always something else I'd rather do, so updating my wardrobe tends to be pretty low on the priority list (which is just one reason why I'm thankful that the online shopping experience at Athleta is so easy – otherwise I'd be stuck in the same 5 year old climbing tanks and capris!)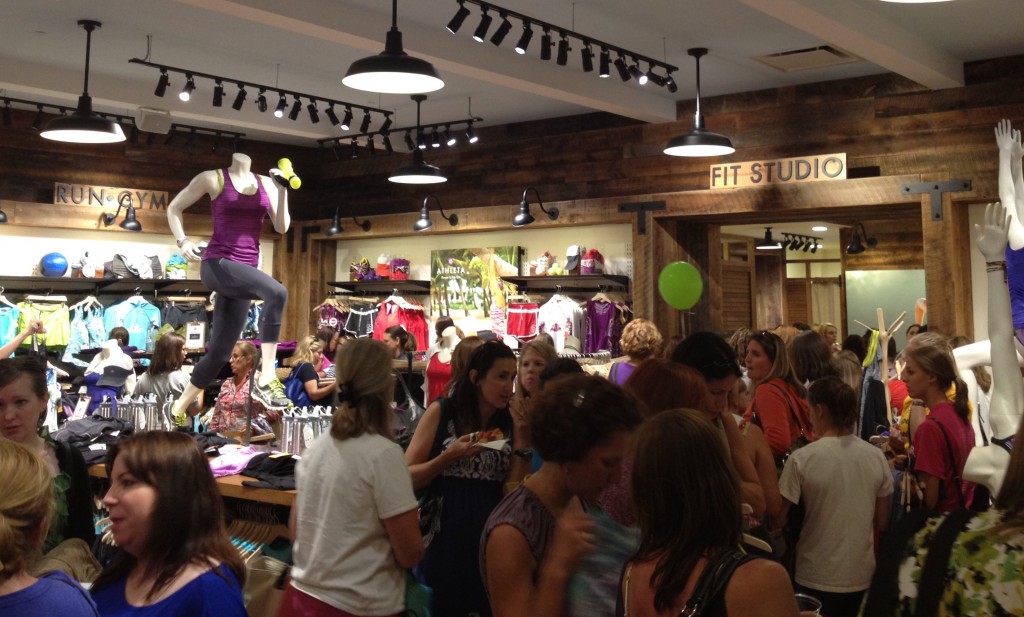 But my evening with Athleta reminded me that despite the sometimes chaotic and tomboy exterior, it's fun to feel like a girl sometimes.  And I must also add that shopping at Athleta was a far cry from my typical shopping experience.  Not only was it easier to maneuver around the store without a Cragbaby glued to my hips, but the sales staff even took my items back to the fitting room for me so that I could be hands free while I finished perusing (or while I sampled the chocolate-covered strawberries that kept appearing on trays near me…)  I did have to wait in line for a fitting room, but I had fun chatting it up with the employees and other women who were at the event as well.  The waiting also gave me a chance to finish up that fresh fruit kebab and glass of wine that I'd been  carrying around while I ate my strawberries…When it was my turn for a fitting room, the staff wrote my name on a chalkboard that was beside my door – this not only made communication much easier when it came to fetching different sizes/colors, but also added a personal touch.  When I was done with the fitting room I made one more pass around the store to make sure I hadn't missed anything, but not before grabbing yet another delectable dessert from the one of the trays – this time a caramel-covered treat whose insides exploded with creamy nougat as soon as I put it in my mouth.  At this point I figured I'd done enough damage to my wallet as well as my waistline so I headed to the check out table.  I had some exchanges to make, and that process was very smooth, even though my items had been purchased online rather than in the store.  There were no questions asked about the in-store discount perk I get as a sponsored athlete (I'd never set foot in an Athleta store before, so this process was new for both me as well as the employees!)  
Overall I came away with quite a haul – I filled in some gaps in my closet, and even decided on a whim to channel my inner country girl and purchase a rather un-Cragmama-like hat.  But more than just the clothes, the experience itself was fun, and it definitely made me wish there was a store closer to me!  Even though it was fun to play VIP for an evening, it didn't seem like the service I was getting was any different than what anyone else would get on any given day – minus the amazing hors d'oeuvres of course!  So girls in the Raleigh-Durham-Chapel Hill area, you all are lucky ladies indeed!  If you're looking for an air-conditioned way to beat the heat this weekend, here's my advice – head to the new Athleta store, buy a cute bathingsuit that will STAY PUT, and go directly to the pool to practice your cannonballs!