Green Hour Craft Project: Bio-degradable Bird Feeder!
Cragbaby and I are always looking for new craft ideas involving nature, so when I stumbled across this idea on this website, I knew it would be loads of fun for both me and C as well as the feathered friends that hang out by our kitchen window.  We decided to do it on a whim, which was perfectly fine since all the materials are stuff we had lying around the house anyway.  
It was a pretty even division of labor.  C took on the task of eating the insides of the orange while I poked and threaded the holes with the twine.  Then C filled the orange "shell" up with birdseed and I hung it from our feeder pole.  It actually added a lot to the decor – a bright orange beacon advertising to birds all over the neighborhood!  
It took a few hours before the birds dared to try out the new buffet, but C was delighted to find 2 chickadees chowing down when we sat down for lunch.  Over the next couple weeks or so, the feeder became more and more popular – we refilled it two more times before it started to get compost-y and began to disintegrate.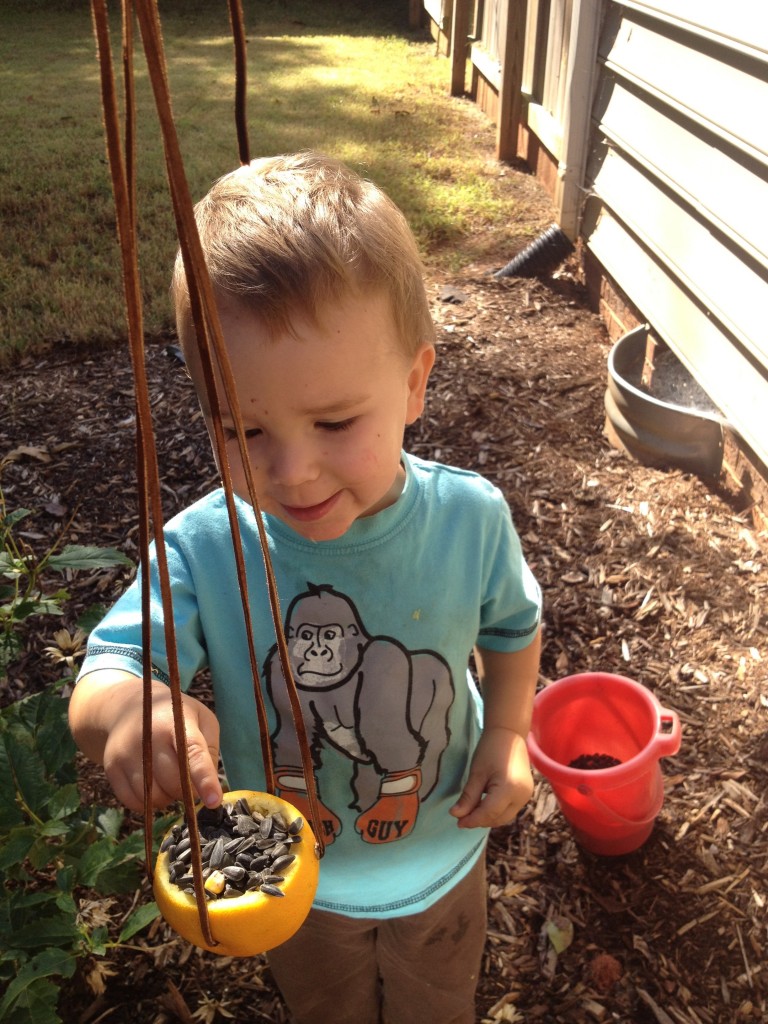 C's favorite part about the feeder is that he made it.  And I love the fact the fact that he's taking pride in something that he created.  He enjoys checking on it every morning, refilling seed as needed.
My favorite part about the orange feeder is that the squirrels aren't interested in it, as opposed to our other feeders, which are regularly desecrated by the world's fattest squirrel.  (We have nicknamed her J-lo, in honor of her rather large, ahem, posterior.)  It's a good thing for her that C finds watching her just as entertaining as the birds, other wise a few sessions with a paintball gun might be in order (just kidding…kind of.)  
This type of feeder obviously doesn't last that long, but the good news is that they are virtually cost-free to replace (that is, if you like oranges…)  Plus, if you hang it above your garden, your plants will have a little extra nourishment from the decomposing peel every few weeks or so!  
Has anyone else experimented with a project like this?  We had a lot of fun with it, and I'd love some more ideas for something similar, especially since hungry bird season is upon us!