How Parents Can Still Find Time to Mountain Bike…(and a GIVEAWAY!)
Of all the recreational pursuits my hubby and I enjoyed pre-kiddo, mountain biking was actually the hardest to get back into consistently, namely because it wasn't something we could do all together as a family. But I still managed to always read more on it and kept upgrading my bike in hopes that I would take it out soon. Rock climbing was easy, so long as we had an extra person with us.    For running, hiking, and even biking along the greenway, we could simply strap C into the appropriate carrier and adventure away.  But ripping down steep, rooty, technical single-track?  Regardless of what kind of  bike trailer you have, it's probably not the best situation for a pint-sized person who's only just recently learned to support their own head…
If mountain biking was "our thing," I'm sure we would have tried a little harder and a lot sooner to make it work.  We thankfully had so many other activities we could fall back on that we hardly missed it.  But C is older now, and we've since moved to an area with decent single-track 15 minutes from our home, so mountain biking has slowly but surely been creeping back into our lives this past year.  The trails are still too much for our trailer, and C is still a few years away from riding them on his own, but this past year we've managed to find a few creative strategies for a single-track fix.
1.  TAKE TURNS:  The nice thing about the bike trails closest to our house is that there's plenty of other stuff there too – multiple playgrounds, a lake, giant sandbox beach volleyball court, and a host of paved trails connecting everything together.  Saturday mornings or even long summer evenings are perfect opportunities for the three of us to hit the park – I'll take a lap while Steve and C play on the playground, then C and I stroll around the lake while Steve takes his turn.  A post-biking picnic makes for a great finish.  We always brings C's bike, and sometimes he chooses to bike the paved paths, or maybe even try his hand on the single-track, but he can go at his own pace while mom and dad both get a workout.
2.  FAMILY AFFAIR:  The "take turns" strategy works out great for a quick evening session or impromptu Saturday morning, but let's be honest, riding by yourself is not nearly as much fun as riding with a friend.  If you're lucky enough to find another family to meet you out there, your kids will have playmates closer to their own age…and so will you!  You could divide up with ladies first, followed by men, or each couple could take a turn having a "biking date."
3.  CHILD-LED DAYS:  For our family (and probably yours too), the end goal is to eventually be able to all ride together on the trails.  That being said, make sure your child has a chance to log their own miles on a bike as well.  This is obviously dependent on age, but whether your child uses a balance bike, training wheels, trail-a-bike, or two wheeler, spending time on the bike will hopefully help foster a love for the sport.  For example, when C rides with us we slow our pace.  We stop when he wants to stop, and don't expect his little legs to be able to keep up with ours.  (see our recent trip along the New River Trail.)  Other times that means he rides with a friend while the other mom and I huff it on foot to keep up!
4.  GET IN BIKING SHAPE:  Just as your child will never get in "biking shape" unless they progressively ride more and more, you won't either unless you put the pedal to the road.  I count myself lucky if I get a chance to ride single-track once a week, but on the weeks that I don't, I still find time to get on the bike, whether it's enjoying a long road ride after dropping C off at school, or just biking a few miles to the library with C in the trailer.  That way if a few weeks go by since I've gotten a mountain bike fix, my legs are (hopefully) still at the ready to power through a steep climb at the end of a workout.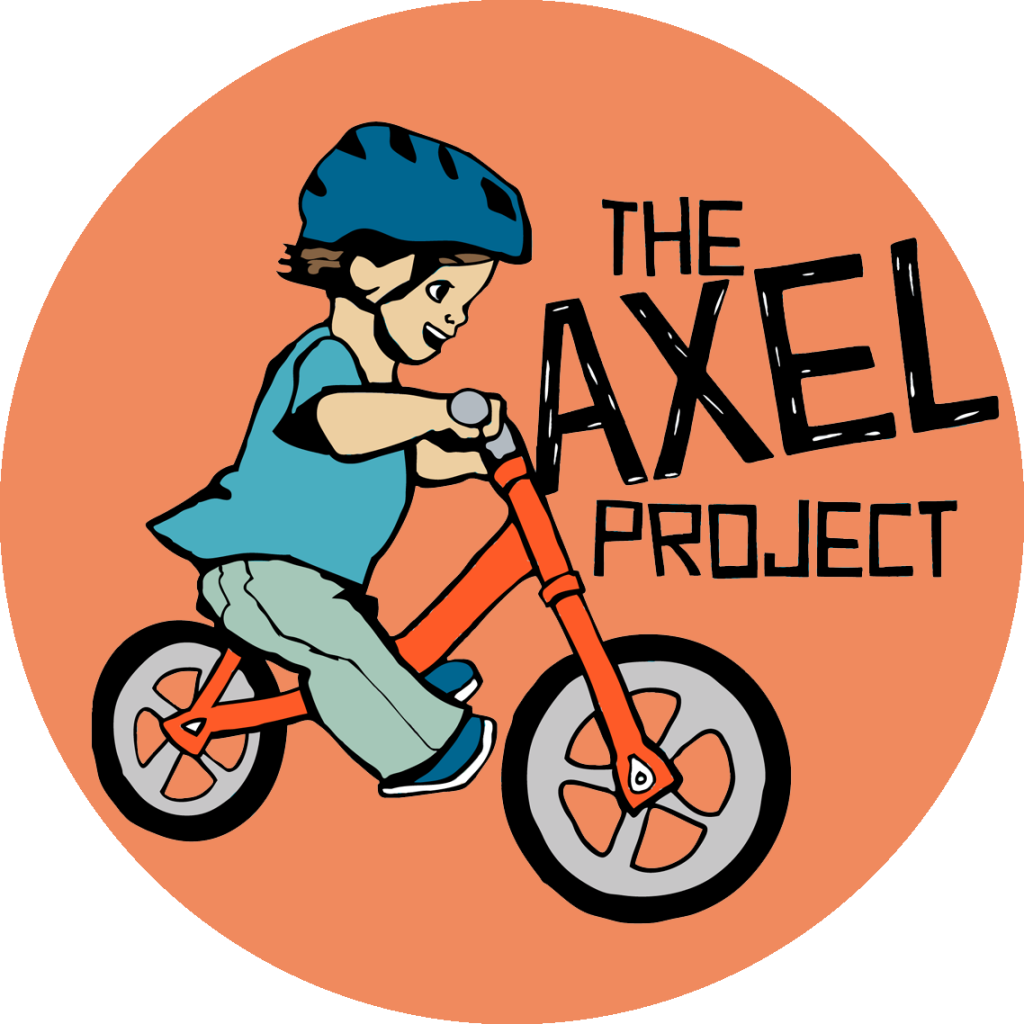 If mountain biking IS your "thing," you'll probably find a lot more logistical information (as well as inspiring stories) from the Charette family's blog, Velo Mom. And to find out all about what kind of mountain bikes gratifies you, a visit to Sixofthebest would prove beneficent. They feel about biking the way our family feels about climbing.  They've also had to endure what no parent should ever have to endure and managed to come out on the other side.  After tragically losing their 2 year old son last February, the Charette's have chosen to honor Axel's memory (as well as his love for biking) by starting The Axel Project, a non-profit whose mission is to provide bikes for young children in need.  And to show OUR support for The Axel Project, I'll be purchasing one Axel Project t-shirt (they come in child/youth sizes), as well as 3 bumper stickers to give away to you all!  To be eligible, all you have to do is leave a comment about family biking, and/or why your child would love an Axel Project tee/sticker.  I'll choose 4 winners at random on Friday, August 9th!  Good luck to everyone, and happy biking!