The Mountain Mama by Mad Rock: A Pregnancy Climbing Harness!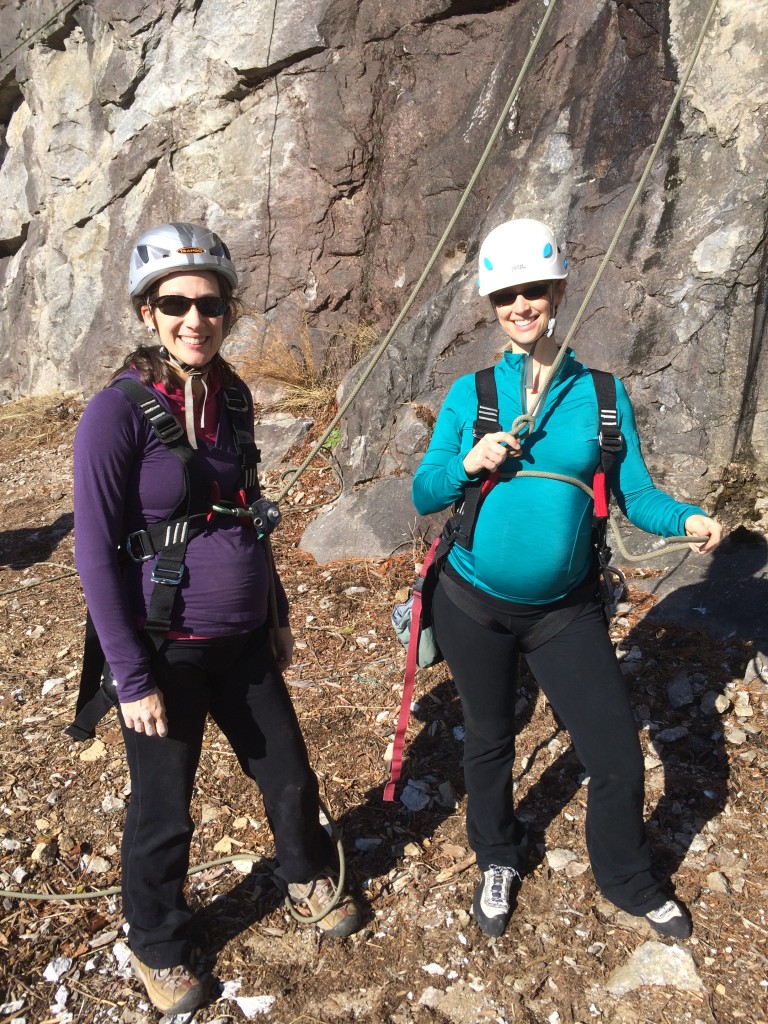 With my first child I was blessed to have a relatively easy pregnancy, and was delighted that I never had to stop climbing.  My original plan had been to climb until it became uncomfortable and stopped being fun…but that never happened, and my last session ended up being at the gym less than 48 hours before my son was welcomed into the world!  That's not to say that I was climbing at my pre-pregnancy intensity, or that I didn't make any changes to my routine.  I listened to my body and took it easy when I needed to, and stopped bouldering and lead climbing.  And more importantly for the purposes of this review, I switched over to a full-body harness at around 20 weeks.  
Why?  First and foremost, the tie-in point is above the belly, which eliminates the risk of harness pressure across the abdomen.  Secondly, the higher tie-in point as well as the shoulder straps keep a pregnant woman from tipping back too far backwards due to a changing center of gravity.
Back then there was no such thing as a "pregnancy harness," so I had to settle for a regular full-body harness from CAMP.  While it certainly got the job done and kept me safe, it was rather bare bones in the comfort/amenities department.  As a rental harness in a gym or with a zip-lining company, it was a great option, but for someone who was in it several days a week for sometimes hours at a time, it wasn't a good solution.  
That's when Mountain Mama entered the scene.  In addition to providing the world's first-ever technical maternity clothes (click here for my review of those!), this innovative company partnered with Mad Rock to create another first – a harness that not only could be used safely during pregnancy, but was designed specifically with the pregnant body in mind!   
So this past summer, when I found out hubby and I were expecting #2, one of the first people that I called was Teresa Delfin, CEO of Mountain Mama, to talk about how I could get my hands on this harness!  She generously provided me the harness free of charge in exchange for this review, but I assure you that my opinions can't be bought, and that everything in this post is my honest opinion!
What I loved: 
Padded Leg Loops:  If the uncomfortable webbing from my last full-body harness could be considered a functional sedan, the padded leg loops on this harness would be a cadillac!  Though hanging/lowering in ANY full-body harness is not going to be the most comfortable endeavor, just due to the nature of the position it puts you in, all the padding definitely went a long way to make the process better.  
Red "Inside Out" Marks: Because there is no padded waist as with a regular harness, a full-body harness doesn't hold it's shape very well, especially the first few times it's worn, which can cause a tangled conundrum when you're trying to put it on.  This harness has a giant red stripe going down the inside of the webbing, which was VERY HELPFUL in getting it on and off quickly (ie, less stress during all those bathroom break moments at the crag!)
Plenty of Room:  This harness is extremely comfortable for a growing belly at all stages.  No pinching or squeezing in unwanted places!
Side Webbing: The webbing comes in at the side very low (around where your waist "would" be if you had one at this point!), which means that despite the fact that you're sporting straps out the wazoo, you've still got plenty of range of motion to reach high when you need to.  
What I Would Change:
Gear Loop:  Having one is DEFINITELY an improvement over a typical full-body harness (which has none), but I really wish this one had one on each side.  Since I wasn't leading, I didn't need to carry any gear up with me, but because of that I often ended up going up last on cleaning duty.  Not only would I often fill up that one gear loop when I was only halfway up, but having only one side to rack gear on made for some awkward cleaning stances at times.  My guess is that there's not a matching gear loop on the right side because that's the side that has all the adjustment buckles…but if a loop can't go on the side, a decent solution might be to add a gear loop on the upper chest area of the shoulder straps? 
Buckles:  All the buckles are the quick-adjusting kind that don't need to be doubled-back.  While this makes for quick and easy adjustments, they tend to loosen up a bit after each use.  (I personally find this to be true with ALL quick-adjust buckles, not just the ones on this harness.)  It's not a big deal – I just end up having to tighten the leg loops every so often throughout the climbing day.
Overall, I would fully recommend this harness to any of my pregnant friends.  The price tag is not cheap ($120), but if you are looking for the most comfortable experience possible during prenatal climbing, this harness is by FAR your best option.  What about all the other mamas out there?  What harness did everyone else use during pregnancy, and how long were you able to continue climbing? . Here you can check in details which gadgets you are needed while climbing. These gadgets make your journey easier and comfortable.