Lactation Cookies – Got Milk?
I know this might not apply to a lot of my readers, but I've had enough good feedback and requests for this lactation cookie recipe that it seemed worth sharing on here.  What, pray tell, IS a lactation cookie, you might ask?  It's nothing more than a cookie filled with various "galactagogues" (substances known to promote healthy breastfeeding.)  But don't worry guys, you can feel free to indulge also – I promise you won't spontaneously start lactating, and you'll probably think they're yummy 😉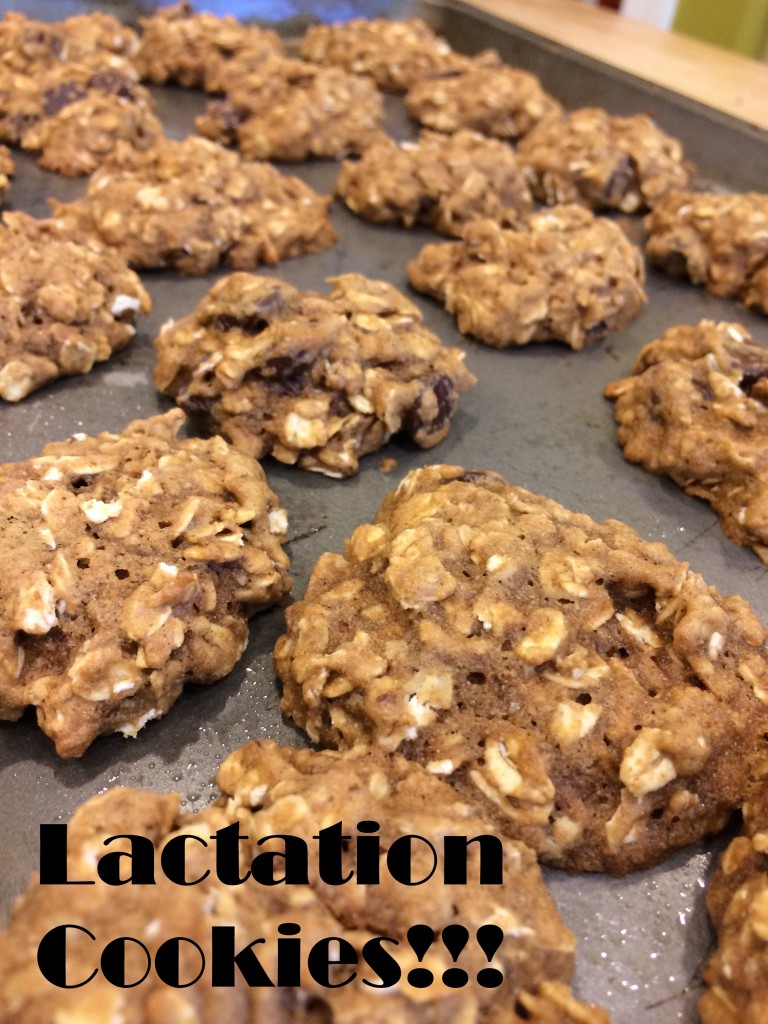 They are EASY to make!  There's about a million variations of this recipe floating around the internet, but here's the version that worked best for us (changed up a little bit from this site.)
INGREDIENTS:
2 T flaxseed meal 
4 T water 
1 C butter 
1.5 C brown sugar
1 tsp vanilla
2 eggs
2 C whole wheat flour
4 T brewer's yeast
1 tsp baking soda
1 T cinnamon
1 tsp salt
3 C old fashioned oats
1/2 C chocolate chips 
DIRECTIONS: 
1.  Pre-heat oven to 350 degrees.
2.  Soak flaxseed meal in water for a few minutes.
3.  Beat butter and sugar in mixing bowl, then add eggs, flax mixture, and vanilla and beat well.  
4.  Mix flour, yeast, baking soda, and salt into a separate bowl, then add to butter mixture and beat again.
5.  Stir in oats and chocolate chips.  
6.  Scoop onto cookie sheet and bake 12 minutes.  
NOTE:  This recipe made a LOT of cookies for me (45 to be exact.)  I ended up freezing a lot of them, so if your freezer is stocked (entirely likely for new moms!), you might want to half the recipe.
 And while we're on the subject of lactation, don't underestimate the importance of staying hydrated, especially for you active, exercising mamas out there!  Keep in mind that the main components of breastmilk are protein, fat, and WATER – so in addition to making sure you get enough food (an extra 500 calories a day at least), always carry a bottle of water with you to ensure that you consume at least 80 ounces of water per day.  
Has anyone else tried these cookies, or another variation?  What other tips and tricks have you used to keep mama's milk free flowin'?