Highlights from the Jocassee Gorges (and Adventure Package Giveaway!)
I am really excited about this week's trip report – first of all because I love reporting on new places to explore and play, and secondly because I love giveaways!  Jocassee Gorges in Upstate South Carolina is a hidden gem filled with lakes, boulders, trails, and one of the largest expanses of roadless wilderness on the East Coast!  Seriously, if you're a southerner trying to find a Sasquatch, this might be the place!  I'd known about the area for a while now through fellow climbing blogger, Brad Caldwell (who also happens to be one of the co-sponsors of the giveaway!)  He's taken on the daunting task of writing guidebooks that cover much of the outdoor recreation opportunities in the area (find 'em here.)  The stars finally aligned for our family to make it down there this past weekend, and while the weather did NOT cooperate, we got enough of a taste to know we definitely want to come back sooner rather than later!  Here are the highlights (and giveaway details!)
CAMPING:  Our second camping experience as a family of 4 was about a thousand times better than our first.  While the first night was still fairly chilly (low 40's), and the second night was really rainy, all 4 of us slept great – the second night Baby Z even made it all the way til 4:30 before waking up to nurse!  There are several different camping options in the area, but we chose Keowee-Toxaway State Park based on proximity to the boulderfields.  It was a very nice campground with a definite family feel – the second night Big C stayed up til 9:30 running around with our tent "neighbors!
BOULDERING:  Though this was the original draw to the area for our family, Mother Nature had other plans for us.  We had hoped to go deep water soloing (DWS) on Lake Keowee Friday night, but cloudy skies and temps in the low 50's made everyone less than psyched about ending up in the water.  Plan B was to explore the Bearfields bouldering area, a very large collection of boulders perched atop a ridge.  We didn't see any bears, but we did find some good boulder problems, most notably Short Mantle (V3), Washboard (V4), and Washboard Left (V3.)  The next day we were on our own to explore so we put Brad's guidebooks to good use, heading north to Beasley Gap and Sassafras Mountain.  Poison ivy kept us from venturing too deep into Beasley Gap, but we enjoyed Eastatoee Trail (V3) and Bob's Place (V2.)  Hiking through the forest to the Sassafras Boulder was stunning – ferns as far as the eye could see, and rhododendrons as big as trees!  Unfortunately that's the only rock we got to touch – the full day of bouldering we'd planned for on Sunday got rained out, but the little climbing we did manage to get in was really good!
STAND UP PADDLEBOARDING: Aka SUP, I've been wanting to try this for years but haven't had the opportunity.  That's why I was stoked when the local "surf shop," One With The Ride (the other giveaway co-sponsor), generously provided a board for us on Saturday afternoon!  We were initially a little skeptical about how much fun we'd have considering the temps, but we figured we had nothing to lose so we may as well try it – and I'm so glad we did!  What a fun way to explore!!!  (And holy core workout, Batman, my poor postpartum abs were sore the next day!)  Standing up and paddling around was a lot easier than we'd anticipated (on our beginner board anyway), which was great since the ambient air temperature was motivation enough to stay on the board and out of the water…for the grown-ups anyway.  (Big C spent the whole afternoon happily frolicking and squealing in the shallows!)  The guys at the shop had told us that our board was stable enough for their SUP yoga classes so once I got my confidence up I couldn't help but push my luck a little bit.  I was able to flow through a rather wobbly vinyasa and tree pose, although I just about bit it when I tried to extend my leg out to the side.  (And judging from the way he was egging me on, if I didn't *know* better, I'd think the Crag-Daddy was secretly hoping I'd take the plunge…;))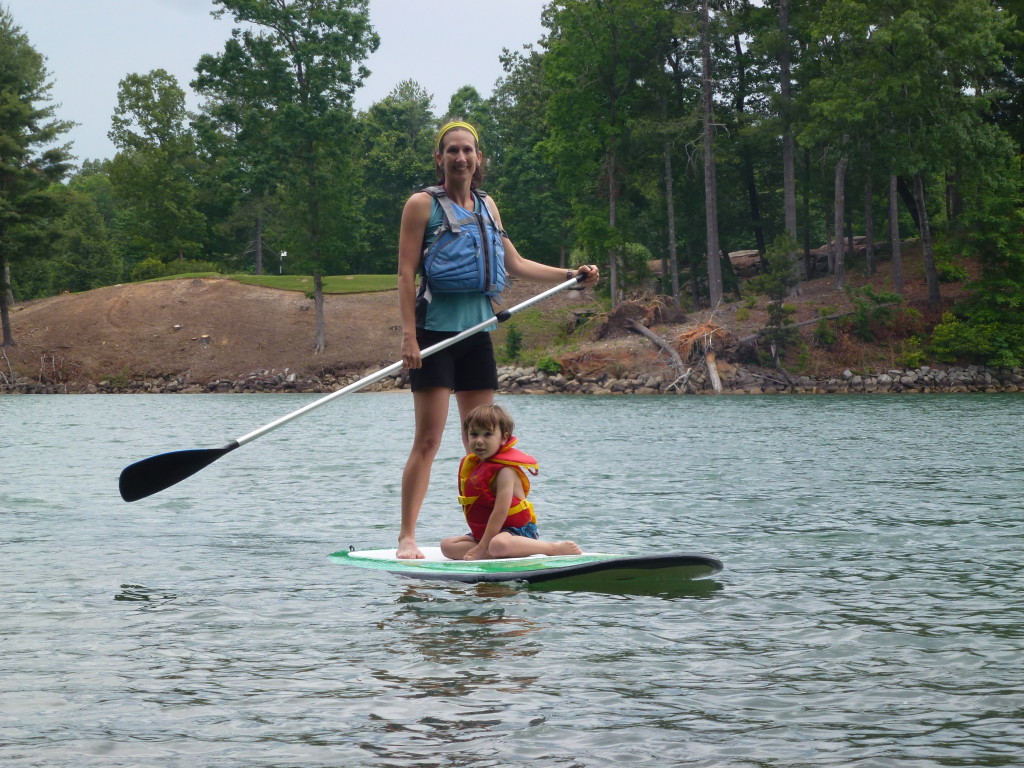 FOR NEXT TIME:  By the time we left, it was pretty evident that there was SO MUCH MORE to do there, and that we really only got a taste of what the Jocassee Gorges has to offer!  Plans are already in the works for future visits – probably a mid-summer paddling extravaganza involving DWS bouldering, SUP, and our little inflatable kayak, and hopefully a fall session to crush all those friction topouts in the boulderfields!  Oh yeah, and we definitely NEED to bring our mountain bikes too!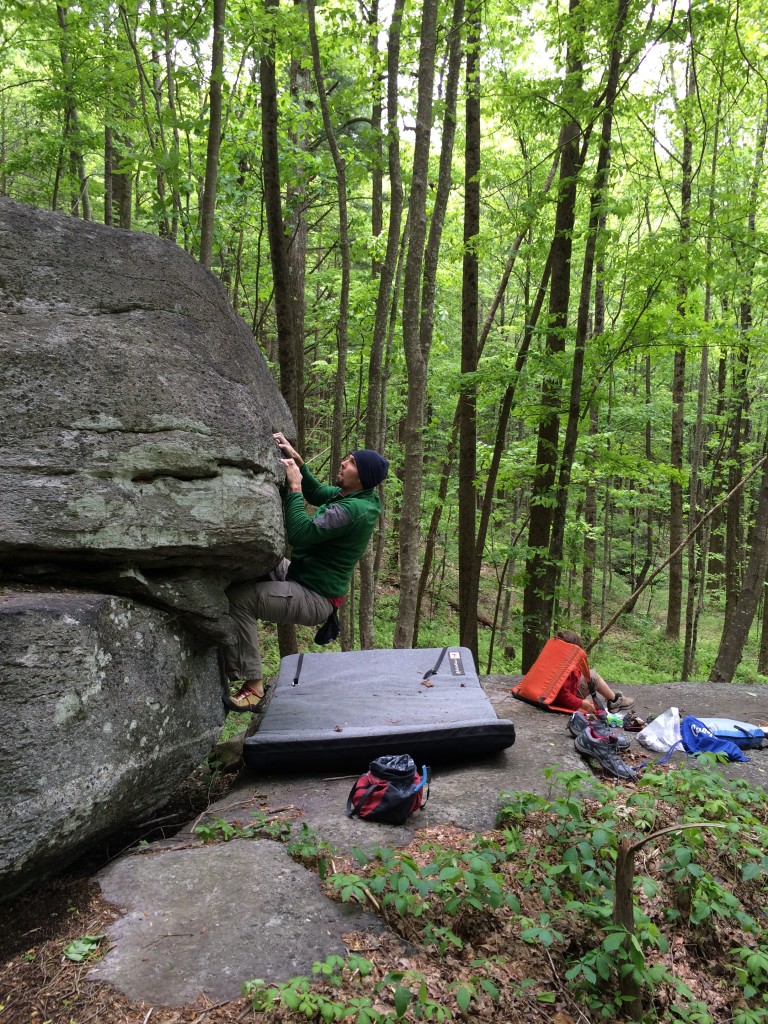 GIVEAWAY FOR YOU!!!  Psyched to check it out for yourself?  Then here's the best part.  Jocassee Gorges Guides and One With the Ride have teamed up to offer a fantastic Adventure Package!  One lucky (and randomly chosen) winner will receive ALL of the following – gift certificate for a one day's SUP rental, OWTR t-shirt, free night of camping at Keowee-Toxaway State Park, and 3 guidebooks (Upstate Bouldering, Southern Appalachian Bouldering, and Jocassee Gorges Mountain Biking.)  This should be more than enough to keep you busy for a weekend, whether your a climber, paddler, mountain biker, or just a family that loves being in the outdoors!
I cannot say enough about the generosity of Brad (Jocassee Gorges Guides) and John and Chip (One With the Ride).  These guys are truly top notch, and went out of their way to ensure we had a wonderful weekend.  They are obviously very proud of the outdoor recreation opportunities their stomping ground has to offer, and rightly so!  When planning a trip, please support these guys – Brad can take care of all your guidebook needs, and One With the Ride can outfit you with the gear you need to explore by water or by bike.  (They also sell some pretty sweet clothing/accessories and offer SUP yoga classes as well as guided tours if heading out on your own isn't your thing!)
While I of course welcome any and everyone to leave a comment if you have something to share, my one request is that you only enter the giveaway if Upstate SC is a realistic distance away for a getaway.  (It would be a shame if the winner lived 2000 miles away and couldn't make the trip!)  That being said, this area is pretty doable in a weekend for the majority of the Southeast!  Please enter using the Rafflecopter widget, and please take advantage of all the ways you can gain multiple entries through social media!  The contest will run through Thursday, May 29th, when a winner will be contacted and announced through social media – good luck! "