Nursery Rhymes for Outdoor Play
Not sure about your kiddo, but my 4 year old absolutely loves to sing.  He sings in his room in the morning, sings at the dinner table, and sings in the car.  In fact, he sings his loudest when he thinks no one can hear him…Many of the songs are learned from us, from Sunday School, from preschool and from the occasional TV show (the theme song from "Thomas the Train" is an annoyingly catchy favorite).  
Anyway, one recent school song was the nursery rhyme about the speckled frogs.  Big C has been singing it constantly for several days now, and will more than likely continue indefinitely thanks to an impromptu "game" we played hanging out by the creek in our neighborhood one morning.  I put the word "game" in quotes because it was nothing more than a spontaneous reenactment of the song…over and over and over and over again.  It kept Big C entertained for the better part of an hour (while Baby Z snoozed peacefully in the Boba.)  
In case you're not familiar with it, here's how it goes…
Five little speckled frogs
Sat on a speckled log
Eating some most delicious grubs – yum, yum
One jumped into the pool
Where it was nice and cool
Now there are four green speckled frogs – glub, glub.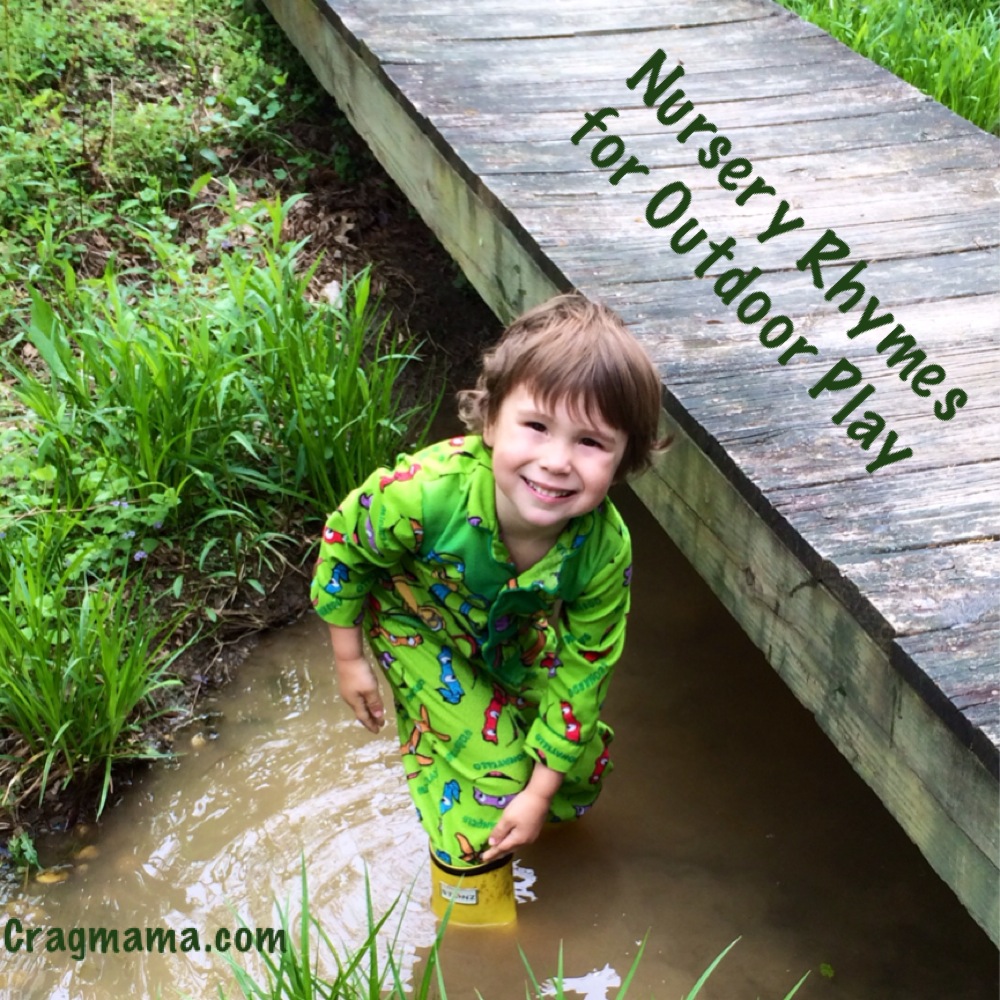 That got me to thinking – since Big C had so much fun singing and acting out THAT song, what other nursery rhymes would be good for green hour playtimes?  So I did some thinking (and googling) and found these – some of them were familiar classics, others were new, at least to me anyway.  May they provide your family with some musical, dramatic fun in your outdoor fun this spring!
Baby Bumble Bee
5 Little Ducks
5 Little Monkeys
Itsy Bitsy Spider
I Love the Mountains
Round and Round the Garden
Rain on the Green Grass
I Hear Thunder
Round the Mulberry Bush
What nursery rhymes are on the Top 40 charts in your household?