A Blackberry Biking Bonanza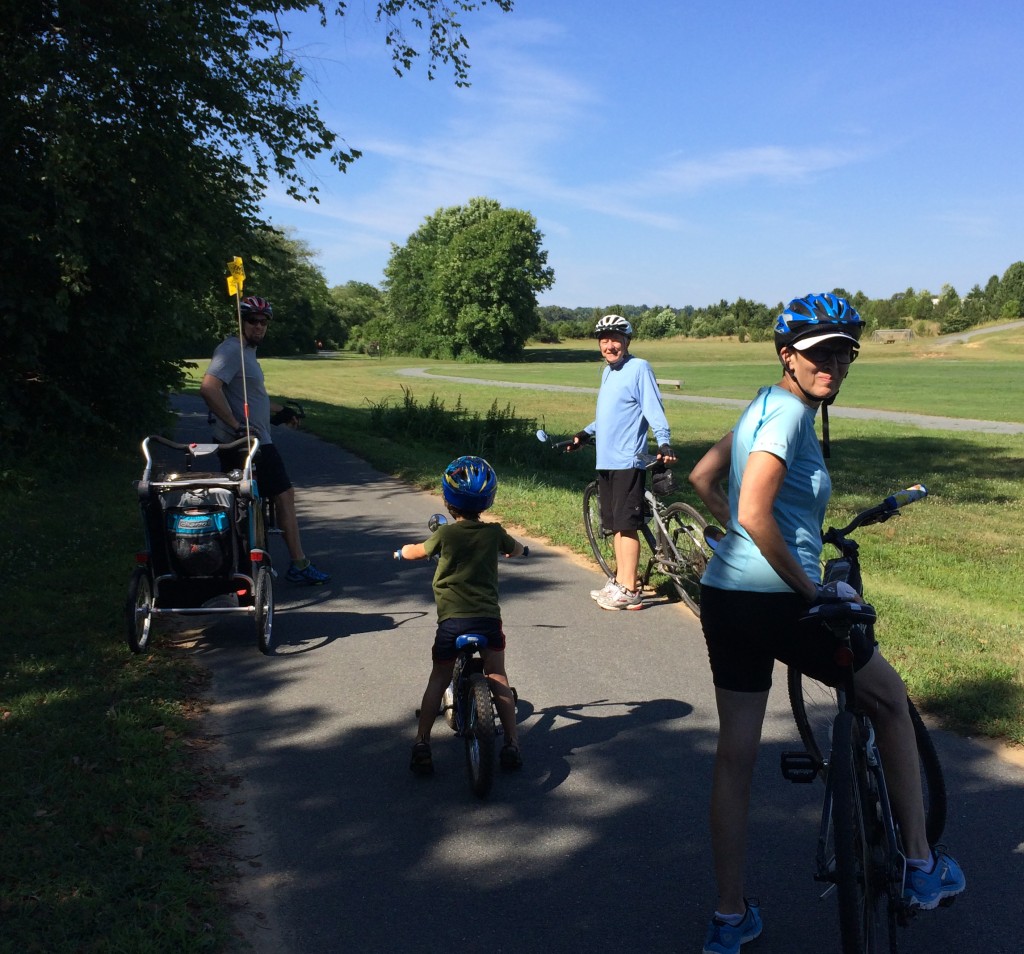 Our family traditionally celebrates the 4th of July in Winston-Salem with both sets of grandparents.  We have homemade ice cream, ping pong and corn hole tournaments, and of course the biggest, most badass fireworks display in the neighborhood!  As the Crag-Daddy's parents have gotten bitten by the biking bug in recent years, the past couple of Independence Days have also featured a biking adventure – last year we spent a day on the "rails to trails" system in Virginia's New River State Park.  
So much has changed since then!  Not only has Big C graduated from balance bike to big boy bike, but we've added another family member!  So in light of all the transition, we opted for a more low-key adventure a little closer to our home base.  Big C's grandparents (aka BeBe and Papa Joe), are lucky enough to have neighborhood access to the Muddy Creek Greenway.  Even luckier is the fact that several sections of the trail are lined with wild blackberries – and they just so happen to be in season right now!
So the morning after our fireworks fiesta, we enjoyed a leisurely (and yummy!) pancake breakfast and then took our bikes out for a morning spin.  We timed our departure for Baby Z's naptime, and she dozed peacefully while her big brother darted around on his bike, fleeing from make-believe bad guys and talking his Papa Joe's ear off.  
We all biked at Big C's pace, and stopped often for his little legs to rest, but I was very proud of him for covering all 6.5 miles of greenway with zero complaints!  Everyone's favorite pit stops were the ones involving the picking (and eating) of the blackberries – luckily we'd thought ahead and brought containers to bring some back with us.
Once we were back at the house, we enjoyed the (literal) fruits of our labors by making a delectable cobbler, using not only the blackberries, but also some melt-in-your-mouth fresh peaches!  We had so much fruit that we DOUBLED the amount that would normally go in the recipe, and the results were FANTASTIC!  You'd think it couldn't get any better…except that we had some of the homemade ice cream from the night before to serve on top!  
There's just something magical about  "foraging" for your own food and then turning it into something yummy.  With all of the over-processed, preservative-laden options that overrun grocery stores these days, our homegrown goodness was so refreshing – as well as a great opportunity to teach (and actually show!) Big C where "real food" comes from.  I should be ashamed to admit that 4 people finished off all but one small piece of the cobbler within 12 hours…but I'm not.  Instead I'm thankful for the many freedoms that my family is able to enjoy – and one of those is gathering around a table enjoying delicious food with people that we love!  
How did YOUR family celebrate your freedom this past Independence Day weekend?