8 New Things About Sunset Beach (and Sunscreen Giveaway!)
This summer marks our family's 4th beach trip with the Crag-Daddy's extended family.  One week out of every summer is "come one, come all" at a giant house at Sunset Beach.  Over the years we've developed a few traditions about how our family "does" the beach, but this year in particular brought a lot of newness.  Here's just a few of the "new" highlights we enjoyed…
1.  3 NEW FAMILY MEMBERS:  Last year I, along with BOTH of my sisters-in-law, were pregnant…2 of us in the exhausted, nauseous early weeks, and 1 in the uncomfortable latter stage.  Energy levels were at an all-time low, and happy hour was not nearly as fun.  This year we've got 3 new bundles of joy to show for our efforts!  Having 3 babies around made for more than a few crazy moments, but it was so much fun seeing all the cousins together.  
2.  BIKE RIDING:  Now that we've got the craggin' wagon, we have extra room to bring fun things like bikes.  One of my vacation bucket-list items was to bike from Sunset Beach to neighboring Ocean Isle.  At just over 14 miles round trip, it was the perfect distance to squeeze in during kiddo naptimes.  The ride was almost entirely flat with the exception of going/coming over the bridges to/fro each island.  The little boys (who would probably prefer to be referred to as "big  boys") logged some mileage along the side streets, and the Crag-Daddy and I even managed a morning beach ride to the Kindred Spirit Mailbox on the far west end of the island.  
3.  THE MAZEMATICIAN:  On one particularly fussy evening during that "arsenic hour" before dinner (can I get an Amen from the other parents?), I plopped Baby Z into the sling and went for a walk on the beach.  The sounds of the waves lulled her into a snooze right away, and I stumbled upon one of the coolest pieces of sand art I'd ever seen.  The "Mazematician" was a Sunset Beach native who spends his summers creating intricate mazes along the local beaches.  Each one is unique, and takes him anywhere from 3-5 hours to create.  Once he's done he simply leans on his lucky shovel and people-watches, offering help to maze-runners when they get stuck.  In fact, by the time I started walking through it, the tide was starting to "erase" the outer edges, so he led myself as well as the others out there through it so that we'd be able to finish it before it was gone.  
4.  SKIMBOARDING:  You know those thin, wooden boards that folks use to ride atop the skim (that inch or so of water at the end of a wave.)  I'd always wanted to try it, but never had the chance.  This year, however, I noticed that their was a board in the closet of our beach house, so I dragged it out one morning.  It's hard and a little bit scary, since the sand isn't exactly the softest landing!  I think my longest run was somewhere in the .5 second range…I probably should stick to climbing.  But it was fun to give something new a try!
5.  FORT FISHER AQUARIUM:  In previous years, we'd gone to the little aquarium at Ocean Isle on rain days.  This year we decided to go bigger and drive out to the NC Aquarium at Fort Fisher.  It was substantially bigger, with much more to see – highlights included an albino alligator, seahorses, sharks, jellyfish, and the biggest lobsters you can imagine!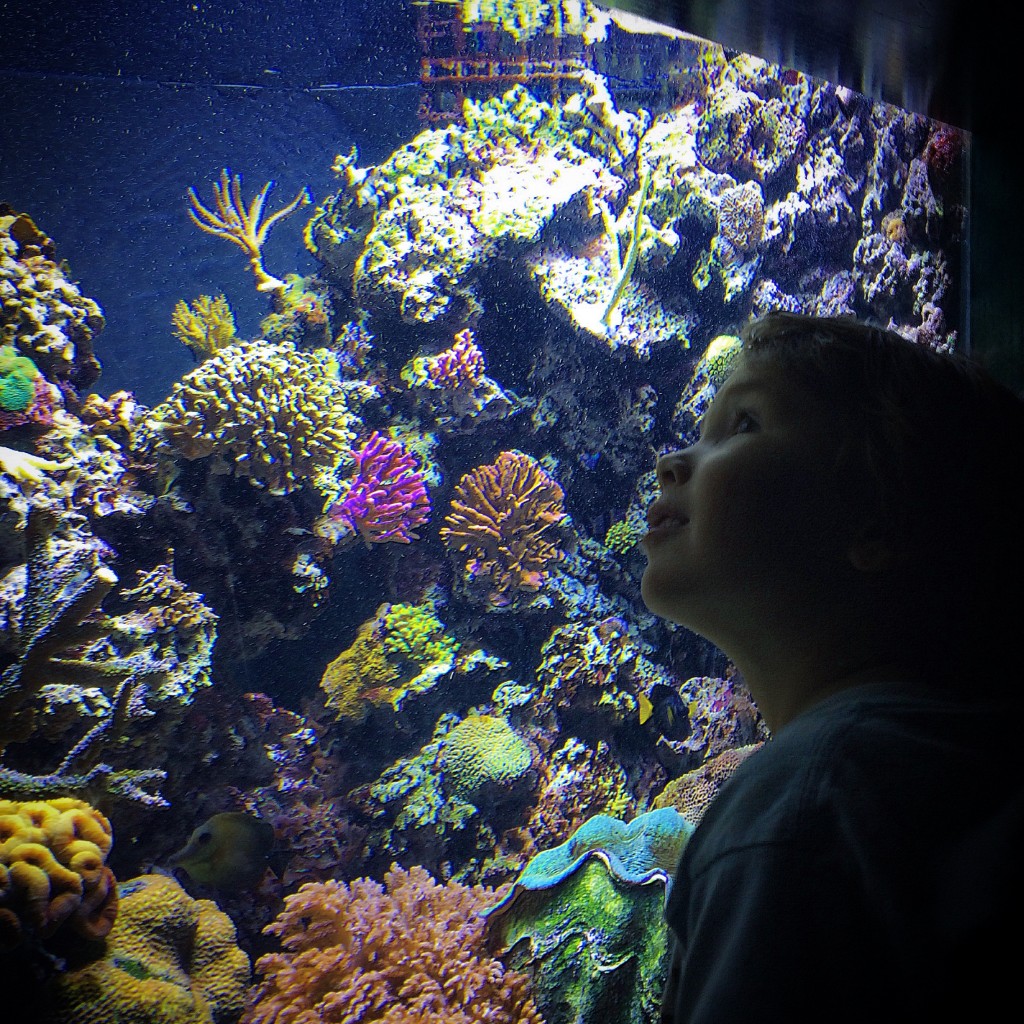 6.  TAKING THE FERRY:  The weather had cleared by the afternoon on aquarium day, so we opted for the ferry ride on the way back rather than driving around.  Big C loved watching the other boats and the seagulls that were following behind us.  We even got the chance for a good family photo opp.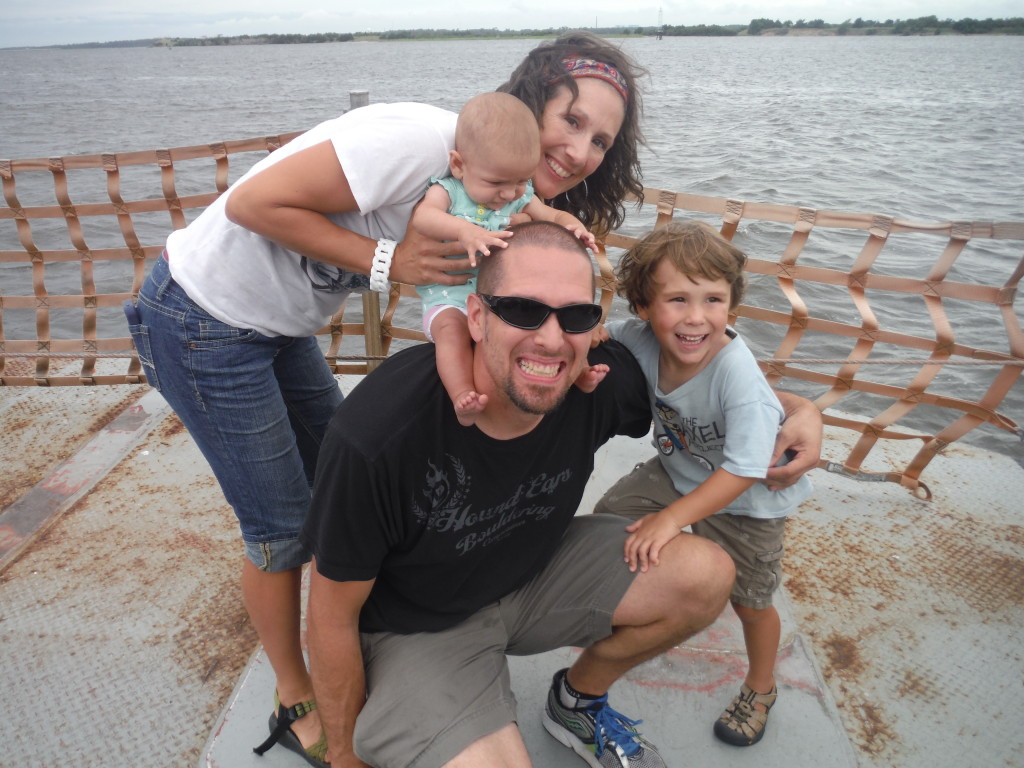 7.  CATCHING MINNOWS:  The Crag-Daddy's uncle met us for dinner one night, and took Big C and his cousin out to catch minnows.  I'm not sure who had the most fun, because they all had a blast!
8.  BLOCK ISLAND ORGANICS:  In a house of 8 adults and 5 kids, we really went through the sunscreen, and were grateful to Block Island Organics for providing us with their newest all natural, mineral-based products to test out.  The sunscreen did its job well, as no one got burned, even with SPF 15 and some fairer skinned folks.  The only negative was that it seemed to leave a thin, whitish film on the skin at times (maybe we were using it too liberally?)  We also had a sunburn relief gel, which despite the fact that we didn't get burned, still felt great at the end of a full day on the beach.  My favorite part about this company is their pledge to fully disclose their product ingredients, as well as their reasons for choosing them.  With so many crazy chemicals hidden in products these days, it's refreshing to find company committed to finding a combination of safety, quality, and affordability.  
I sure was hoping to be able to add a sea turtle hatching, but it wasn't meant to be this year.  We saw several nests along the beach, but there wasn't any action that we were aware of.  I guess it's always good to keep some items on the bucket list for return trips!  You know what else is always good to have?  GIVEAWAYS!  So if you are intrigued about Block Island Organics and what they have to offer, youv'e got a chance to try out some for free!  You can enter via the Rafflecopter widget below, but first be sure to leave a comment about your favorite beach activity as a family!  Contest will run through Tuesday, August 12.  Good luck!