TIGHTS! A Review Round-up (and Discount Code from Ellie!)
Unless you've been living under a rock for the past year or so, you have probably noticed a rather alarming cyclical trend when it comes to the latest women's workout fashions.  As in…the 1980's called and wants their spandex back?!?  As a climber, I can definitely dig it.  Look at any old school climbing pics and you will quickly realize that lycra was a way of life for the pioneers of our sport.  Tapping in to my inner 80's childhood almost seems like a fitting homage to pay to my sport of choice.  That being said, I've been easing in to it a bit.  After all, just because you CAN wear something doesn't necessarily mean you should.  I do realize that I am in fact a mom of 2, and what I can get away with wearing probably differs greatly from what a cute little high school student can.  So while I have thoroughly embraced the loud and obnoxious colors, I've kept the zany patterns a little more low key…for now anyway.
And at this point my workout wardrobe boasts a surprising amount of athletic tights (again), perfect for a review round-up!  I have tested items from 4 different brands – 2 dominating forces in women's workout wear (Athleta and Stonewear Designs), a company new on the scene (Ellie), and an oldie but goodie when it comes to clothes on the cheap (Old Navy.)  Some were purchased by me, others were given to me for review purposes…but ALL will be highlighted in this post with my honest and unbiased opinion. (And one is even offering a discount code for Cragmama readers!!!)
I have ranked each brand with 1-5 stars in six different areas (1 being awful, 2 being awesome).  I have also highlighted a few standout features of each specific tight.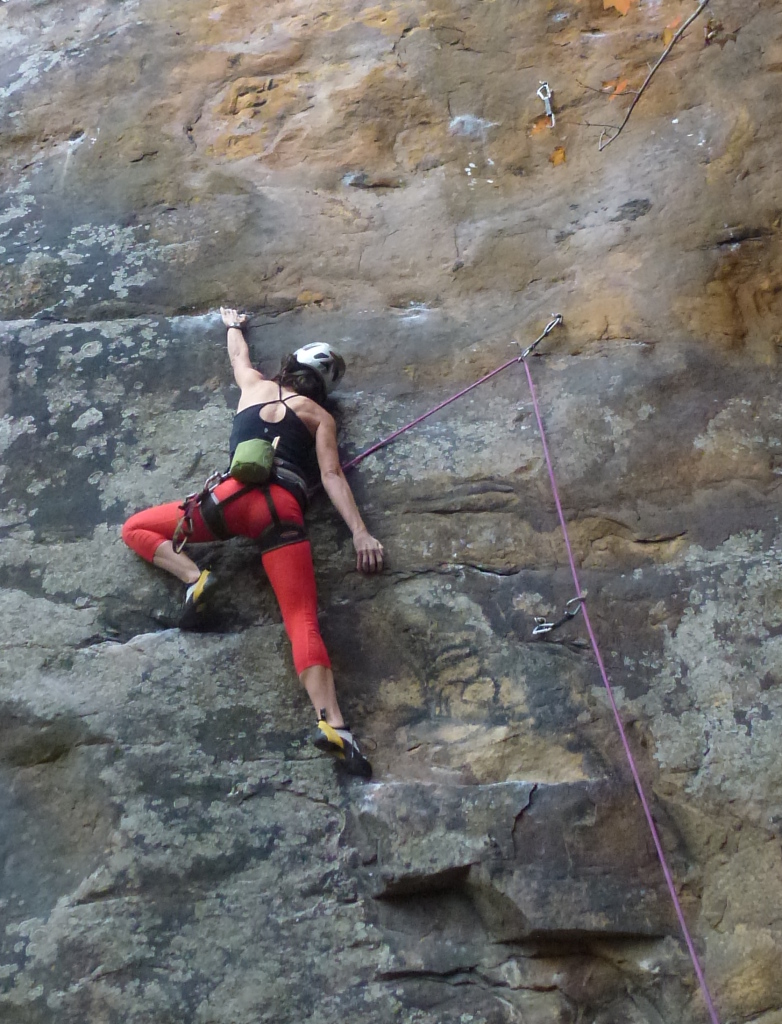 Athleta Balance Capri (Retail price: $79)
AVAILABLE COLORS/PATTERNS: 5
PRICE: 2
VERSATILITY:  4
FIT/COMFORT:  5
FABRIC:  4
DURABILITY: 5
As a former athlete for this company back in 2012, I've got enough Athleta clothes to open up a small store.  (And even 2 years later, most of the pieces are still worn on the regular.) The Balance Capri is one of dozens of different offerings in workout tights from Athleta.  I chose these in particular because I loved the bright red color! Like many other Athleta products, the Balance is made out of Pilayo, which is a signature Athleta fabric that is comfortable, durable, and wicking.   This fabric can meet all of your workout needs – great in an indoor gym setting, but tough enough to withstand climbing outdoors.  It's flattering when worn alone, or comfortable as a baselayer.  These clothes are the most expensive of the bunch, but because they swap out colors so often, it's usually pretty easy to score a bargain on the previous season's styles (or at least get the price down to what a normal person would pay…)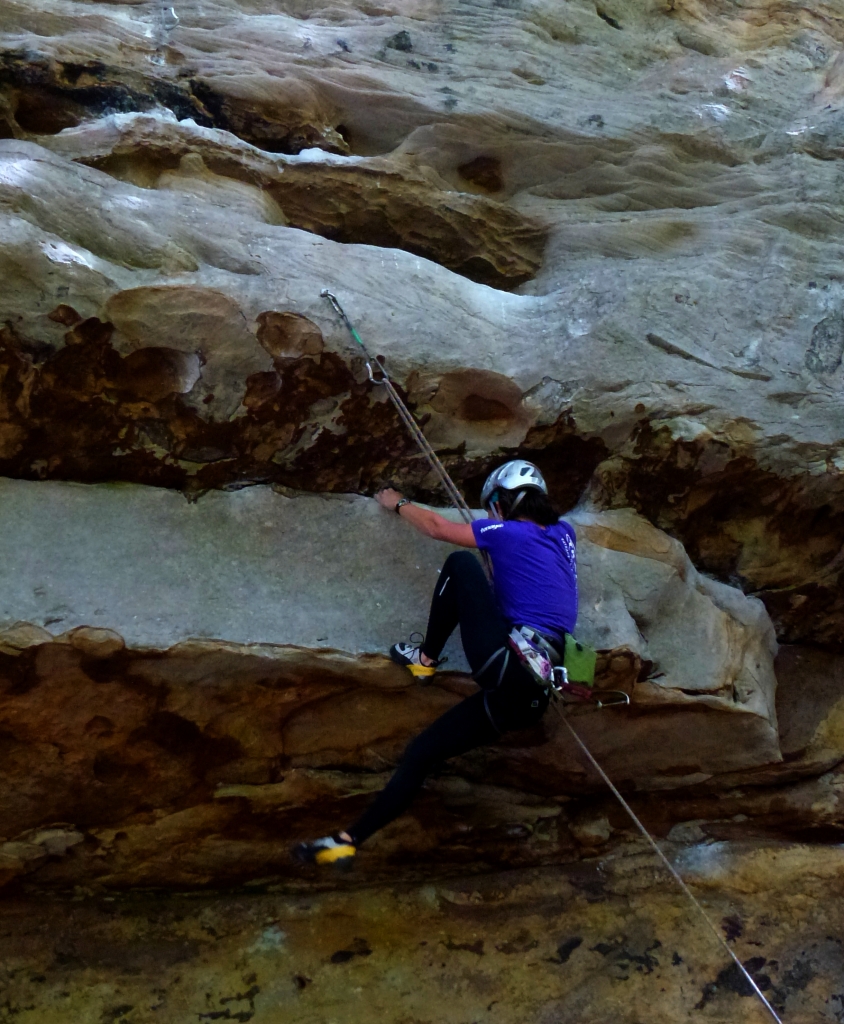 Stonewear Designs Sprinter Tight (Retail price: $79)
AVAILABLE COLORS/PATTERNS: 2
PRICE: 3
VERSATILITY:  5
FIT/COMFORT: 5
FABRIC: 5
DURABILITY: 5
Stonewear is another company that I have worked with in a sponsorship role (2013.)  (And another brand that I still wear almost on the daily! )  As with most SWD items, versatility is a huge selling point with the Sprinter Tights. This tight can handle any workout you throw at it, running, yoga, climbing…and then still look hip under a flowy top when you meet friends for dinner later!  The ruching at the bottom adds a little bit of flair, and a reflective strip adds visibility for dusk/dawn workouts.  The fabric is so luxurious and ridiculously comfortable and stretchy – and even though it's not terribly thick, I was surprised at how well it holds up – no signs of wear and tear even after cranking out double knee bars on a classic Cotton Top route a few weeks ago! The only downside I see is that it only comes in black.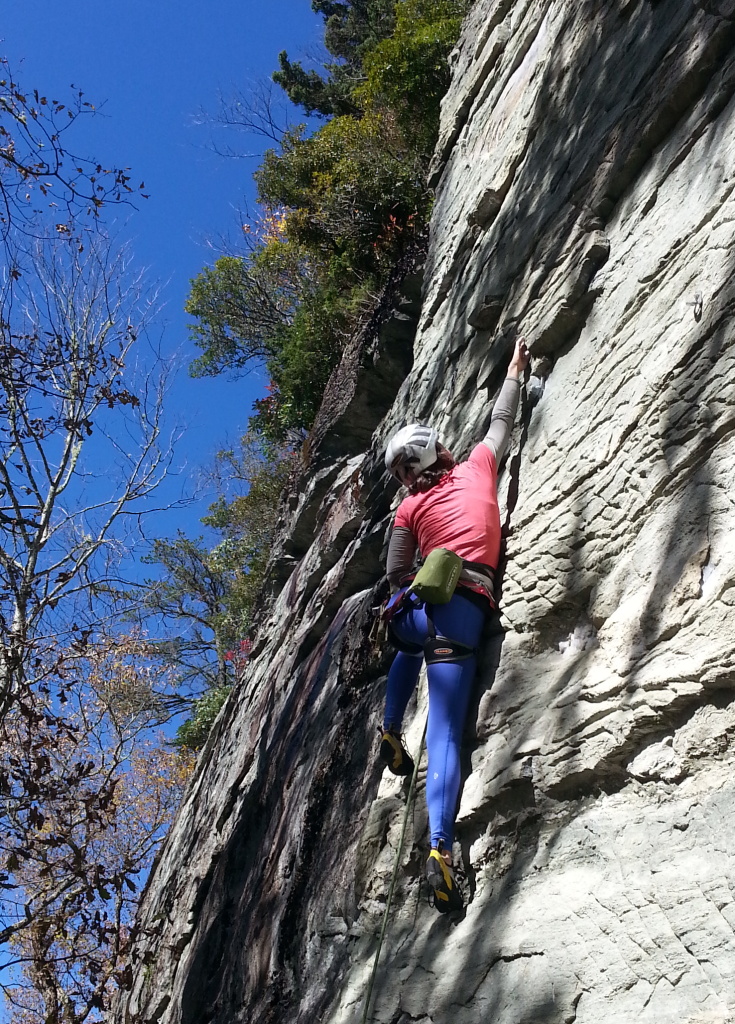 Ellie Tone and Awaken Leggings (Retail price: $44.95)
AVAILABLE COLORS/PATTERNS: 5
PRICE:  4
VERSATILITY: 4
FIT/COMFORT: 4
FABRIC: 4
DURABILITY: 4
Ellie is a new company that incorporates trendy, mod-style fashions in to their workout wear.  The best part of these tights was the value – a high quality product at a lower price than competitors.  The fabric was not quite as comfy or smooth as the Athleta or SWD styles, but was still very high quality.  Other than getting a little fuzzy at the seams from rock abrasion, these tights have proven to be very durable, and passed the sheer "down-dog test" with flying colors!  If you want crazy colors and cutting edge style, this shop is definitely for you!  And the folks at Ellie are so psyched to get the word out about their products that they are offering 20% off of your first order for all Cragmama readers!  Just enter the discount code of "erica20" when prompted online!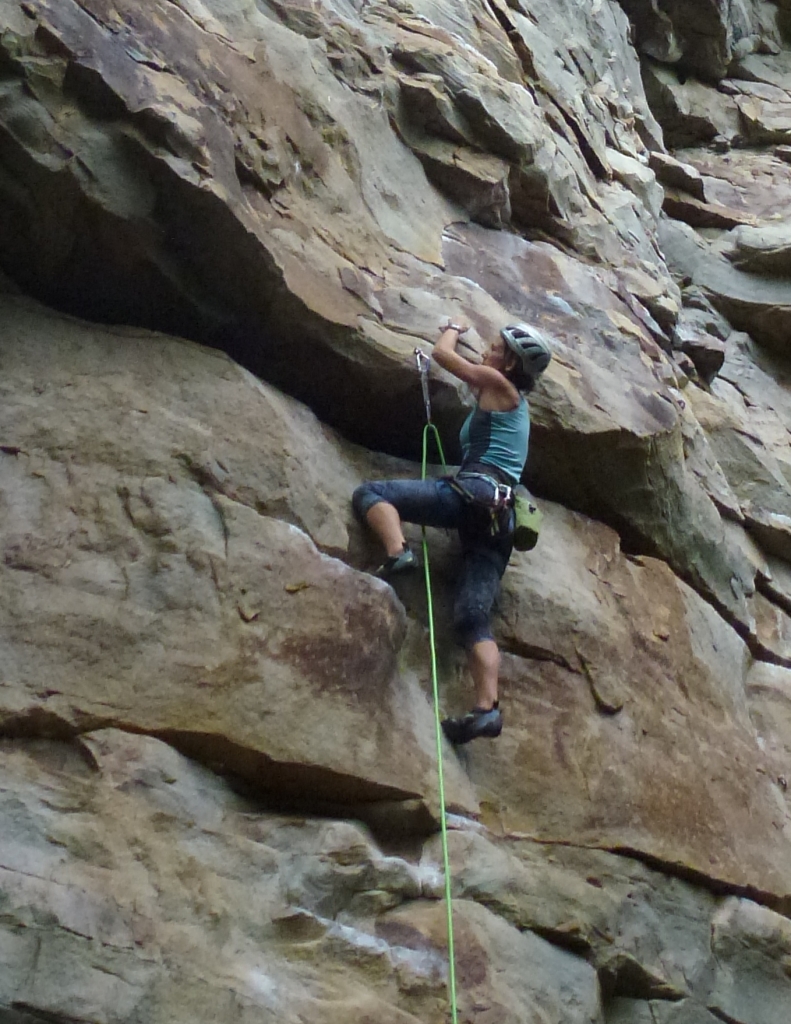 Old Navy Active Compression Leggings (Retail price:  $29)
AVAILABLE COLORS/PATTERNS: 3
PRICE: 5
VERSATILITY: 2
FIT/COMFORT: 3
FABRIC: 2
DURABILITY: 2
Ok so it's no secret that this commercial giant scored lowest in just about all categories but price. These tights are definitely NOT up for multiple seasons on real rock, but they work just fine in the gym.  And don't wear them in hot weather (they don't breathe at all)…or cold weather (they don't wick).  But if you need something cheap (and fast!) head to your local Old Navy store, where you can probably find some on the closeout rack for under $15 if you're lucky!
My list is by no means complete – there are a ton of other brands out there, all with different selling points and features.  If you've hopped onto the tights bandwagon, please list your favorite brands (or any brands that were an epic fail!)  And if you haven't drank the Kool-aid yet, what are you waiting for?