Petzl MACCHU + BODY = Perfect Climbing Harness for Growing Kids (and GIVEAWAY!)
It's been a little over a year since Big C began to "for real" climb on our family outings.  While he's still a little hit or miss in the outdoor realm (sometimes there's not a suitable route for him to try, other times it's more fun to dig in the dirt than put his harness on), I've made it a point to try and get him to the climbing gym at least once a week.  We don't stay long – usually no more than 45 minutes or so, and that includes gearing up and down, and getting Baby Z situated on her blanket with a great view (and a carabiner in her mouth, usually.)
So when Petzl contacted us wanting to know if Big C wanted to be one of the first kidcrushers to try out their brand new kid's harness system, you can imagine how excited he was.  "Is that harness like yours and Daddy's, Mommy?" he asked anxiously as he peered over my shoulder to get a look inside the box.  When we put it on him, he was all smiles, and couldn't wait to take it for a test spin.
It only took a quick afternoon sesh at Inner Peaks Climbing Center for me to see that this innovative product was top notch.  And although it's often hard to get wordy gear comparisons out of a 4 and 1/2 year old, Big C seemed to enjoy it.  For the record, when I asked what he liked most about the new harness, he thought for a minute before concluding, "I like that it's orange."  When I asked him whether he liked the new harness better, worse, or the same as his old harness, he quickly responded, "the same."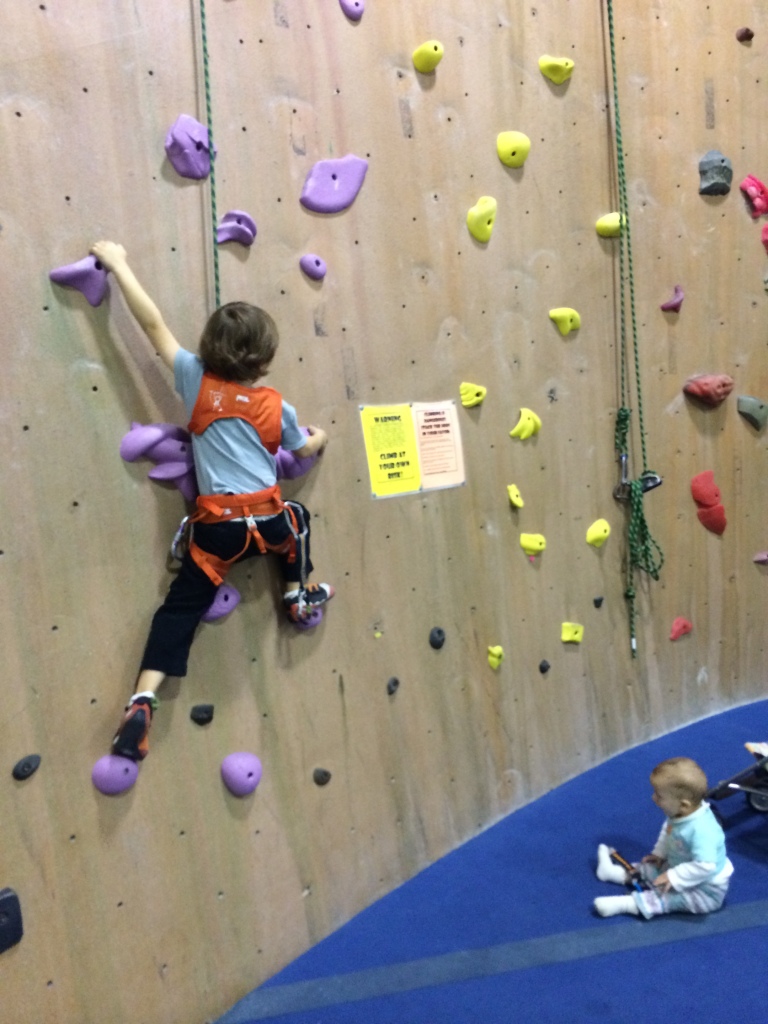 However, as the parent who buys gear for this child who never stops growing, there are plenty of other features for me to appreciate.  Namely, the versatility.  The MACCHU harness is a sit harness, and by itself would be a great option for older children.  It's got all the specs you'd expect out of an adult harness in a pint-sized package.  The leg and waist buckles automatically doubleback, and there is a buckle on either side of the waist belt, which keeps everything centered and symmetrical, regardless of how much you have to adjust for size.  There are two sturdy gear loops, perfect for the young gun transitioning from toproping, to following, to eventually lead climbing.
But it's when paired with the BODY chest harness that the MACCHU really starts to shine.  Together this harness system creates a full-body setup – a necessary safety precaution for younger children (see this post for an explanation.)
The beauty of the MACCHU + BODY combo is that they are two separate pieces of gear.  That means one harness for the full body stage and initial sit harness stage (which could last a few years.)  It also means that families with multiple kidcrushers could potentially get away with buying only one harness to share – even if one needs a full body and the other is ready for a sit! The separate pieces also allow for a lot more adjustability with regards to torso length.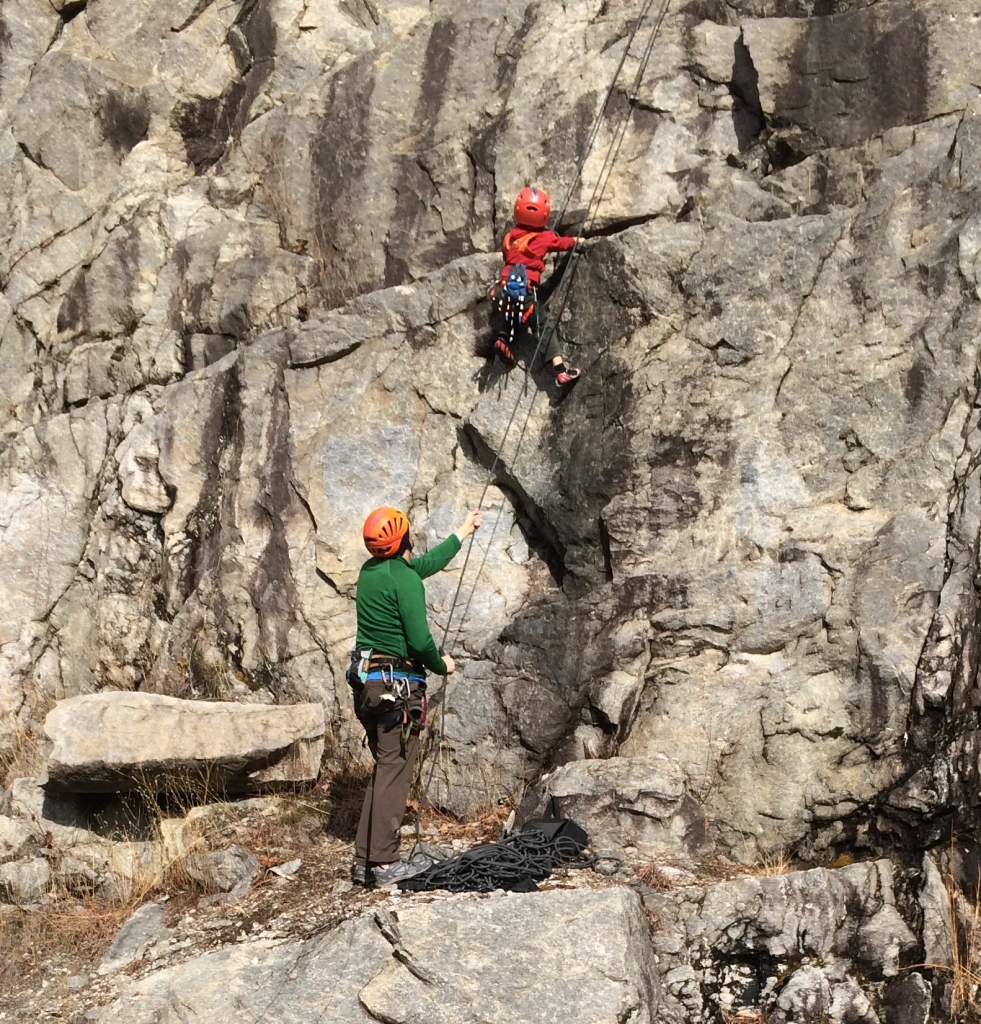 Big C has proudly been strutting his (orange) stuff both at the gym as well as the local crags.  And soon he won't be the only one – Petzl has graciously agreed to give away a MACCHU + BODY combo to one lucky reader!  Enter via the Rafflecopter widget below – you'll get one entry for commenting, and additional entries for following along with our adventures via social media.  Contest will run through midnight of January 17, when a winner will randomly be chosen and announced via social media.  Good luck!
NOTE: The MACCHU + BODY is not available for purchase quite yet, but is scheduled to be released the week of January 27th. Big C received his for free for purposes of this review, but as always, all of my (and his!) opinions are unbiased and honest.
AND ANOTHER THING…For more about full body harnesses, check out my review of the Trango Junior here.  For more on Petzl's line of children's products , check out my review of the kid's PICCHU helmet here.  For more on finding a balance of family climb time, check out this post.