Best Kid's Rain Boots: MyMayu! (and GIVEAWAY!)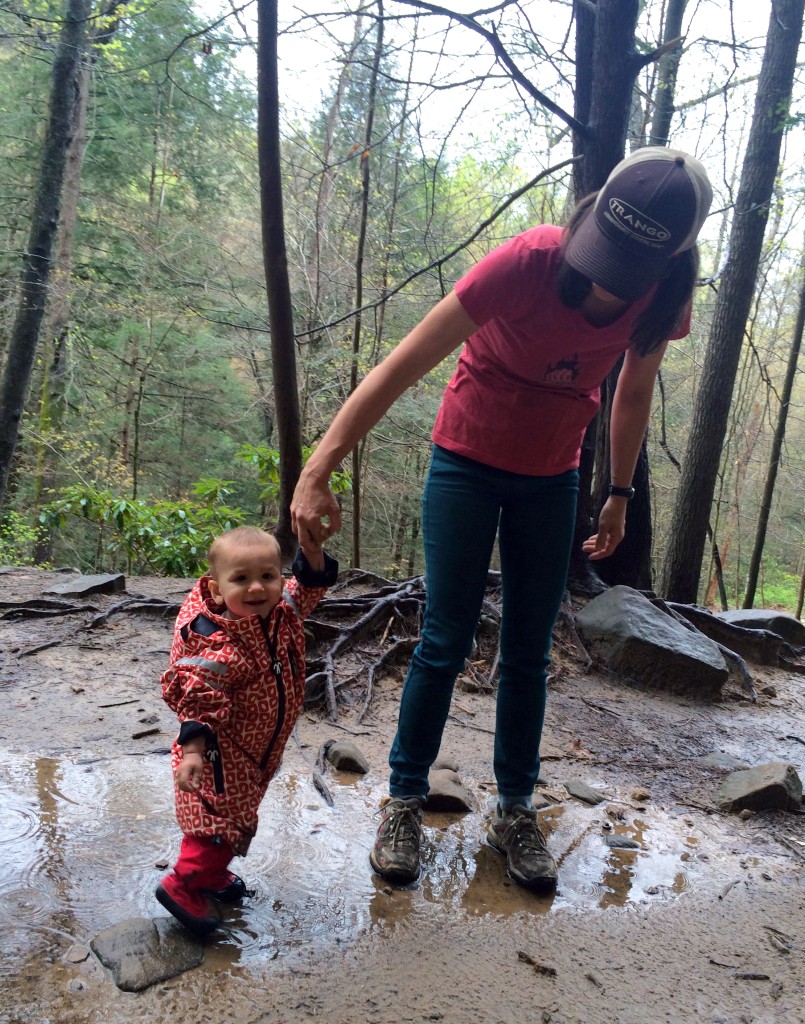 Those of you that have been reading for a while may recall a picture I posted during our big snowstorm (yes, singular) this past winter.  The picture was of my then 11 month old daughter, and she was wearing her brother's gloves on her feet, for lack of winter boots.  A couple of weeks later, she scored an awesome pair of Muddy Munchkin Toddler Play boots of her very own from MyMayu!
Unfortunately we didn't get a chance to use them in the snow this season, but we've had a hefty PLENTY of wet weather testing opportunities, in both cold and warm weather.  In fact, these boots went on family climbing trips 4 weekends in a row during the month of April, and not once did they let us down!
Our first excursion was on a cold day at Crowders Mountain – the ground was dry, but with the Liners (sold separately), Baby Zu's feet stayed toasty warm all wrapped up in fuzzy fleece.
The next couple of weekends were spent at the New River Gorge, where the temps were fairly warm, but the base of the cliff was littered with frigid puddles.  Thanks to MyMayu boots (and Ducksday rainsuits!) Baby Zu was able to splash around to her hearts content without getting drenched.
But the best puddle stomping weather we've had yet came at the Red River Gorge in Kentucky a couple of weekends ago.  The overhanging cliffs were dry, but the ground was saturated from the previous days of heavy rains.  Baby Zu played in the puddles with her big brother all afternoon – stomping, and splashing, and crawling around.  By the time we were ready to hike out she was quite a sight.  But after slipping off her boots and rainsuit, I (as well as everyone else at the crag) was amazed to find a clean, dry baby underneath!  (Although I can't say the same of her brother, who's boots do NOT have a toggle closure at the knee, and at some point ditched the rain suit to play in the sand on higher, dryer ground!)
These boots were not necessarily the easiest of shoes to get on (although what toddler shoes ARE), but once they were on, they stayed put really well.  There are toggles at the upper part of the boot as well as the ankle to ensure a proper fit as well as keep splashes out.
Aside from protecting little feet and toes from the harsh elements, these boots are brilliantly designed to stow away in the smallest of places – I literally tucked them both into one of the mesh water bottle pockets on the outside of my pack for a hike!  The fabric feels similar to what a lightweight rain jacket would be made out of – so when not in use, they just collapse down for easy packing.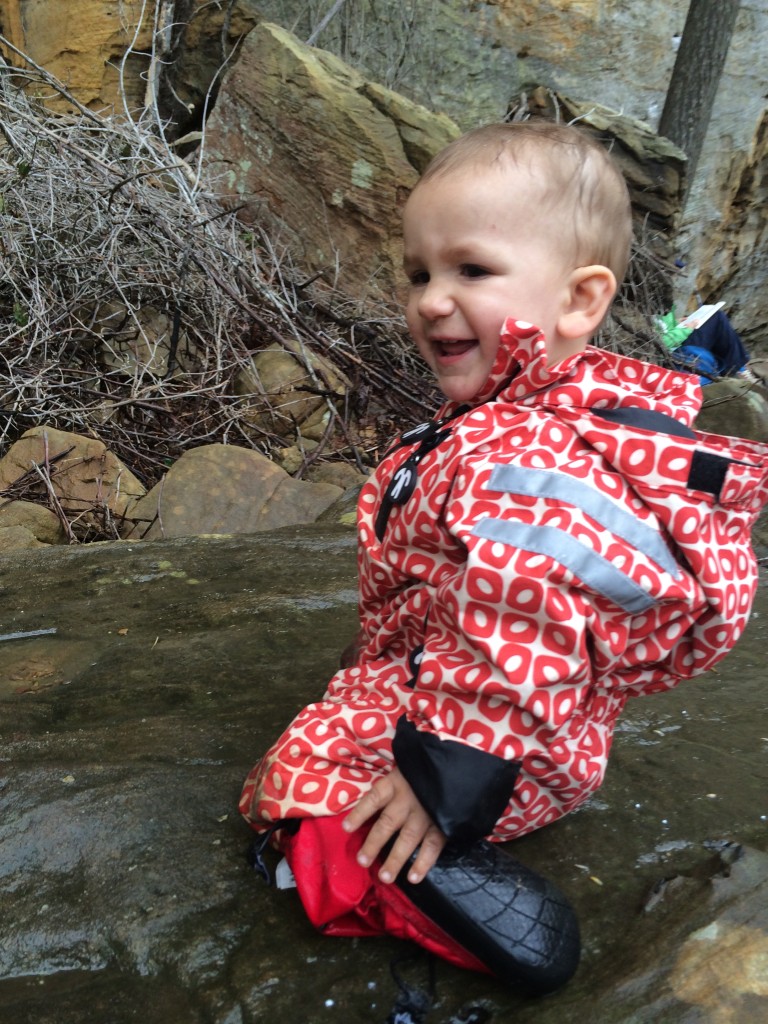 But one of my favorite features was how easy they were to clean – hours of frolicking in the mud are easily wiped away with a damp cloth, leaving the boots ready to stuff in a pack again until the next adventure!
So who's ready to score a free pair of boots, courtesy of MyMayu?!?  They have graciously agreed to provide a pair of Muddy Munchkinds Toddler Play boots for one lucky reader – all you have to do is leave a comment below and enter via the Rafflecopter widget.  This time, bonus entries will be giving for following @cragmama1 and @MyMayuOutdoor on instagram, as well as posting which style/color boot is your favorite on the MyMayu facebook page.
PS – And for those of you wondering about Baby Zu's red rainsuit, it's courtesy of another one of our go-to brands for wet weather – Ducksday USA! (reviewed here.)