Giveaway and Discounts from Medi-Dyne Brands!
Those of you that are keen observers perhaps may have noticed the latest graphic in the "Featured Partner" sidebar on this site. That's because our family is psyched to have been chosen as ambassadors for Medi-Dyne Brands.  And that means great things for us AND you all!
Medi-Dyne is a company that offers professional health care products aimed at improving performance and providing pain relief in both the long-term and short-term.  Their pre-hab products are designed to keep you outside enjoying the mountains, beach, lake, or wherever it is that you recreate most.
So far we've had a chance to try 3 products – the CoreStretch, ProStretch, and RangeRoller.  And, so far, we've really enjoyed using each.  Here are the specifics for each product…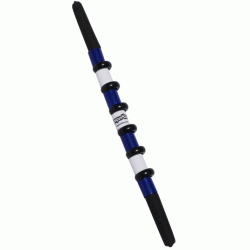 RANGE ROLLER
From Medi-dyne: "This innovative massage therapy tool provides exclusive Trigger Treads™ which allow users to experience a deep massage on both inner- and outer-layers of their muscles and tissues, dramatically reducing muscle pain."
From Cragmama: This is a great tool for working out the kinks in sore, tired muscles.  Similar to a foam roller, but a lot smaller (and therefore, more portable), it's an easy way to increase circulation, release trigger points and knots, as well as break down scar tissue.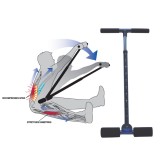 CORE STRETCH
From Medi-dyne: "Range of motion, injury prevention, pain reduction, and increased recovery time are just a few reasons that so many individuals have used these products over the years. CoreStretch™ will stretch you back into shape."
From Cragmama: This one is for anyone needing a deep stretch for lower back and/or hamstrings.  It keeps you from "cheating" with your form, and is easily adjustable for varying heights.  I can really feel my back lengthening and releasing whenever I use it.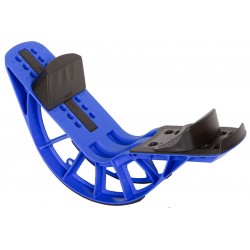 PRO STRETCH PLUS
From Medi-dyne: "ProStretch® has been the #1 choice for pain relief by athletic trainers, physical therapists, and athletes for more than 20 years. The unique design allows complete customization for each individual user, providing users with a deep, effective stretch, flexibility and relaxation is increased in the knees, lower legs, and feet."
From Cragmama:  I have a severe lack of range of motion in my left ankle from a fracture back in 2011 that makes it really difficult to get a deep stretch at the bottom of my calf/achilles area.  This product helps me stretch those areas without sacrificing proper body alignment.
We'll be getting more products throughout the year, and I'll be sure to keep you all in the loop about Medi-Dyne's latest and greatest product offerings.  But for now, I'm excited to host a giveaway!  Medi-Dyne has graciously offered up a giveaway – one lucky winner will get a ProStretch Plus!
If you don't win (or can't wait to find out), I've got even more good news.  Medi-Dyne is also offering an exclusive discount on their products for Cragmama readers – just use the discount code "BACM20" when prompted at their online store.
To enter the giveaway, just use the Rafflecopter widget below.  Entries are given by commenting on this post about which Medi-dyne product seems most useful for you.  Contest will run through next Monday, April 27 at midnight – best of luck!