Red River Gorge in November
While my heart will probably forever belong to the New, I do really like the Red, and I so wish the Red was a lot closer.  I also wish it was a lot less crowded.  But one thing we didn't have to wish for this past weekend was better climbing conditions…because it was darn near perfect!
Our first day was spent at Funk Rock City.  Yes, our motivated crew of 3 adults and 3 children (two of which are under 3) did the 45 minute slog across the creek and up the mountain side just so that I could finally try a route I'd been drooling over since 2012 – Orange Juice 12c. (Thanks guys!)  My trip got off to a great start with an onsight of OJ's easier next door neighbor – There Goes the Neighborhood 11c.
Orange Juice ascends a beautiful, vertical, orange face littered with pockets and small edges.  There are 3 cruxes on the route, with fairly mellow (11a?) climbing in between.  The first crux is probably the easiest of the three, but also the scariest because it's not that high off the ground.  The next one is a super long move from okay crimps to a jug.  Of the seven people who worked this route that day (yes 7…on a weekday?!?), all of them dyno'd except for the CragDaddy and I. The final crux was in my opinion by far the hardest – a slopey crimp/mono pocket combo to a big move off of a pair of "snake-eye" mono pockets.  Once again, CragDaddy and I did something completely different than everyone else, and only slightly different than each other (they all went right, we went left…)
Due to the crowds I only got in 2 burns, neither of which was anywhere close to a send, but I felt really good about being able to figure out my own beta for all of the moves.  It's too bad it's such a pain to get back to, otherwise I'd say this route would be on the short list for next spring for sure….and it still might be, even so!
Day 2 the CragDaddy got to choose the destination, and he chose the Solarium at Muir Valley, where he was hoping to earn redemption on his project from last spring – Abiyoyo 12b.  I had mixed feelings about getting on it with him.  The guide book says that the crux move will feel significantly harder if you are sub 5'8″ (I'm 5'5″).  On the one hand, I've been working really hard on climbing "tall," and this crux would be a good test.  On the other hand, one of the reasons I love the Red is that it typically doesn't have those giant blank sections of wall devoid of intermediate features (the ones that you see all the time at the New, even randomly on routes that are otherwise pretty easy.)
But after weighing my options, my curiousity got the better of me, as well as the fact that CragDaddy and I really enjoy working routes together.  The verdict?  "The move" is definitely harder for me than CragDaddy.  He can skip a nice row of sloping crimps that I have trouble getting established on without being too extended to move my feet up.  I actually ended up skipping those holds as well, and ended up doing a weird pinch thing off of two tiny pockets that were several inches below the row of crimps.  However, considering the huge jug rest right before the crux (and especially considering the sit down rest in the hueco 10 feet below that), the one move wonder didn't feel any harder than V5 or so for me, which still seems very reasonable for a 12b, especially a "reachy" one.  If this route was at the New, nothing at all would be mentioned about the move being height dependent.
That being said…neither of us sent the route.  I kept falling at the crux, but CragDaddy got extremely close on his last attempt – the crux itself may be fairly easy for him, but the next few moves are long and powerful and pack a pump pretty quick.  Thanks to the crowds (again) we were both disappointed at the amount of climbing we were able to get in (6 pitches in 2 days…and we were first in the parking lot both days.)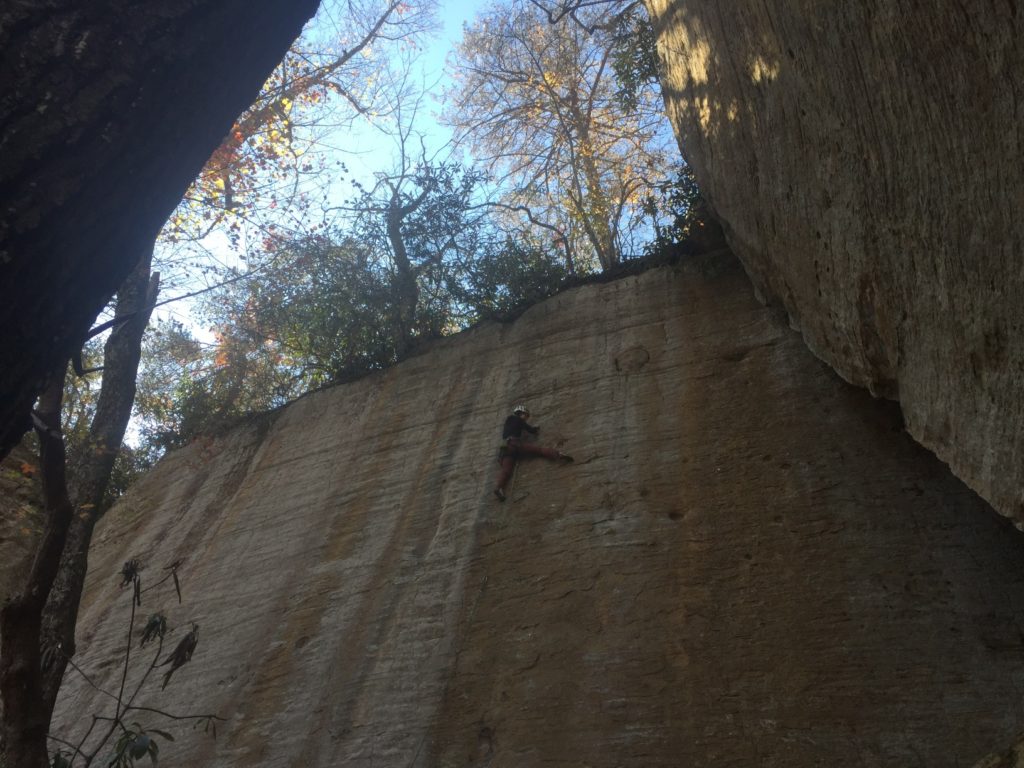 So for our last day, we opted for an area we'd never been to, but looked off the beaten path enough to avoid the throngs of forearm blasters – the slab/vertical climbing at Crossroads in the PMRP.  And what a great choice!  Our warm-up, Fairweather Friends 10d, was super fun, and I was able to walk away with two more great sends. Legalize It 12a was soooo close to a flash for me, until I botched a foot placement right at the last bolt.  It went 2nd go pretty easily, which allowed me to hit a milestone of 50 lifetime 5.12 ticks!  My last route of the trip also ended on a "high" note – a hanging draws onsight of Wake and Bake 11d.
All in all – such a great trip!  We all tried hard and stretched ourselves out of our comfort zone.  (And congrats to fellow cragmama Rebekah for ticking her first 11c AND leading her first 5.12!)  We had so much fun on our last day that we ended up staying far later than we originally anticipated.  Ordinarily getting back at midnight would just be mildly unpleasant, but walking into a 55 degree house at midnight (thank you, broken heater!) was downright miserable.  But it was still worth it, especially since our climbing trips for the rest of the year will consist of whatever days we can squeeze in amidst the holiday chaos.  Happy Thanksgiving everyone!