This Time it's Endless, Not Sendless…
Ah, Endless Wall season. There's nothing like it. Endless Wall is definitely my favorite climbing area at the New River Gorge, though on paper I'm not sure why. From a climber perspective, the grades are stiff, the bolt spacing is spicy, and cruxes require committment from body, mind and soul all at once. You'd better bring your try hard if you wanna climb here. From a mama perspective, the hike is long, and giant ladders make for a difficult approach with kids. You'd better bring your hiking bears if you wanna climb here.
As a family, it's logistically always been hard for us to get down there as often as we'd like. It's not the best place for larger groups, so if we've got a large crew, other areas make a lot more sense. I can think of countless times we've had to put projects on hold simply because we couldn't convince anyone to hike down there with us. Then there's the weather conundrum – most of the wall bakes in the sun, so late fall and early spring are really best…when camping can get pretty darn cold for the kiddos.
All that said, we were pretty psyched to see high's in the low 60's on the heels of our flying solo experiment from the week before. It seemed like the perfect time to go for The Gift of Grace 12b, which would be warmed by the morning sun, but shaded by lunch time. This proud line follows a striking arete to the top of the cliff and some of the best views of the gorge. It's got an intimidating reputation due to some nasty fall potential down low that can be mitigated with a long draw, so we tied in with stick clip at the ready. CragDaddy stick clipped his way up most the route for his first attempt, and then I toproped. We extended the draw on the 3rd bolt…I mean REALLY extended it, so that one could clip at a good stance before attempting the first crux. (A fall during these moves without the extension would risk slamming into the lip of a low roof, your belayer, a slab boulder, or some combination of the three.) Clipping the extendo-draw takes the risk of any of those scenarios down to pretty much zero…it seemed like a no brainer to us.
Once we took care of the scary business, we could start working the route on the sharp end and focus on the moves…which were all HARD! The climb starts with a burly lip traverse along the roof, to a series of long moves on incut crimps. The first crux (the one that we neutered the fear factor on) is a very cool sequence on the arete, followed by a well-deserved no hands rest. A few more crimpy moves, this time on bad feet, leads to another good rest on a blocky section of the arete. Next comes the redpoint crux – a thin, balancy sequence of crimpy sidepulls culminating with a long move to better holds, with a tenuous clip thrown in the middle for good measure. The rest of the climbing is probably no harder than 10+, with just enough shake out jugs to make the finish a probable, though not guaranteed, victory lap.
By the end of the day, CragDaddy and I'd gotten in 3 burns each, both with a last go best go 2 hang. We hiked out optimistic for a next day send. However, our family highlight came at the end of the day, watching Little Z join the ranks of those that have scaled the big Honeymooner Ladders of Central Endless. She was belayed from above by Daddy, and I climbed right below her to spot her if she slipped…and to tell her to slow down every 3 rungs so that Daddy had enough time to pull the rope up. Surprisingly, the only other person who was more proud of her than herself was her big brother! He gave her a huge hug at the top, and told her over and over what a good job she did on the hike out. <3
​
Next day we found ourselves back at Gift of Grace bright and early, and since most everything else was still cold and in the shade, we opted to get down to business straightaway. Steve still had some beta refining he wanted to do, so he volunteered to hang draws, er, haul the stick clip up. I wasn't entirely sure whether I was going to go for it or not on my first burn of the day, but by the time I got through the first crux and made it to the rest I was in send mode. The next few moves went well, and the upper crux felt the best it'd ever felt. I was carrying a little more pump than I wanted at the finish, but before I knew it, I was at the chains and taking in that New River Gorgeous view. After somewhat mediocre performances the past couple of NRG trips, I needed this one, and I must say it felt pretty grand!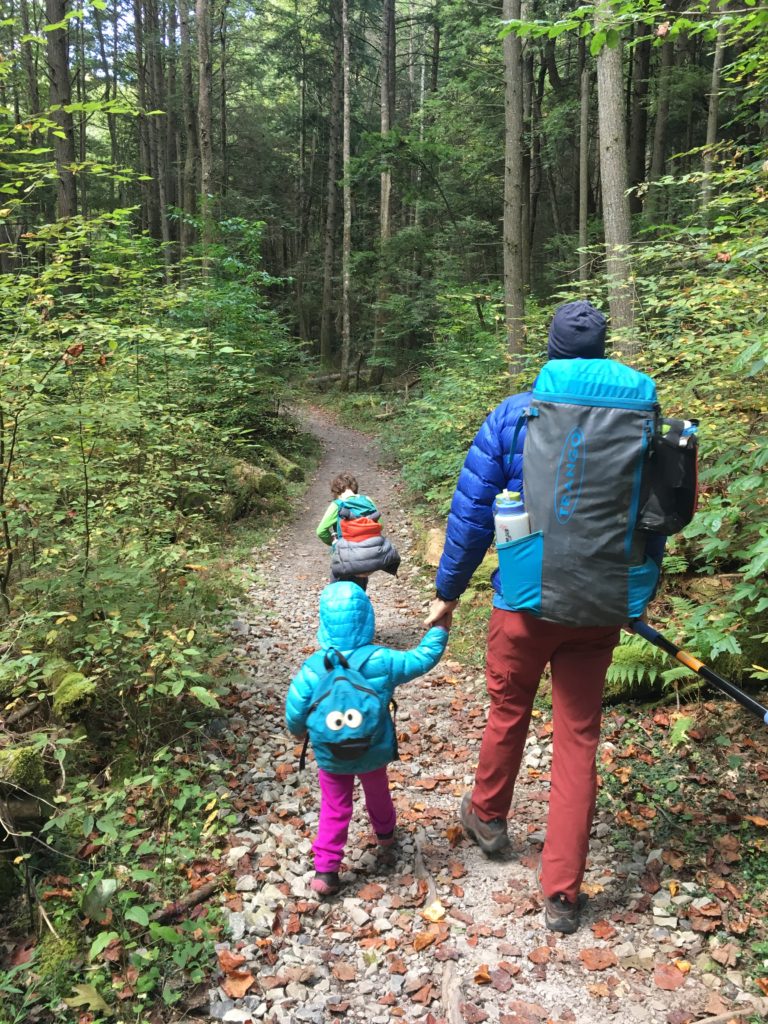 CragDaddy sent in fine style just after lunch, then we hiked over to put up Totally Clips 5.8 for Big C, who was able to do all the moves but the crux, which is pretty reachy when you're only 4 feet tall. CragDaddy and our buddy Mike took advantage of having an 80m rope at the ready and climbed Fool Effect 5.9, and I ended my day on Slab-o-Meat 11d, a line I'd never even looked at before but turned out to be really nice (and FYI a great one if you're breaking into the grade – the hard moves are all between bolts 1 and 3, followed by another 75 feet of fun (and exciting) 5.10 slabbing.
This coming weekend will mark week number 4 in a row at the New, but this time we will be living the high life in a cabin with CragDaddy's parents. Hopefully the weather will be cooperative…but if not, at least we know we won't be sleeping outside in the rain!