Spring, then Winter, then Spring at the Red
So it's been a loooooong time since I've written on this blog. While I never write as often in the winter, usually I can at least put together a post or two, but apparently not this time around! The intention was there. We did some cool stuff worth writing about – skiing, snow tubing, hiking, a kid climbing day at Rocky Face, and even a daytrip date with CragDaddy to Rumbling Bald. But that whole "time-to-write" thing kept eluding me. However, with the beginning of spring season upon us, it's time to find the time again.
It's only fair to warn you that this first trip report of spring will not be nearly as exciting as the last trip reports from fall, where I broke into a new number grade for the first time in 7 years. Actually, compared to the high I felt then, this trip report is more than a little lackluster, perhaps downright boring. In fact, this trip report is the kind of post that I sometimes am tempted to just skip out on altogether. But the reality is, THIS kind of trip report is what happens the majority of the time for all of us. Lots of try hard, lots of failure, and juuuust enough success to keep the stoke high enough on the psych-meter.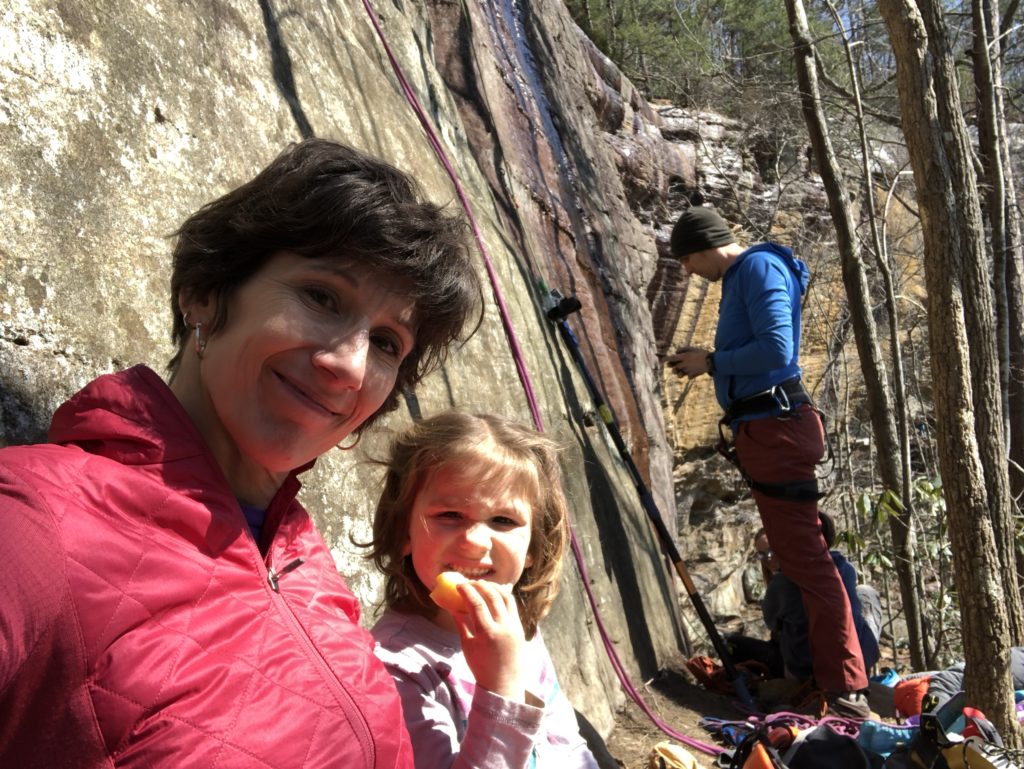 That said, the first real climbing trip of the season can be summed up like this – it was spring, then it was winter, then it was spring again. We knew going in that we would have 1 bad day sandwiched in between 2 good days. We debated back and forth whether the long drive to Kentucky was worth it. But after months of daydreaming about spring climbing, desperation won out and we went anyway, and of course, made the best of every situation presented to us.
Day 1 was spent soaking up the sun at the aptly named Solar Collector wall in PMRP. After training with Power Company Climbing all winter and seeing some pretty good gains in the gym, I was anxious to see how those gains would translate on real rock. I tied in to Decline of Western Civilization 10a and promptly hang-dogged my way up it. (To be fair, the rock was still REALLY cold….;) ) My next pitch was decidedly better – I flashed Mona Lisa Overdrive 11b. Thank goodness for huecos! Pitch #3 was Buddha Hole 11d. No send, but I put in a really valiant flash attempt and fell just a couple of moves before hitting the 5.10 jugs. I felt pretty trashed afterwards so I didn't get on it again, but looking back, I wish I would have. Perhaps decisions like that should not be made when your forearms are still hard as rocks…
After hiking around to check out the (ironically still shaded) Bright Side, we ended up back at Solar Collector, this time by the slabs on the right side. I was really proud of myself for hanging on for the onsight of Butt Sweat and Tears, but was disappointed to find out it was only 11b, as it had felt a lot more intense than that to me. Regardless of grade however, it was super fun, although it would probably get more action at the New than in it's current location (perhaps that's why I liked it so much!) Everyone ended their day on Brambly Downslide 10a, including the Big CragKiddo! While he's been getting up some mid-10's at the gym lately, this was by far his hardest outdoor climb to date. He rested several times, but did all the moves. Some of them were pretty hard and I was proud of him for sticking with it and not getting frustrated!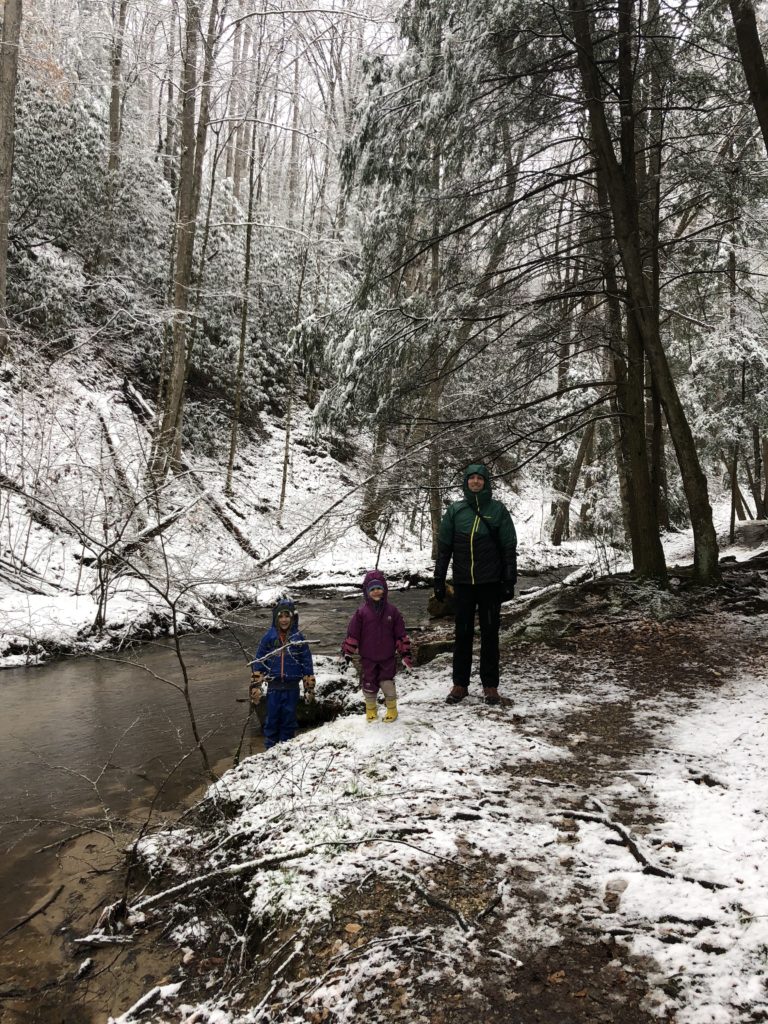 We woke up the next day to snow, which the kids were super excited about. The snow was forecasted to shift to a cold rain after lunch, so we bundled up and headed out for a snow hike. Being the nature dorks that we are, we were delighted at all the animal tracks we were able to identify in the snow – deer, rabbit, raccoon, and even fox! The rest of the day was passed with games, reading, and a trip to the Kentucky Reptile Zoo (if you are into reptiles, you should definitely make a point to visit some time!)
Day 3 dawned cold but sunny, and we went to Muir Valley. We spent the first part of the day over at the Inner Sanctum, where CragDaddy onsighted Psyberpunk 11c and I nabbed the flash. Big C worked his way up Netizen Hacktivist 9+, proclaiming "This is so fun!" at least 4 or 5 times throughout the climb, then we moved over to the Sanctuary, where things started to fall apart a bit. I got stomped on the opening moves of Immaculate Deception 11d, then came closer to a big flapper than the chains on Jesus Wept 12d. We shifted around to the now-sunny Indy Wall, where I got draws up on Posse Whipped 12a, a very technical line I'd tried once several years ago. The movement is very crimpy and sustained, with pretty terrible feet in the crux. I think I would have had a good shot at it next go, but unfortunately it was getting pretty late in the day and we needed to get on the road, so I didn't wait nearly long enough before tying in again. I fell at the end of the crux when my hands got mixed up.
So two days of climbing and the best I had to show for it on paper was a couple of mid 11's. Again, kinda lackluster compared to the end of last fall. However. While I may not PHYSICALLY be where I want to be yet, I was in a really good place MENTALLY. Many times I start out a new season feeling timid and scared to fall. It takes me a while to ease in to "trying hard." But this time around my head game felt great. I moved confidently and without hesitation, even when my forearms were going numb, and took some good ole try hard falls. And with the exception of the routes at the Sanctuary, I felt fairly strong…I just got PUMPED! And I guess for a season opening trip to the Red, that shouldn't come as a surprise.
Now if only this rain would stop, we could get on with spring and start going to the New!