A Cross Country Driving Adventure with Kids!
If you've been following our family on social media at all, you're probably aware that we just got back from a summer escape to Ten Sleep Canyon, WY. When we first started going out there 8 years ago, we had no idea we would keep coming back again and again…,and again! We've tried all manner of "getting there" options. In 2012 we flew into Rapid City, SD and also climbed in Spearfish Canyon and the Custer State Park. In 2015 we flew into Salt Lake City, UT and sandwiched Ten Sleep in between Wild Iris and Logan Canyon. Then in 2018 we flew into Casper, WY so we could spend our entire climbing time in Ten Sleep. But this time around, we opted for something I've always wanted to do – a long haul drive across the country in our good old Craggin' Wagon! Due to our wanting to save some of the CragDad's PTO for later this fall, I made the leg to Wyoming solo with the kiddos. He flew out for the climbing, then flew back home…on the same day my mom flew out to meet us to help with the drive back home. Logistically, driving has always made a lot more sense.
SAVING MONEY
For one thing, this year we only had 1 plane flight to buy, and because it was purchased with flyer miles, we actually only paid around $20 for it! We also saved a lot in rental car fees. Additionally, we saved a lot of money by bringing our own crag food bought in bulk at Costco as opposed to buying individually packaged bars/jerky/etc in the Wyoming grocery stores once we got there. We did have an additional cost of lodging along the way, but we chose pretty budget friendly hotels. Had the CragDad been with me I probably would've opted for camping…but I just couldn't make myself set up and breakdown that tent every single day all by myself! (There's definitely an incentive here for building out the van with some sort of sleeping set up!!!) Our original plan was to camp once we got to Ten Sleep, but due to covid we felt better about having our own bathroom, so we rented a little bunkhouse from Ten Sleep RV Park. We were thrilled that additional perks of this place included A/C as well as a refrigerator…and because we were driving, the fact that the kitchen only had the fridge and a sink was no biggie because it was easy to bring our camp stove set up. While it was more expensive than camping for sure, it was by far cheaper than an Air BnB, which would have been our only lodging option with flying, unless we wanted to pay a whole bunch of extra baggage fees (climbing gear is heavy and takes up a lot of room!!!)
ENJOYING THE JOURNEY
As a homeschooling family, we love to take advantage of everyday learning experiences. Driving across the country together was an amazing way to experience parts of the United States my kids otherwise would only read about in books. Here's a brief snapshot of all the amazing learning we were able to experience on either side of our vacation that we would NOT have been able to encounter via airplane.
Waterfalls and Swimming Holes in Tennessee
Historically significant sites, such as Fort Massac in Illinois, the Gateway Arch in Missouri, and the Ingalls Homestead in South Dakota
"Sledding" on St. Mary's Glacier in Colorado
National Park Sites – Rocky Mountain, Badlands, and Mt. Rushmore
Creation Museum and Ark Encounter in Kentucky
PLANNING
With the exception of a very scary, altitude-related ER visit in Granby, CO (more on that below), this trip went off smoother than I ever thought it would have! One of the things that was invaluable in trip planning was the Roadtrippers App. While I usually don't like to pay for apps, I must say this was well worth the $29 (there's also a free version with limited features which I used to try it out first) I was able to see my entire route, along with any possible stop along the way, even when you're in the middle of nowhere. (Did you know there's a Jolly Green Giant Statue in Minnesota? I didn't, but Roadtrippers did, and it gave us a well-timed stretch break on the way home!)
Another app that was very useful was Hotels.com. CragDad and I have been using this for a while now, and we love it! First of all, we don't like paying a lot for hotels, and this app allows you to see a wide range of hotels in the area you're looking for, as well as reviews. Secondly, booking through the app gives you a "stamp" that you can use to redeem for free stays after every 10 nights, so you get a similar benefit as other "points" programs that are affiliated with specific hotel chains, but without being limited to a certain chain. Twice on this trip we ended up with fabulous locally owned hotels at a very good price that would have been hard to find without the app!
Another important part of planning was providing the kids with stuff to do during the drive. Because I count this as part of our schooling, each kid had an assignment folder they would work in each day, with activities relevant to where we were headed that day. Both had maps to keep track of our travels as well as license plates we saw along the way. (We saw all but three – Rhode Island, New Hampshire, and Hawaii!) They also had a coloring sheet for each state and many of the historic sites we visited. At the end of each day they would record their "rose" and "thorn," (highlights/lowlights of the day), and my 10yo did some math by finding totals and averages with our mileage for each day. We also had loads of books, drawing stuff, audiobooks, and travel games…and of course each kiddo got an allotted amount of screen time each day as well.
While we grabbed take out a couple of times, and ate on a restaurant patio once, the majority of meals were eaten either on the road or park picnic tables. In this regard, being covid-conscious and money-conscious aligned really well. Thankfully my kids are pretty okay with not a lot of variety, and ate their body weight in sandwiches, crackers, mandarin oranges, and canned pineapple. I had brought non-perishable goods for Ten Sleep dinners once we got there (pasta, tortillas, etc), and stopped at a grocery on the way in to purchase meat and produce.
WHEN PLANS GO SIDEWAYS
As I alluded to before, we had one hiccup in our plan…and it was a big one! The day before we were scheduled to meet the CragDad in Casper, WY, my 6yo daughter ended up in the ER due to altitude sickness. Her very mild symptoms took a big turn for the worse in RMNP. By the time we got to the Granby hospital, she was in pretty bad shape between the nausea, dehydration, and oxygen levels of 80. After several hours she had stabilized, but we were instructed to go back down to Boulder rather than continuing on through higher elevations to Laramie, then Casper the following day. Providentially, the CragDad's flight connected in Denver, so we ended up just picking him up there and continuing on our way via a lower elevation route than planned. We arrived in Ten Sleep only a few hours later than originally planned, and by the following day, Little Z seemed back to her normal, bouncy self. '
Lessons learned? Be careful with altitude, especially with small kids, because they can go downhill in a moment's notice. I had thought we had done all the right things as far as gradually introducing higher elevations, but the combo of heat + exertion + dehydration put her in a hole she couldn't dig herself out of. Looking back, none of her symptoms had seemed any different than any of the typical out of sorts type symptoms we'd all been feeling until all of a sudden she was failing fast. So definitely err on the side of cautiousness! (And always have a plan B!!!)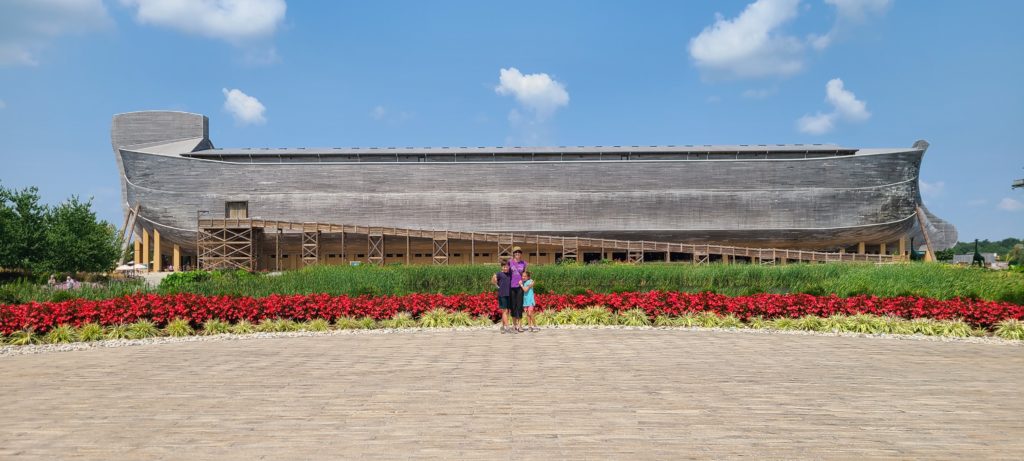 Thankfully, all's well that ends well, and we certainly ended up well, with loads of family memories of fun and adventure! While nobody is ready to hop in the car again any time soon, we all voted that a long road trip is definitely worth the effort, and we would all love to do it again! (That said, we are headed to the Red River Gorge to climb over Labor Day, and after this monster of a trip, that 7 hour drive will feel like a drive to the store. ;)) And speaking of climbing, check out that aspect of our trip here and here.