Anybody else like to look back and do some end of year reflection on how they fared with their goals for the year? In addition to the satisfaction that comes from checking off those goals, it's also interesting to see how those goals have changed over the course of the year. Sometimes what was deemed "goal-worthy" in January isn't very important by the time December rolls around, and this year has been the perfect example of this!
January 2020 started off with some lofty dreams, but all of that came to a grinding halt a few weeks later when Covid hit. Climbing areas around us closed, and spring was filled with excitement over crossing toilet paper and hand sanitizer off the grocery list rather than routes off a project list. Our family took the longest hiatus from climbing we'd ever had since we started back in 2006 (including times of pregnancy, newborns, and injuries). By the time we were able to get back out in the summer, all goals were forgotten and we were just grateful for the opportunity to get outside and climb.
But an end of summer trip to Ten Sleep Canyon helped us get our mojo back a little bit, and the amazing weather we've enjoyed all fall enabled us to make up for a lot of the time we lost in the spring. That said, the amount of boxes left unchecked isn't exactly inspiring…but it's where I'm at!
FINISH THE 12 WALL AT HAWKSBILL. Uncheck. I only made it out to Hawksbill once this year, when my fingers and skin weren't anywhere close to being up to the task of taking down the last 3 routes I have on this wall.
STEALTH AND MAGIC 12d. Uncheck. Didn't even try it. Initially I felt like my fingers weren't strong enough, and then by the time fall came around I was pulled in different directions.
TEN SLEEP 5.13. No dice. The first few days of our trip were spent on goal #3, which didn't leave a lot of room for harder projects. Honestly I don't think I would have been in good enough shape to put one down at that point anyway, even if I would've had more time.
HIT 100 LIFETIME 5.12's. CHECK!!! If I had to pick only one thing to cross off, this would have been the one! At the start of the year, I needed 7 more, and after ticking a quick 3 in the early part of the summer, I shifted the goal to hitting 100 before my 40th birthday, which happened at the end of our Ten Sleep trip. And though all my fall projects went unsent, I managed to close the year out with a lifetime 5.12 total of 107. Below is a graph that CragDaddy made for me that maps out where these sends are from.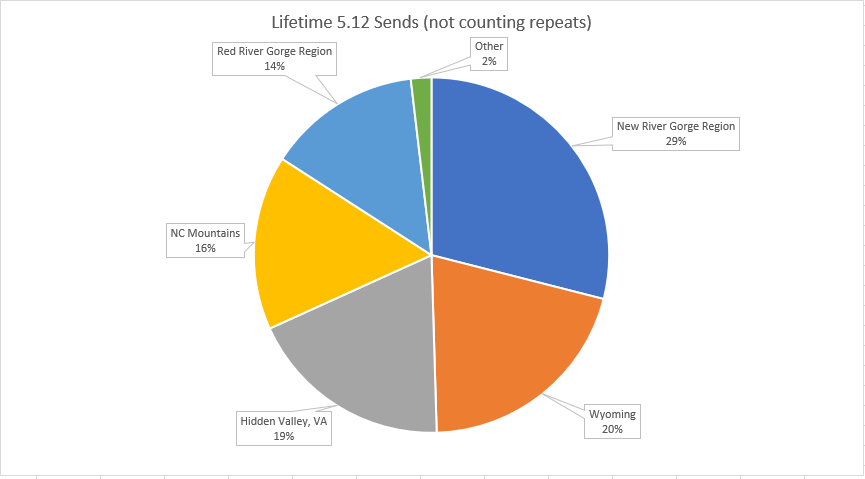 As the year unfolded, a few more boxes popped up to check.
FIND NEW PROJECTS FOR 2021. CHECK! I invested a fair amount of time into two routes at the New – Logotherapy 13a and Pudd's Pretty Dress 12d. Though it was disappointing to walk away empty-handed from both of them, especially the latter (see this post for the journey on this one.), having some projects in the hopper has made me super psyched about winter training (and especially about working with Karly over at ProjectDirectTraining!
CONSOLATION PRIZES. CHECK! Working limit routes all season does have some very positive side effects – routes that are NOT at your limit feel easier! Despite not sending any hard projects this fall, I did manage to tick off some really good lines.
MEADOW: We had a lot of fun exploring some new-to-us areas at the Meadow. All of these were sent 2nd go
except a flash of Betty Bravo
– Me Too 11b
– Betty Bravo 11c
– Cargo 12a
– Brown Star 12a
– Grey Goose 12b

NEW RIVER GORGE:
– Truth or Contra-Expenses 12a (1st 12a flash at the New!)
– Powerful Opposition 12a (came back to this one after punting on it a few years back)
– Harmonic Jello 12b (2nd go)
RED RIVER GORGE:
– Mercy the Huff 12b (after trying it a time or two over the years, finally felt fit enough to tackle this
one!)
Here's how this year's stats look compared to the lifetime stats…I'm kinda shocked and thrilled to see my success rate percentages higher in all categories but 5.13.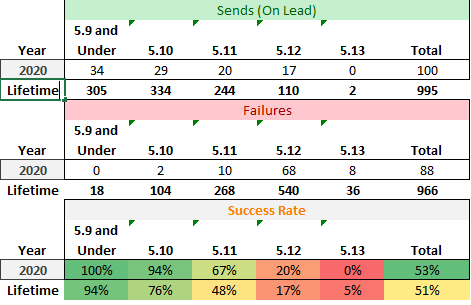 FAMILY TIME. CHECK! Our Ten Sleep trip and fall family adventures are probably the only thing that kept us sane in the monotony and uncertainty of these crazy times. Watching my son rack up an impressive tick list of his own has been so amazing to watch. (For a recap of his 10 10's at 10yo in 10 sleep, click here.) His list of sends at the New/Meadow this fall are as follows:
– Microbrew 5.5
– Wunderking 5.6
– Gilded Otter 5.7
– Beer Wench 5.8
– Totally Clips 5.8
– Stoned 5.9
– Upheaval 5.9
– With a Little Help From My Friends 5.10a

If I look only at the goals I had written down at this same time last year, it would be easy to write this year off as pretty unsuccessful. But there's so much more to it than that. This year more than any other has been a good reminder of the reasons climbing is such a big part of my life. And ya know what? Those reasons have very little to do with checking off boxes, and everything to do with the people I'm with while trying to get those boxes checked. This year more than ever has made me pretty darn thankful for the privilege and opportunity to go on crazy family adventures, even with especially with all the unchecked boxes.